Highline and SoundsXP Festivus Party Featuring The School, mi mye, Werewandas and Alphabet Backwards

Sunday, November 25, 2012 from 2:00 PM to 6:00 PM (GMT)
Event Details
Highline Records and Sounds XP present The School, mi mye, Werewandas and Alphabet Backwards to celebrate the launch of Highline's Festivus holiday album!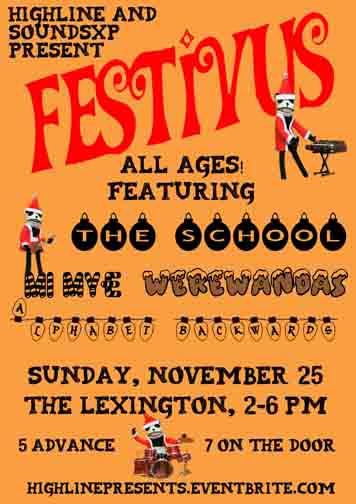 mi mye

mi mye is Jamie Lockhart, a highlander who made his home and life in Wakefield. He first started writing under the name in 2003 in a village hall in the north of Scotland with an 8 track tape machine, a fiddle, a guitar and a melodica. Over the coming years, mi mye became both a youth club for various members of the Wakefield music scene and a persona for Jamie as he played shows with the likes of King Creosote, Malcolm Middleton, and Jason Molina. 

After a series of sporadic tape and 7" releases, mi mye's first complete album "Sence To The Shaking" surfaced in Autumn 2010. Collecting some of the songs that that been in the band's repertoire for some time, it was warmly received, but marked a turning point for Jamie, who felt mi mye was "becoming a blob, just a bunch of really good friends playing music". Their new album "The Time And The Lonleyness" is out on Trash Aesthetics. 
The School
T
he School are a pop band from Cardiff. Their debut album 'Loveless Unbeliever' was released in 2010 on legendary Spanish label Elefant Records, and was produced by Ian Catt (Saint Etienne, Trembling Blue Stars, The Field Mice, Shampoo).  
Album two - 'Reading Too Much Into Things Like Everything' - was released on 14th May 2012, recorded & produced by David Wrench (Euros Childs, Guillemots, James Yorkston, Everything Everything, Caribou, Fanfarlo, Alessi's Ark, Bat For Lashes, Race Horses) at Bryn Derwen studios in North Wales.
The first single from the new album is a 4-track EP with lead tracks 'Never Thought I'd See The Day' / 'Where Does Your Heart Belong?', along with 2 bside covers 'When He Kisses Me' (Jonathan Richman) + 'I Wouldn't Know What To Do' (The Honeydrips). 
Werewandas


Comprised of members of The Fat Tulips, The Cut-Outs, The Phantom Pregnancies, Action Time and Airport Girl, The Werewandas are a five-piece combo of Fujiyama mamas and papas who gleefully massacre rock'n'roll standards as well as their own original Western Bop confections, wishing they were Gene Vincent and the Blue Caps and ending up as a lo-fi, garage-pop Everly Sisters. Predictably, The Werewandas also love Wanda Jackson.
Alphabet Backwards
Alphabet Backwards is a fun-loving indiepop band hailing from the vibrant Oxford music scene. Lead singer James Hitchman began writing songs under the Alphabet Backwards name in 2008. He soon recruited neighbours Josh Ward (of the Joshward84 T-Mobile ad fame) to play bass, and Paul Davidson to drum. The band found their keyboard extraordinaire Rob Thomas playing the organ at the local church, and vocalist Steph Ward joined the band after her brother Josh heard her singing in the shower. 
Past singles Polar Bears, 80s Pop Video and Blink of an Eye have received support from Steve Lamacq, Huw Stephens and Tom Robinson, with 80s Pop Video being named Lamacq's single of the week. They have been extremely active on the festival scene, playing Green Man, Truck, Wychwood amongst many others.
Their much anticipated debut album Little Victories remains true to the effervescent sound the band have developed over the past years, while also honing and refining their songcraft and production. A true coming of age album, the songs tell stories of youth's vibrancy, mingled with the greenshoots of adulthood.
Have questions about Highline and SoundsXP Festivus Party Featuring The School, mi mye, Werewandas and Alphabet Backwards?
Contact Highline Presents
When & Where

The Lexington
96-98 Pentonville Road
N1 9JB London
United Kingdom


Sunday, November 25, 2012 from 2:00 PM to 6:00 PM (GMT)
Add to my calendar