Description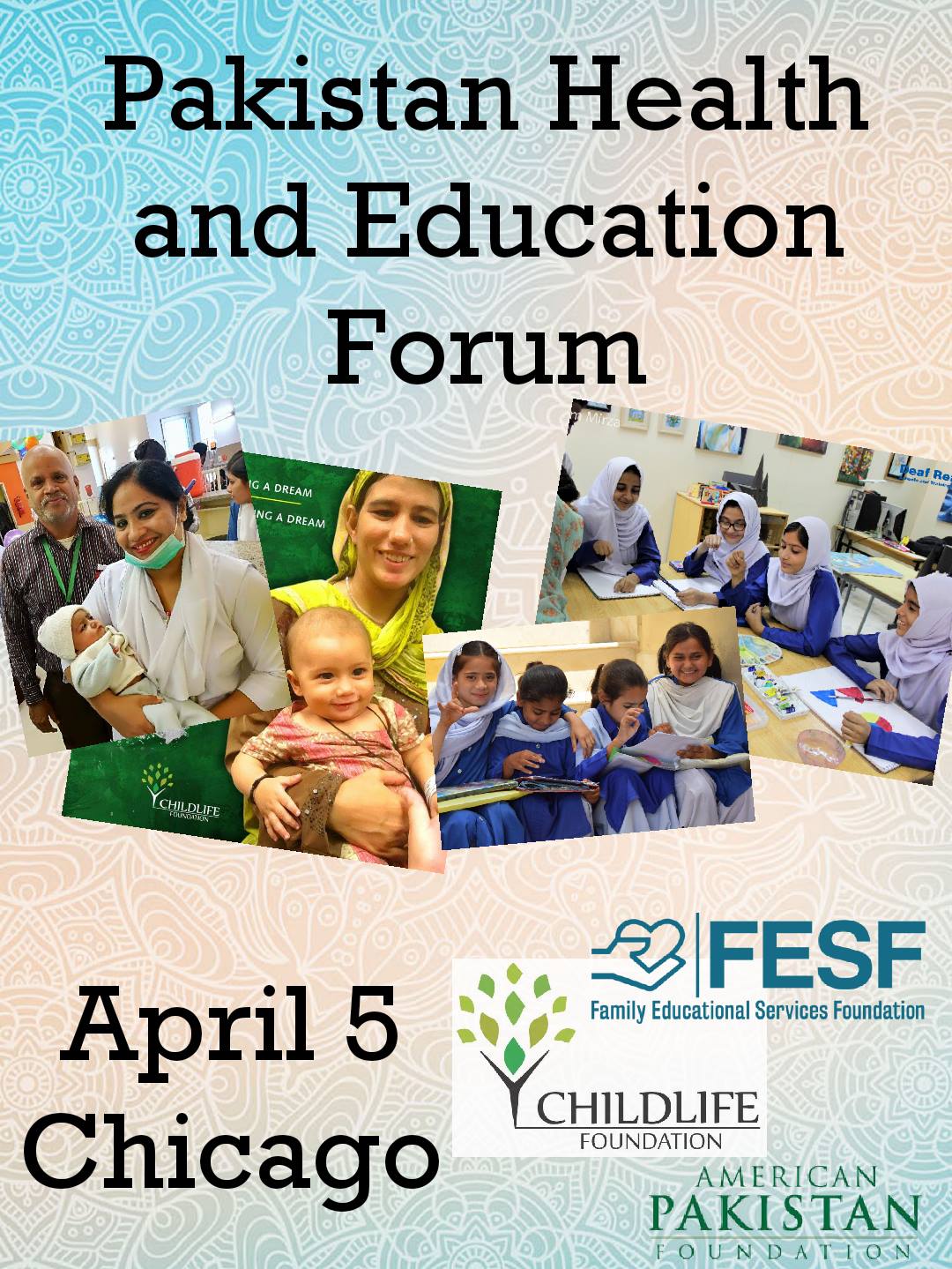 Please join us in welcoming Ahson Rabbani (CEO, ChildLife), and Daniel Lanthier (Director, FESF) to Chicago, and hear the remarkable stories on how they are transforming the not for profit healthcare and education sectors in Pakistan.
This is a free event! Donations are appreciated and all proceeds go to ChildLife and FESF.
Doors open at 6:00pm and presentations start at 6:15pm. Event includes a keynote speech by the Counsel General of Paksitan in Chicago and presenteation by the two organizations. Speakers will be available after to answer questions.
Light refreshments will be served.
Please RSVP by April 4, 2018 at 8:00 pm to ensure access through building security.
If you are interested in joining Ahson and Daniel for dinner after, please RSVP here: https://www.eventbrite.com/e/dinner-with-ahson-rabbani-and-daniel-lanthier-tickets-44515214204
CHILDLIFE FOUNDATION:
ChildLife Foundation treats more than 1 million patients (primarily underprivileged children) every year through its emergency rooms, primary care clinics and preventive care program, targeting about half of Karachi's population that lives in low-resource and densely-packed neighborhoods where there are few or no qualified doctors. ChildLife focuses on providing comprehensive preventive care and manages Children Emergency Rooms in ALL government teaching hospitals in SINDH. By the end of 2018, ChildLife will manage 9 ERs with 500 beds, and will treat about 1.2 million children per year - free of cost.
Website: http://childlifefoundation.org/
Documentary: https://www.youtube.com/watch?v=E-i5GCHD0qA
FESF (DEAF REACH):
Family Educational Services Foundation (FESF), through its pioneering Deaf Reach Schools and Training Centers program, provides education and vocational training to deaf children and youth. Less than 5% of the 1.25 million deaf children in Pakistan can attend school due to limited resources, funding and curriculum support. Deaf Reach bridges this gap and, in addition to a full academic regimen, the program provides courses such as IT Skills, Cooking and Nutrition, Tailoring, Stitching, Embroidery, and Arts and Crafts to equip students with marketable skills.
Website: http://www.fesf.org.pk/deaf-reach-schools/
Brief video: http://www.deafreach.com/inside-the-school/
Publicity Partner: American Pakistan Foundation. APF is a national platform for mobilizing the collective knowledge, resources, and influence of Pakistani Americans, and friends of Pakistan, to strengthen and highlight Pakistani-American civic and political participation in the United States, advance socio-economic development in Pakistan at scale, and foster stronger ties between the peoples of the U.S. and Pakistan. Learn more and join for free at americanpakistan.org