Come on the first-ever, self-guided tour of secret gardens gems hidden throughout Pittsburgh's Highland Park neighborhood.
About this event
Strolling through Pittsburgh's Highland Park neighborhood, have you ever wondered what's behind that wooden fence? Where does that little flower-lined path lead? Did you hear the sounds of a burbling pond? Have you seen a display of flowers you wish you knew the names of? How can they plant that many vegetables in such a tiny space? What exactly is a "she-shed"?
On Sunday, July 11, 2021 from Noon until 4:00 PM, the Highland Park Garden Club, in cooperation with the Highland Park Community Council, is hosting a self-guided tour showcasing "secret gardens" in Highland Park, including the original Lock Master's house and gardens on the Allegheny River. The cost of the tour is $15 in advance and $20 on the day of the Tour. Adults and children ages 8 and above are welcome with a paid ticket. No pets, please.
Registration, tour maps, and same-day tickets will be available at the registration table at the Park Entrance (top of N Highland Avenue). Our neighborhood is walkable, but if you wish to drive, we have clustered the gardens so you can easily drive to convenient stops and see a few gardens at a time.
The Highland Park Entrance Gardens and Fountain will be the first stop on the self-guided tour. The Pittsburgh Parks Conservancy will be available to answer questions about the Entrance Gardens. Homeowners will be available at subsequent stops to answer your questions and share their garden design tips with you.
Tickets are available in advance through Eventbrite, or from 12-3 pm on tour day at the registration table.
The event will occur rain or shine; refunds will not be issued due to inclement weather. Refunds will be issued only if the event is cancelled.
COMPLIANCE WITH STATE AND FEDERAL COVID-RELATED SAFETY PRACTICES WILL BE REQUIRED.
Thanks to our 2021 Secret Garden Tour Sponsors :
Gold Level
Howard Hanna Real Estate Services, City Offices
Tazza d'Oro Caffe and Espresso Bar
Bronze Level
Cavacini Landscaping and Garden Center
Eichenlaub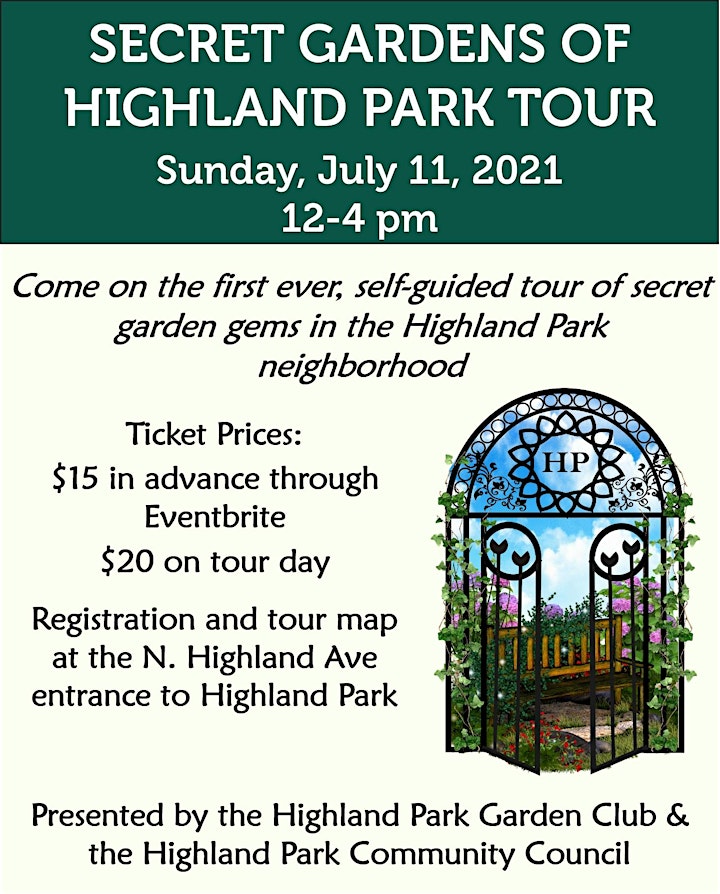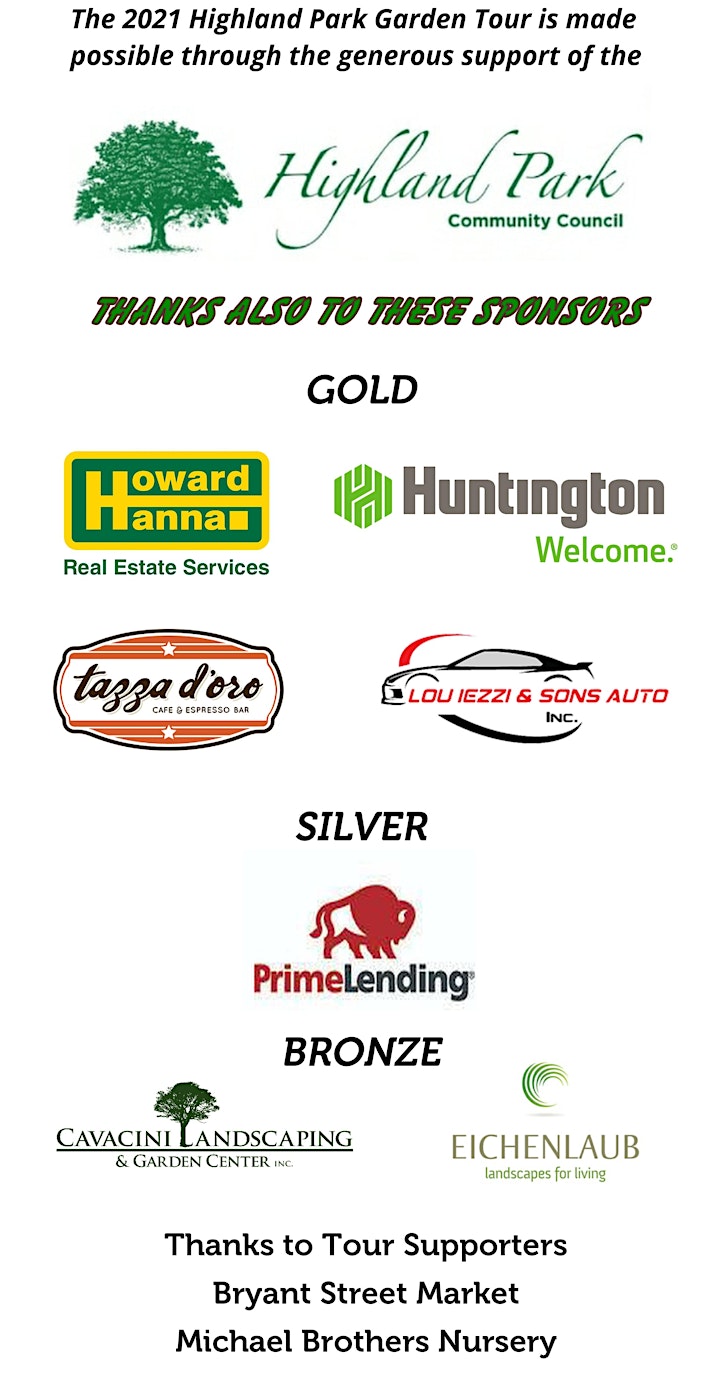 Organizer of Highland Park Secret Garden Tour
The Highland Park Garden Club (HPGC) is a 501c3 organization dedicated to making the Highland Park neighborhood in Pittsburgh, PA and its surrounding communities friendlier, greener and more sustainable.
HPGC efforts: support gardening by individual gardeners in and around the Highland Park neighborhood; enhance the community at large through garden and horticultural efforts and activities; promote gardening education, awareness, and interest throughout the Pittsburgh community at large.
HPGC meetings and activities provide a friendly atmosphere that promotes knowledge of horticulture, the art of floral and landscape design, conservation of natural resources, protecting wildlife in our gardens, civic beautification, and above all, the love of gardening, while honoring its charter purpose of beautifying the Highland Park neighborhood.
For more information, please visit the Club website at www.hpgcpgh.org or our . Facebook page: Highland Park Garden Club Pittsburgh