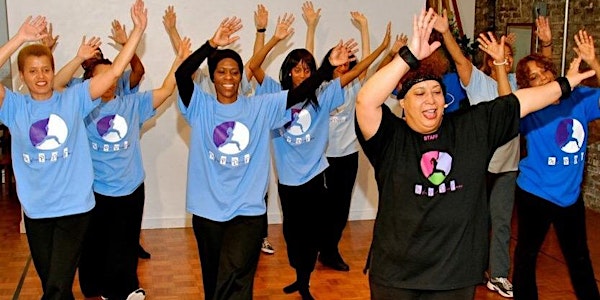 Highest Praise Dance Fitness Programs
Highest Praise Dance Fitness Programs
About this event
-Temple Transformers Support Group:
Diet, Exercise and Spiritual tips, challenges, support and accountability. In our private Facebook group.
- Praise Dance Fitness Leader Certification ON LINE Course:
3 hour webinar That will prepare you to lead your congregation and/or group
in "Highest Praise Dance Fitness"
and "Congregational Impromtu Praise Dancing"
GET THE FREE OUTLINE OF THE COURSE OVERVIEW FIRST NOW!
Register below for "Overview/1st Class Free" to see if it's something you may be interested in. Pray about it and speak to your pastor about it. You will need your pastor's recommendation letter.
When you register for the FREE Overview, you also have access to our LIVE Question and Answer sessions via conference call on Monday evenings and simulcast on Facebook Live AND all participants will receive a discount code, if they attend the Monday call! 
 What is Praise Dance Fitness?
What is congregational impromptu praise dancing?
Why is it SO important in today's church?
Entire course has been recorded for your convenience. 
You can listen to each module, read the class notes and watch our choreography demonstration on demand as often as you want and submit any questions via email.
You will be required to pass a written exam,
Highest Praise Dance Fitness (HPDF)...Not a Spectator Sport!
Praising The Lord and working our Core!
• Holistic- To facilitate Health and Prosperity: Spiritually, Physically, Mentally and Financially (3John 1:2).
• Powerful- Praise adds God's "super" to our "natural" efforts leading to accelerated, supernatural results.
• Divine Dancing- God's Presence makes our dancing divine. "For where two or three are gathered together in my name (Jesus), there am I in the midst of them" (Mathew 18:20) "But thou art holy, O thou that inhabitest the praises of Israel." (Psalm 22:3 KJV)
• Fun Fitness- Keeping it fun leads to being consistent. Consistency leads to Success!
To become a "Highest Praise Dance Fitness Leader," You will be required to: submit a letter of recommendation from your pastor (We provide the letter to be copied onto church letterhead and signed by your pastor), pass a written exam and present an acceptable video demonstration of yourself leading a group through "warm up" with our warm up song.
To become a "Highest Praise Dance Fitness Master," AFTER FULFILLING ABOVE REQUIREMENTS, you must ALSO submit CPR certification credentials, AND an acceptable video demonstration of yourself leading a congregation or group to 3 additional songs.
You must have all requirements submitted for your certificate 60 days after passing your exam.
Exam Dates:  By Email 
Like and Share our Facebook Page