HigherPurpose17: Conscious Capitalism Bay Area Chapter Conference
Description
Nearly a decade after the most significant financial crisis since the Great Depression, capitalism's image and place in history is under scrutiny-even by some of its most ardent supporters. However, what remains indisputable is capitalism's role in raising more people around the world out of poverty than any other economic system ever devised- when it is practiced consciously.
Conscious Capitalism Bay Area Chapter invites you to a very special event where leaders from some of today's most innovative businesses will explore how identifying and pursuing higher purpose can be the key to recapturing the ethos of capitalism and restoring its reputation as the greatest force for good in the world.
Join us for a deep dive into a more meaningful understanding and practical application of the principles of Conscious Capitalism. Enjoy a full day of thought-provoking and inspiring keynotes, interactive and actionable breakout sessions, and heartfelt connections and conversations that will fire up you and your team!
Our overarching objective is to encourage businesses to identify and pursue a Higher Purpose and empower you with insight and direction to successfully do so.
You'll go home with actionable strategies and tools to infuse Higher Purpose into your business, cultivate a conscious workplace, lead with awareness, collaborate with stakeholders and advance your organization.

Keynote Speaker: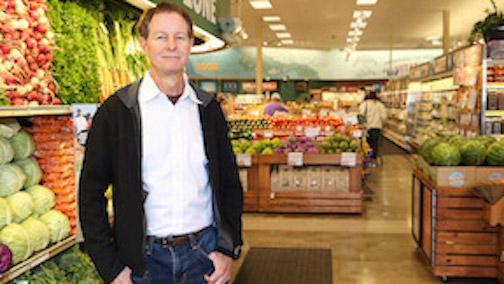 John Mackey Co-founder and CEO of Whole Foods Market
Bay Area Speakers: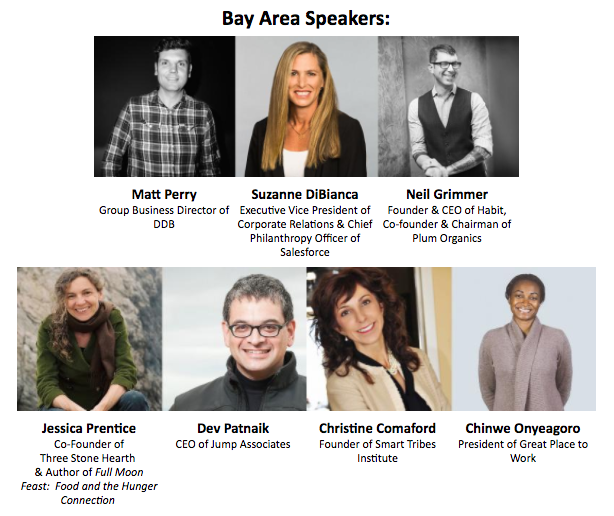 Schedule:
Breakfast and Registration at 8am
Conference 9-5pm
Conscious Happy Hour 5-7pm
Breakfast and Lunch provided
* Please email info@consciouscapitalism.org if you have a common dietary restriction so we can do our best to accomodate it
Who:
CEOs and their leadership teams, executives and entrepreneurs, the consultants and coaches who serve and support them, leaders and team members within businesses, and anyone else interested in learning more about Conscious Capitalism.
Discounts:
Are you and 2 other friends going to be registering? If so, use Discount code GROUPS (Case Sensitive) to register and get $50 off each ticket.
Sponsorship Opportunities:
$2,500 – Bronze
Logo on all event materials

Table at event

5 tickets to conference
$5,000 - Silver
Priority logo placement on all materials

Priority table placement at event

10 tickets to conference
$10,000 - Gold
Top logo placement on all materials

Top table placement at event

20 tickets to conference

CCBA Corporate Membership for 1 year

1 ticket to VIP Dinner the night before with John Mackey
To become a sponsor of HigherPurpose17 email: elana@consciouscapitalism.org
FAQs
STUDENT TICKET POLICY
To be eligible for a student level ticket, a valid student ID or equivilent proof of student status must be presented at check-in on the day of the event.
If attendee fails to provide proof of student status at check-in, they will be charged for the remaining balance for a standard ticket.
REFUND AND CANCELLATION POLICY
Cancellations or requests for refunds must be received in writing. To cancel a registration, please e-mail info@consciouscapitalism.org and include "HigherPurpose17 Cancellation" in the subject line.
Cancellations made prior to January

28, 2017

will be refunded in full minus a $20 administrative fee.
Cancellations made between

January 28, 2017 and February 13, 2017

are subject to a forfeiture of 50% of the registration fee.

Cancellations made after February

13, 2017

or no shows are not eligible for a refund.

Registration fee may not be used towards registration for a future event.

Payment must be received no later than February

13, 2017

.

If registration is cancelled at any time, you can choose to make a tax-deductible contribution of 100% of the amount you paid for your registration to Conscious Capitalism, Inc., a 501 c(3) nonprofit organization.