Gain an understanding of how the ongoing pandemic has impacted the education sector.
About this Event
The Covid-19 pandemic has greatly impacted the higher education industry, its scale is still not fully understood. It has exacerbated the working conditions and environments in which universities operate and has created a shock to the education system. As a result, universities are coming under tremendous financial pressure and are faced with disruptive forces - it is therefore inevitable that they must reimagine and reinvent themselves as demand for new forms of knowledge, teaching and learning emerge.
It is uncertain to what extent education as usual will resume. Given the uncertainty, higher-education leaders are faced with questions about the medium and long-term implications of organisation behaviour, teaching and learning, the student experience and external stakeholder management.
Join us on Wednesday 10th March for the next part in the Beyond Leadership series where our distinguished panel of Vice Chancellors from leading universities will consider what higher education leaders and policymakers should be thinking about and how best to manage the problem to stay relevant and sustainable.
Please note the event will take place at 15:00 (Malaysia, Singapore, Hong Kong); 12:30 (Sri Lanka) and 07:00 UK.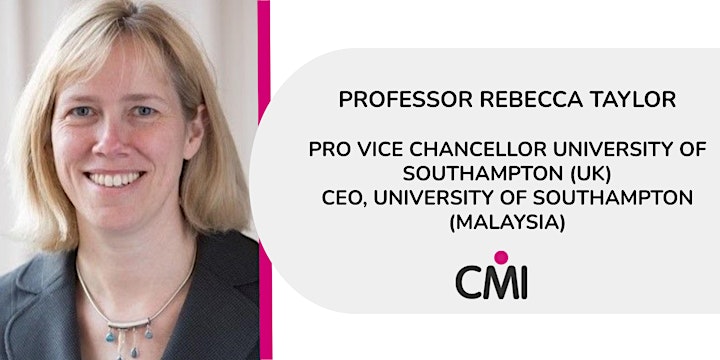 Professor Rebecca Taylor is a Pro Vice Chancellor at the University of Southampton, UK and the CEO of the University of Southampton Malaysia.
Previously she was the Executive Dean for the Faculty of Business and Law at The Open University for 6 years. Rebecca is a highly experienced educator at undergraduate and postgraduate level, with research interests in international economics and the development of online learning materials.
Rebecca holds a BA(Hons) in Economics from Queen's University, Canada, an MSc in Economics from the University of Toronto, and a PhD in Economics from the University of Portsmouth.
Rebecca represents the University and the Faculty on a number of high-profile national and international boards; she is the Vice-President (academic) of the European Foundation for Management Development (EFMD), the Deputy Chair of the Chartered Management Institute Malaysia and is on the International Advisory Board of the LUISS Business School.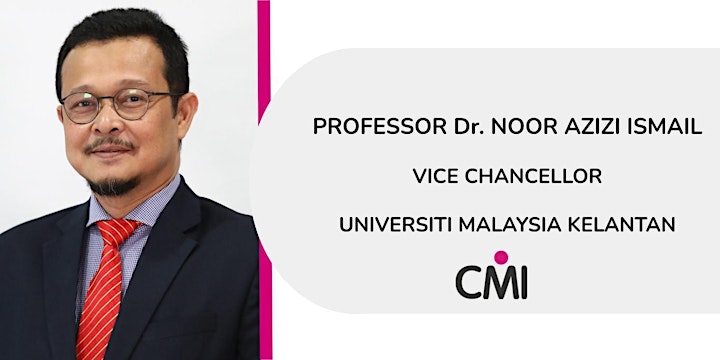 Professor Dr. Noor Azizi is the current Vice Chancellor of Universiti Malaysia Kelantan. Prior to this, he was Deputy Director General of Higher Education (IPTA) at the Ministry of Higher Education. He has held significant leadership positions including Deputy Vice-Chancellor (Research and Innovation) Universiti Utara Malaysia and Dean of Othman Yeop Abdullah Graduate School of Business, UUM. Dr. Noor Azizi Ismail is a Professor in Accounting Information Systems. He holds a Bachelor Degree in Accounting from Universiti Kebangsaan Malaysia; a Masters Degree in Accounting (Information Systems) from University of Memphis, USA; and a PhD in Accounting Information Systems from Loughborough University, UK. Professionally, he is a Certified Management Accountant.
Since taking office as Vice Chancellor at UMK, he has successfully transformed it into one of the most respectable entrepreneurial universities in the region. At the international level, Dr Azizi was the former Secretary General of the World Association of Business Schools in Islamic Countries (WAiBS), Deputy Director (Network Division) of ABEST21, Head of UN Principles for Responsible Management Education (PRME) Secretariat for ASEAN+ Chapter and a member of ASEAN University Network-Business Economic (AUN-BE).
Among his recent achievements include LinkedIn Spotlight Malaysia 2019 by LinkedIn, 100 Most Inspirational LinkedIn Icons Malaysia 2019 & 2020 by Marketing in Asia, and Movers & Shakers Award HRD Asia 2018.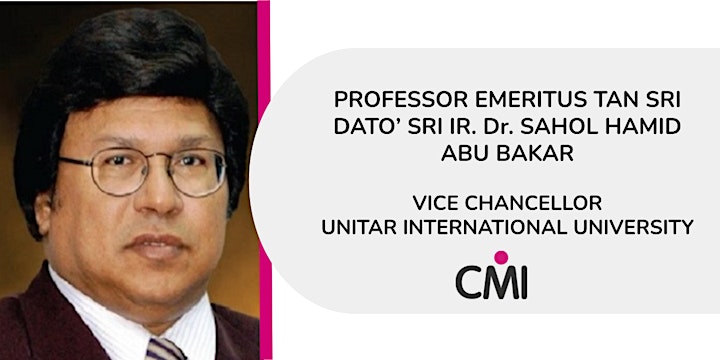 Professor Emeritus Tan Sri Dato' Sri Ir. Dr. Sahol Hamid Abu Bakar is the Vice Chancellor of UNITAR International University, taking up office on 1st March 2021. He has held a number of significant leadership roles in universities and higher education. He is a distinguished academician and administrator with experience spanning four decades in teaching, research, engineering consultancy, leadership and governance. Prof Emeritus Sahol Hamid Bin Abu Bakar started his career as Lecturer in 1980, gradually scaling the administrative ladder to become the Vice Chancellor of Universiti Teknologi MARA, Malaysia in 2010. On completion of his term, he was appointed as Vice Chancellor of B.S. Abdur Rahman Crescent Institute of Science and Technology, Chennai, India; thus becoming the first foreign Vice Chancellor of an Indian University. He is proficient in Blue Ocean Strategy which he has implemented successfully in both the Universities he has headed. His expertise in management and his administrative acumen has culminated in providing training to other Vice Chancellors and senior administrators of various higher educational institutions in leadership skills. He received his B.Eng. (Hons) in Civil Engineering from UiTM, Malaysia and later dual Masters degree in Economics and Civil Engineering from Colorado State University, USA. In 1992, he completed his D.Phil. in Civil Engineering from University of Sussex, UK. He was conferred with two honorary doctorates from University of Sussex, UK and University of Stuttgart, Germany. He is the recipient of various awards and honors; Tan' Sri and Dato' Sri being the highly recognized awards in Malaysia. He is also a Fellow of the Academy of Sciences, Malaysia and the Institution of Engineers, Malaysia.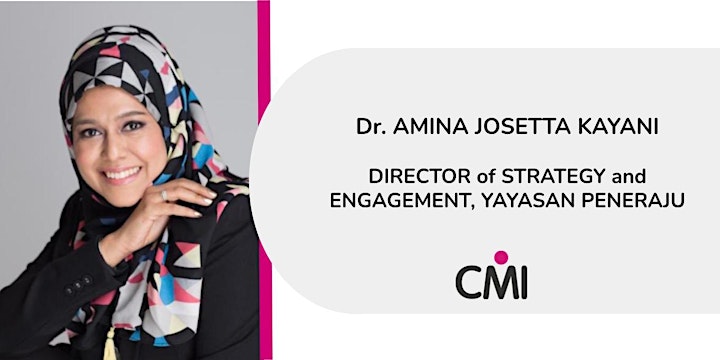 Dr Amina is a highly driven people-person with excellent credentials. She has a foundation in Accounting, HR and strategic management specifically in talent development and performance management. Starting her career in Corporate Malaysia 25 years ago, she continued developing her career in academia whilst keeping abreast of corporate affairs through her string of consultancy projects and industry linkages. Amina offers strong financial literacy with qualifications of Bachelor of Accounting from Melbourne University, an MBA from Ohio and a PhD in HR from Curtin University. She has brought breadth and depth in her multiple roles during her decades of career, including achievements in rolling out customized talent solutions for industry, consultancy projects, training interventions, negotiating agreements and executing strategic collaborations with industry, professional and international partners. Amina has a pleasant personality coupled with valuable skill sets including communication, problem-solving, diplomacy, decision making, intellectual curiosity, innovation and agility. A strong advocate for bridging the academic-industry gap, transforming education, women empowerment and unlocking potential, Amina has always been the source of unconventional solutions, constantly challenging status quo for growth. She speaks her mind from the heart and is well-known for her candid comments and approachable demeanor which enables difficult conversations across the various levels in society.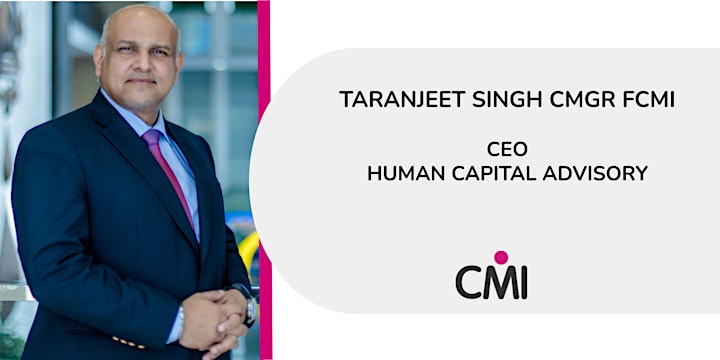 It's an absolute privilege and an honour to be elected and appointed as the Chair for the Regional Board of CMI Malaysia for the term of 2020/21. The need for outstanding managers and leaders is even more critical today than ever before. The uncertainties facing us as businesses and individuals alike, the lack of clarity of when the prevailing CoVid-19 Pandemic will be successfully thwarted and the ever growing pressure on the shoulders of managers to do the right thing, makes the need for a professional body like CMI Malaysia that much more relevant and crucial.
I see CMI Malaysia as being the "go-to body" for Managers and Leaders, as a reference point and a repository for knowledge. Leveraging off its global network of other Regional Boards whether within APAC or the UK, CMI members are able to learn, unlearn (as the case may be), share and act decisively. But most importantly, CMI members know that they are not alone in this journey, but instead have the collective support of all within the Network and the knowledge that the Regional Board is vested in their professional success as members of CMI.
With over two and a half decades of experience, in a variety of sectors, working and residing in various geographical regions and having the opportunity to see how different societies and cultures operate and work, it is clear to me that success for us as CMI members can only derived when we all have a genuine interest in each other's progress, professional milestones and achievements. Our dreams rest on the wings of ambitions and are grounded by the pillars of resilience, fortitude and humility… and CMI Malaysia is here to support its members in the achievement of their professional success as managers and leaders alike.
For details on my background, experiences and qualifications pls feel free to access my Linked In profile at https://www.linkedin.com/in/taranjeet/
In the meantime…
If you're a member of CMI, or subscribe to our content, don't forget you can find thousands of exclusive, practical development resources in ManagementDirect.
Log in here and search for a topic to get started.
Not yet subscribed?
From free newsletters packed with the latest trends, insights and tips for managers and leaders, to the full suite of invaluable tools and benefits that come with being a CMI member, we've got something for everyone.
Visit our website to find out more.