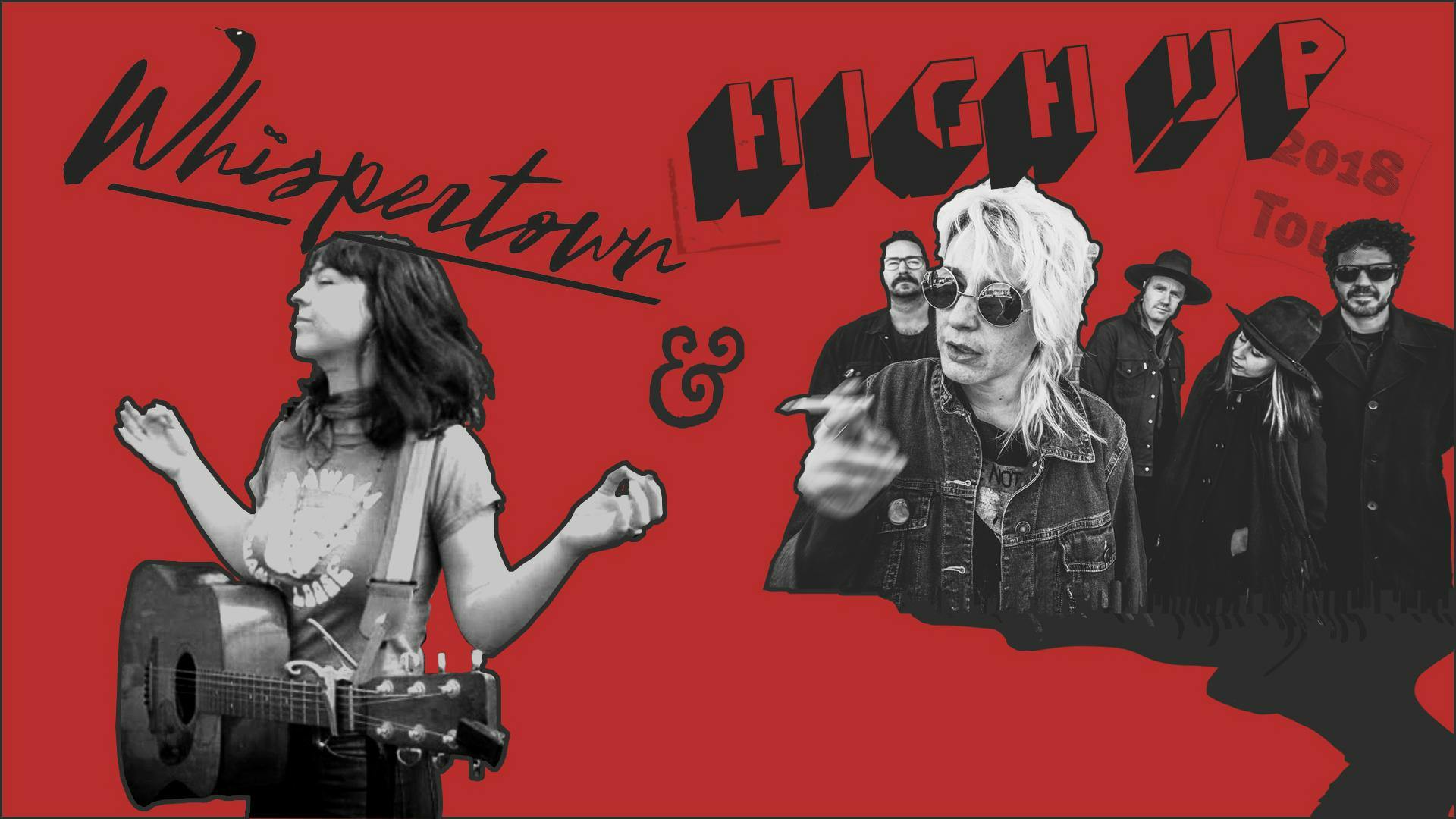 About this Event
----------
HIGH UP singer Christine Fink moved to Omaha to be closer to her sister, notable singer songwriter Orenda Fink (Azure Ray, etc.) back in 2012. Down South in Muscle Shoals, Alabama, Christine had been known to exercise her theatrical roots at the the local karaoke bars - and to great effect. The first time Orenda saw Christine sing at Sheffield's Old Town Tavern her jaw dropped as she watched her sister bring the house down. After a few years in Omaha, Orenda noticed that Christine brought the house down no matter where she was singing- with people of all ages and walks of life lining up to buy her drinks and even give her requests to sing their favorite soul songs. But Christine was depressed, feeling aimless, shuffling between minimum wage jobs, and the thrill of the weekend performances wore off quickly. One night, the two began to talk about the future, and Orenda insisted that Christine should try and do what makes her happiest- perform for people. After much discussion, they decided to start HIGH UP, a collaboration mixing elements of indie, punk and soul that showcased Christine's powerful vocals and Orenda's seasoned songwriting. 
The band, which includes Josh Soto, Todd Fink (The Faint) and Matt Focht (Head of Femur, Bright Eyes) draws from a wide variety of influences- from Janis Joplin, (who Christine is frequently compared to at live shows from misty-eyed ex-hippies), Sam Cooke, and Screaming Jay Hawkins to Dead Kennedys and The Birthday Party. Their debut record, "You Are Here" was produced by Mike Mogis (Bright Eyes, First Aid Kit, Monsters of Folk) at ARC Studios in Omaha, Nebraska. 
WHISPERTOWN is the latest iteration of the unique vision of Morgan Meyn Nagler (songwriter, lead vocals, guitar). What was once The WHISPERTOWN 2000 has morphed into a less structured version of itself, with Nagler's unmistakable vocals leading a revolving cast of musicians and artists. I'm A Man (produced by Jake Bellows), set to be released September 1 on Graveface Records, marks Nagler's return, and third full length release. After being diagnosed with a polyp on her vocal cord, and faced with the possibility of never singing again, Nagler discovered she is without a doubt a "lifer", and married to song writing, for better and for worse. I'm A Man is a stripped back acoustic album, set in a naturally psychedelic world, where words reveal themselves in modern mantra - "New Genes in Blue Jeans".
In various formations, Nagler and company garnered support slots for Jenny Lewis, The Breeders, Bright Eyes, She & Him, Maria Taylor, Rilo Kiley, Azure Ray, Conor Oberst and many more. The band soon caught the attention of Gillian Welch and David Rawlings, inspiring the first signing to their own Acony Records. Shortly thereafter the band released 2008's Swim, their debut release from Acony, followed by 2012's Parallel (the first release under the WHISPERTOWN moniker).
Additionally, WHISPERTOWN's Morgan Nagler has traveled around the world playing her own music and has also worked countless co-writes with artists such as HAIM ("Falling"), Kim Deal ("The Root","Range on Castle"), Rilo Kiley ("Dreamworld") and the Dave Rawlings Machine ("Sweet Tooth") to name a few.
Synth-soaked, harmony-laden Chicago trio ROBBIE SKYE sets the evening into high gear. Power-pop in the vein of ELO & Fleetwood Mac, ROBBIE SKYE delivers passion and budding confidence on his debut album, "Love Where You Live" off Strange Weather Records. Can't wait to spark it up with these fellows.