Description
HIGH TIMES HARVEST CUP 2017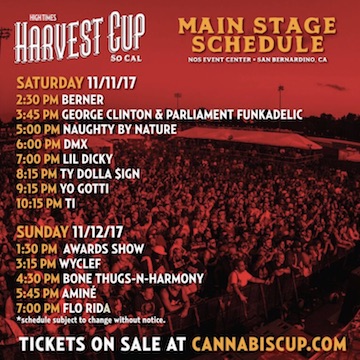 JUST ANNOUNCED-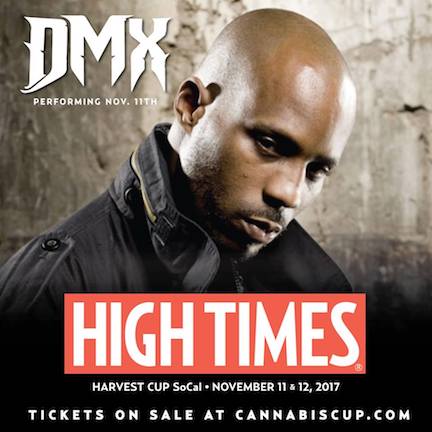 SATURDAY HEADLINER!!!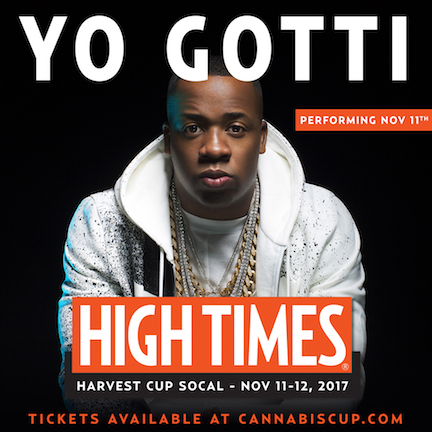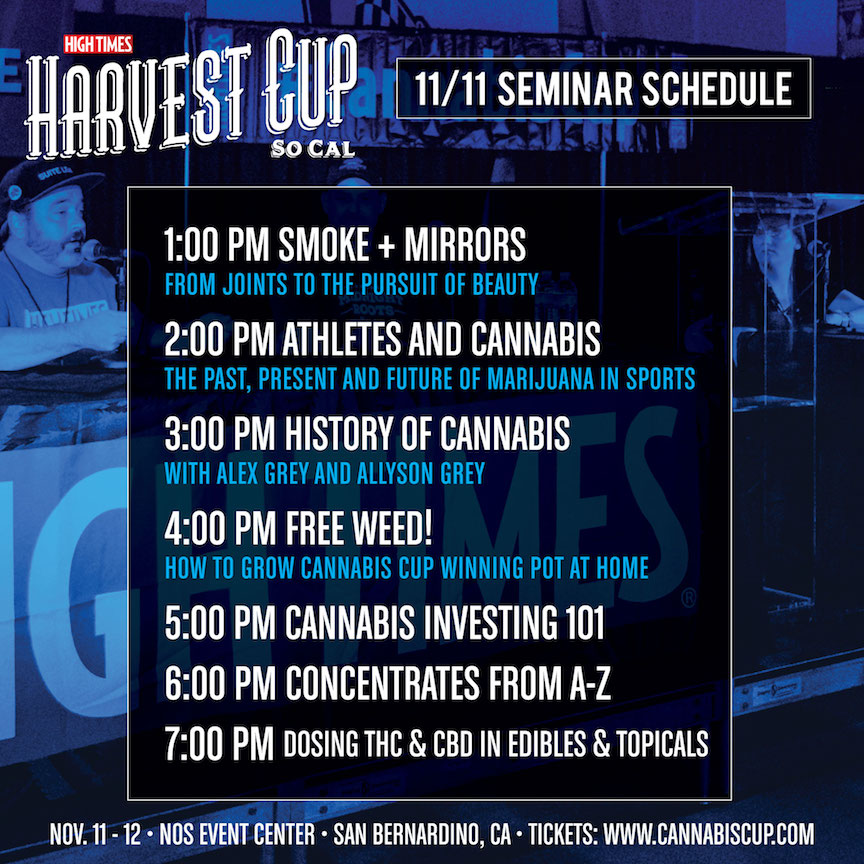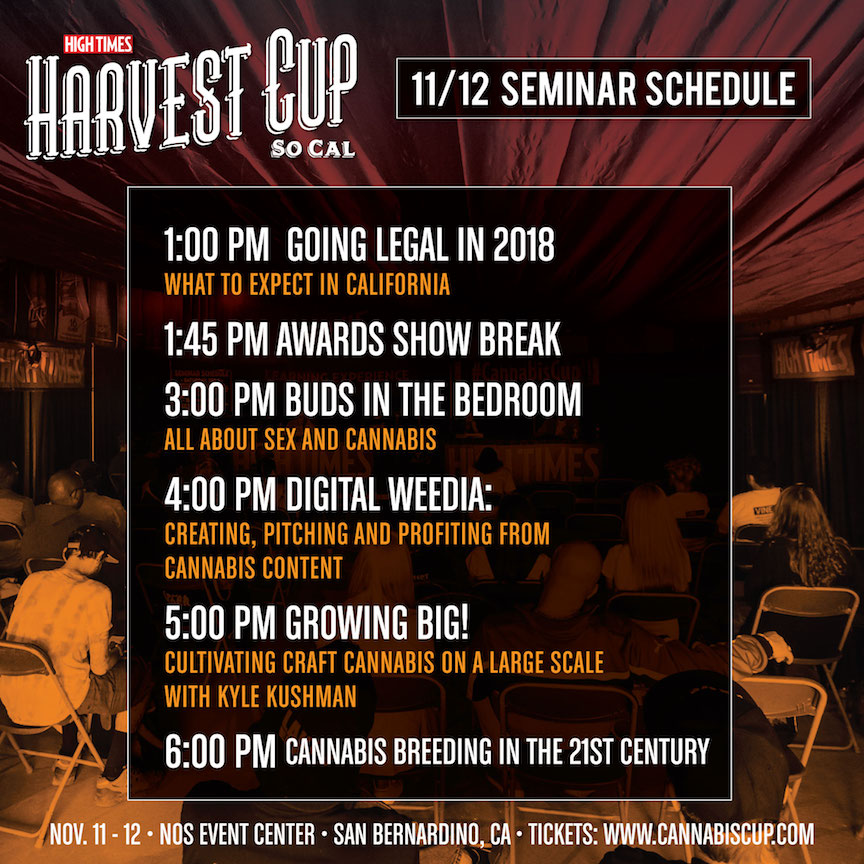 FAQ
When is the HIGH TIMES Harvest Cup SoCal?
Saturday November 11th and Sunday November 12th.
DOOR TIMES
VIP
Saturday and Sunday - 12:00pm

GA
Saturday and Sunday 12:30 pm
Where is the HIGH TIMES Harvest Cup?
The National Orange Show Event Center - 689 S E St, San Bernardino, CA 92408
Are there ID requirements or an age limit to enter the event?
Yes, This event is for anyone 18 and up. You do not need a medical card to attend the event BUT patients with a valid medical marijuana card will be allowed access to the medical area also known as the Prop 215 patient area. If you are not a patient, you may apply to become a patient, for an additional fee at the cup or get one online with PrestoDoctor before coming to the event!
What is a valid photo ID?
Valid ID means a current, government-issued photo ID (i.e. driver's or non-driver's state license, passport or military ID) OR a copy of your birth certificate + a photo ID (e.g. student ID).
Will tickets be available at the door?
YES!! Go to the on-site box office. Pre-sale online tickets are less expensive though so buy early!
What if I have a Weekend Pass?
You'll be given a wristband to wear all weekend. Don't remove the wristband until the event has ended.
What if I remove my wristband?
Do not tamper with or remove your wristband, unless you're not returning to the Cup. Your wristband is your ticket. Wristbands are not replaceable. If you remove your wristband you will need to purchase another ticket.
Are the performances and guest appearances included in the ticket?
YES, they're all included.
Who is performing?
Yo Gotti, Wyclef Jean, Flo Rida, Bone Thugs-N-Harmony, Naughty by Nature, George Clinton & Parliament Funkadelic and Berner - more announcements coming soon!
Can I leave the venue and return?
YES, daily re-entry is permitted. You must be wearing your wristband to return.
Is there a bag search?
YES. You CAN bring medicine and smoking accessories.
What can't I bring to the event?
Alcohol
Food
Drinks
Glass bottles
Hard or soft sided coolers
Weapons
Skateboards, bikes, hoverboards, scooters or rollerblades
Unapproved pamphlets, handouts, advertisements, promotional materials including stickers, vending items, etc.
Pets or other animals (certified service animals are permitted)
ALL TICKET SALES ARE FINAL- NO REFUNDS
Check out 500+ Booths plus...
Harvest Farmers Market
Solventless Experience by Rosin Tech
Cannabis Cooking Competition
Edibles Village
Topical Spa
Tattoo Village and
Freakshow
by Colours Couture
Seminars
Activism
VIP Lounge
Super VIP Viewing Platform & Exclusive
Luxe
Lounge
Interested in exhibiting at the cup? Contact advertising@hightimes.com
Interested in Volunteering ??
hightimes.festivol.nethttp://hightimes.festivol.net/
Cooking Competition Application - Here
Don't have your medical recommendation?? - Get one with
PrestoDoctor before coming to the event!
ALL SALES ARE FINAL- NO REFUNDS, EXCHANGES, or UPGRADES.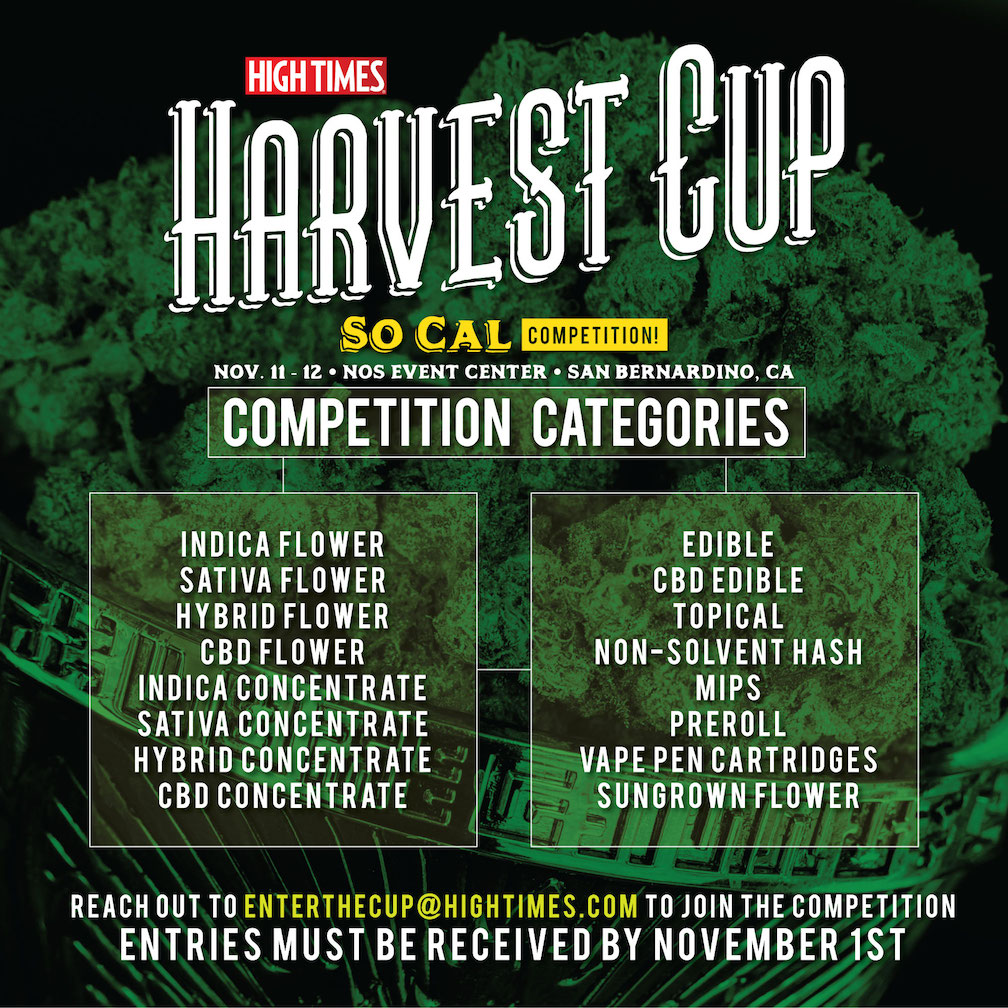 Medical Patients 18+ only
There will be NO sales allowed - however medical patient to patient sharing is permissable. See you soon !!!