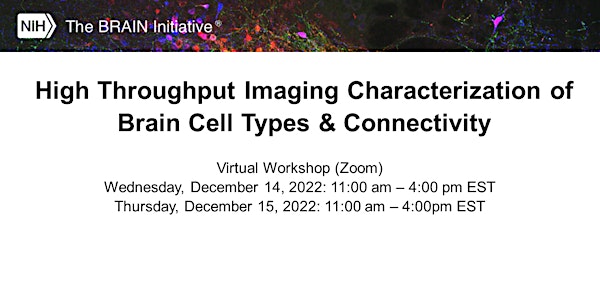 High Throughput Imaging Characterization of Brain Cell Types & Connectivity
This workshop will discuss advanced imaging approaches to characterizing brain cell types and their connectivity in human and other species
About this event
1 day 5 hours

Mobile eTicket
The advent of high throughput single-cell sequencing and imaging methods has enabled comprehensive molecular profiling of mammalian brain cell diversity and construction of foundational reference brain cell atlases for the study of brain function and disorders. The purpose of this NIH BRAIN Initiative workshop is to discuss unmet needs and emerging imaging approaches to characterizing brain cell types and their connectivity in human and other mammalian brains, in parallel with the BRAIN Initiative funding opportunity announcements (RFA-MH-22-290, RFA-MH-22-291, RFA-MH-22-292). The workshop will:
• benchmark existing technologies, identify critical gaps and barriers of the imaging pipelines, and discuss potential solutions through innovation and collaboration
• streamline individual steps and processes from tissue acquisition, processing, through tissue labeling, imaging, data analysis, visualization, and integration
• establish expectations for data sharing, scalable computing, and reuse by the broad research and education communities
The workshop will have the following three sessions and nine topic panels:
Session 1. Tissue harvesting, processing, labeling, and clearing
Session 1-1 Acquisition, processing, and characterization of diverse human brain specimen across lifespan for cellular resolution imaging;
Session 1-2 Brain tissue clearing and multiplexed molecular (e.g., RNA, protein) labeling, scalable reagents;
Session 1-3 Brain histology and cytoarchitecture, cell morphology and other anatomical phenotypes;
Session 2. Imaging technologies – speed and multiplexing, common coordinates
Session 2-1 Optical and non-optical imaging platforms for brain cell atlases in human and other species;
Session 2-2 Common coordinate systems, probabilistic brain cell reference atlases;
Session 2-3 Use cases of brain cell atlases, unmet research and medical needs;
Session 3: Data analysis pipelines and data handling – from microscope to sharing
Session 3-1 Imaging data preprocessing;
Session 3-2 Data modeling, labeling, visualization, summary;
Session 3-3 Data storage, scalable computing, dissemination.
This workshop will take place on 12/14 (Wed, 11:00 am – 4pm ET) and 12/15 (Thu, 11:00 am – 4pm ET) and will be virtual.
For questions and/or reasonable accommodations, email: laura.reyes@nih.gov