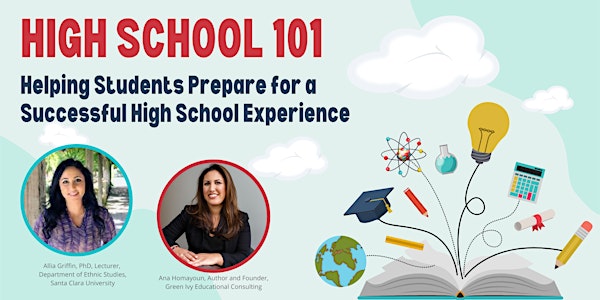 High School 101: Preparing for a Successful High School Experience
Join educators Ana Homayoun and Allia Griffin, PhD, for "High School 101: Helping Students Prepare for a Successful High School Experience."
About this event
High school has always been a time of transition, exploration, and opportunity. Under the best of circumstances, the transition to high school can feel exciting, stimulating...and overwhelming.
Today, many students are arriving on campus having spent at least part of the pandemic years learning online. Attention spans, study habits, interpersonal skills, and basic executive functioning capabilities have been significantly impacted.
Join Ana Homayoun, author, educator, and founder of Green Ivy Educational Consulting, and Allia Griffin, PhD, award-winning lecturer at Santa Clara University, for an informative conversation on preparing your students for high school and beyond.
Ana Homayoun is the author of three acclaimed books: That Crumpled Paper Was Due Last Week, The Myth of the Perfect Girl, and Social Media Wellness. She is also the founder and executive director of Luminaria Learning Solutions, a non-profit organization.
Allia Griffin, PhD, is an award-winning lecturer in the Department of Ethnic Studies at Santa Clara University. Dr. Griffin also serves as a Faculty Associate for the Faculty Collaborative for Teaching Innovation on pedagogy, inclusive teaching practices, and creating community.
Parents/caregivers, students, educators, mental health professionals, and community members welcome! Free admission.
This special presentation is sponsored by Fremont Union High Schools Foundation - Parent Resource Network, in collaboration with The Parent Venture.
Questions? Contact Charlene Margot, MA, Co-Founder and CEO, The Parent Venture (The Parent Education Series), cmargot@parentventure.org, or Fremont Union High Schools Foundation, info@fuhsfoundation.org.