High Performance Weightlifting: as Sport, for Sport with Olympic Team Coach Harvey Newton and Olympian Cara Heads Slaughter

Saturday, September 27, 2014 at 9:00 AM

-

Sunday, September 28, 2014 at 5:00 PM (EDT)
Event Details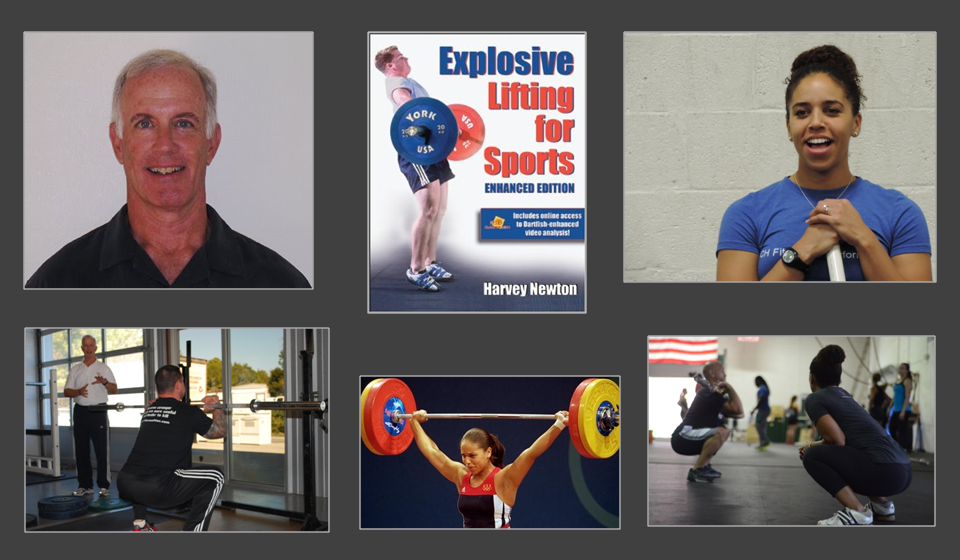 Join Olympic Team Coach Harvey Newton and Olympian Cara Heads Slaughter for Coach Newton's two-day seminar: "High Performance Weightlifting: as Sport, for Sport". Designed for strength coaches, athletic trainers, sport scientists, sports medicine professionals and CrossFit coaches, attendees will gain a clear understanding of how to coach the Snatch and Clean & Jerk and integrate the Olympic lifts in their athlete's training programs to enhance explosive power and performance.   
CEUs available: CSCCa (7.5); NSCA (1.5)
Program Curriculum and Schedule
Saturday, September 27, 2014:
0900-0915 Registration & Introductions
0915-1030 An Overview of the Olympic Sport of Weightlifting
1030-1200 Related Sports Science Principles & Practices
1200-1300 Lunch (on your own)
1300-1430 The Snatch: Hands-on
1430-1630 The Clean and Jerk: Hands-on
1630-1800 Technique Error Correction
1800 Adjourn
Sunday, September 28, 2014:
0900-0915 Day 1 Review, Q&A
0915-1000 Equipment & Facility Considerations
1000-1200 Assistance Exercises: A Review
1200-1300 Lunch (on your own)
1300-1400 Training the Female Athlete
1400-1500 Weightlifting Training for Other Sports
1500-1600 Weightlifting's Safety Record
1600-1700 Training Program Insights
1700 Q&A, Adjourn
Cancellation Policy: All cancellations must be received in writing. No refunds after September 13, 2014. 
About Harvey Newton, MA, CSCS:
Author of the popular Explosive Lifting for Sports, Harvey Newton has dedicated more than 50 years of his life to the sport of weightlifting. He competed for 17 years before taking up duties as USA Weightlifting's first national coach, which included coaching USA Olympic, Pan American Games, and world championship teams, along with numerous international events. He was USAW's executive director for seven years and was the first US member of the International Weightlifting Federation's Scientific and Research Committee.  Later, Newton served as the editor-in-chief of the NSCA's Strength and Conditioning Journal, along with the Director of Program Development. From 1995-99 he was that organization's executive director.
Newton has been the featured lecturer on several International Olympic Committee Solidarity courses and has consulted at all levels on athlete and coach education and development, in addition to organizing and conducting major athletic events. During the 1996, 2000, and 2004 Olympic Games, Harvey Newton was a key part of the NBC-Sports weightlifting team.
Newton Sports was created in 1989 to assist those from all walks of life cut through much of the contradictory and sometimes confusing information on the topic of weightlifting and strength training. He's a straight shooter, providing solid and easy-to-understand details on safe and proper resistance training methods. He is often quoted in popular media on a wide range of topics and has served as an expert in related legal cases.
About Cara Heads Slaughter, MA:
Cara Heads Slaughter enjoyed an unprecedented and successful 18-year career as an Olympic weightlifter, earning 8 national championship titles, setting 2 American records, and representing the U.S. at 5 world championships and as a member of the 2000 USA Olympic Team for weightlifting. Throughout her career, Cara was provided the unique opportunity to train at top USAW regional weightlifting training centers, including as a resident athlete at the Olympic Training Center, and to learn from some of the most respected weightlifting coaches in the United States.
Today, Cara enjoys sharing what she has learned through private coaching, group classes, and weightlifting clinics and seminars. Cara's fun, accessible teaching style and motivating coaching philosophy ensures athletes and coaches at all levels benefit from her extensive knowledge and experience as a world-class athlete and weightlifting coach.
Have questions about High Performance Weightlifting: as Sport, for Sport with Olympic Team Coach Harvey Newton and Olympian Cara Heads Slaughter?
Contact CH Fitness & Performance
When & Where

Yates Fieldhouse, Georgetown University
3700 O Street NW
Washington, DC 20057


Saturday, September 27, 2014 at 9:00 AM

-

Sunday, September 28, 2014 at 5:00 PM (EDT)
Add to my calendar
Organizer
CH Fitness & Performance provides expert Olympic-style weightlifting instruction and coaching to create optimum fitness and enhance athletic performance.
CH Fitness & Performance was founded by US Olympian and USAW International Coach Cara Heads Slaughter and offers an extensive menu of coaching services and educational programs to meet each client's specific goals- for the person interested in learning Olympic-style weightlifting, for elite athletes and experienced coaches, and for everyone in between!
Designated by USA Weightlifting as a 2019 Community Development Training Site, our weightlifting training area offers 6 platforms; Eleiko, Rogue and Pendlay weightlifting bars; Rogue competition and Pendlay elite bumpers; squat stands, multiple pulling block stations, and 2 dedicated jerk block stations.
Our greatest asset and resource is our team of dedicated coaches. We are committed to and exemplify a core belief that teaching proper technique combined with a thoughtful approach to planning weightlifting training is essential to optimum performance on the platform.