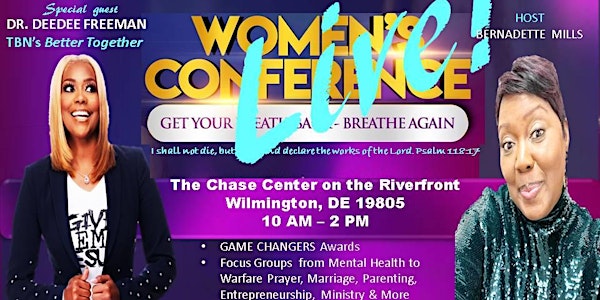 HIGH IMPACT's "LIVE" 2022 Women's Conference w/Dr. Deedee Freeman
Location
Chase Center on the Riverfront
815 Justison Street
Wilmington, DE 19801
"LIVE" 2022 Where you shall "LIVE" and not die! STEP INTO A NEW DAY, ENGAGE GROUPS, VENDORS, AWARDS, STRATEGY & FAITH!
About this event
"LIVE" 2022 sponsored by High Impact 2B (501C3) Chase Center on the Riverfront, Wilmington, DE The event is $50 per person. Dr. Deedee Freeman, TBN's Better Together Co-Host, Executive Pastor Spirit of Faith Christan Center. This life-changing event is for adults and you must be 18 to enter., Doors open 9:45 am with Vendors and ENGAGE GROUPS where you can share your story, network and gain insight into topics such marriage, parenting, ministry, leadership, divorce, trauma, forgiveness, prayer, self-care and more. Dr. Deedee will share her incredible journey with all. There will be fashion, awards and recognition. Your FAITH shall be reignited! There will even be a separate Pastor's Wives Refreshing w/Dr. Deedee following the event for an additional fee. FREE Parking.
This event will help us support our millennials with book scholarships as well as the homeless during this winter season with donations of blankets, socks, gloves, hats and coats
There are no REFUNDS and if the event has to be altered due to weather or COVID we will proceed virtually. Call for information (302) 3285557.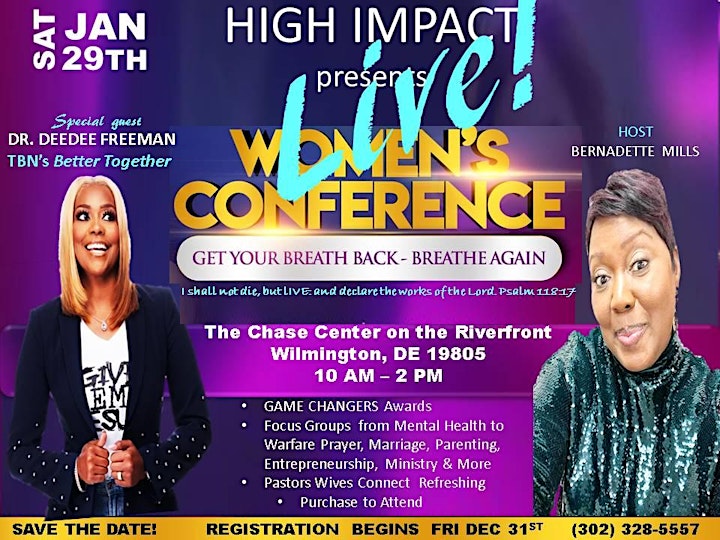 The Pastor's Wives Refreshing will provide a time of networking, glam bags, lunch, interviews, and discussion of topics relevant to the role. This event is $50 per person (separate from the conference) and for Senior Pastors Wives or Women Senior Pastors. Feel free to exchange flyers and materials on all of your upcoming events.