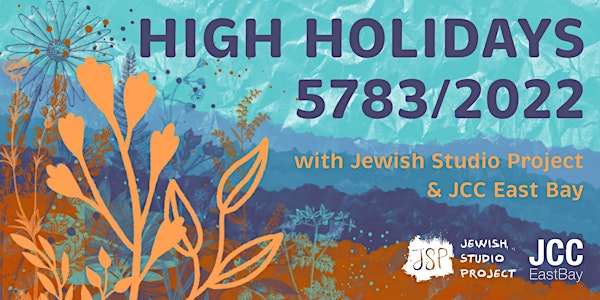 High Holidays 5783 with Jewish Studio Project & JCC East Bay!
Join Jewish Studio Project & Jewish Community Center of the East Bay for an inspiring, musical holiday experience for High Holidays 5783!
About this event
*You only need to register once to be able to access all of the services*
This registration gives you access to High Holidays services virtually and is necessary if you are considering joining us in person at the JCC East Bay. Please note that seating will occur on a first come, first serve basis. Your registration does not reserve a seat.
Registration to join us *in-person* at the JCC for Yom Kippur will end at 8am on 10/4.
*UPDATE: We are now ***requiring*** that masks be worn both inside the JCC building AND outside in the courtyard. Well-fitting masks are required, N95's are strongly encouraged*
The High Holidays have the power to lift us out of our own individual worlds and connect us deeply to ourselves, to one another, and to something greater.
Join Jewish Studio Project & Jewish Community Center of the East Bay this year for an uplifting, connective, musical holiday experience through live, at-home services & programming led by Rabbi Adina Allen and Jeff Kasowitz (Co-Founders of Jewish Studio Project) with Rabbi Jessica Kate Meyer and Candace Goodwin. These liturgically-grounded services bring the prayers alive through a mix of traditional melodies, uplifting contemporary music, and powerful teachings that will open your heart to the depths of meaning that these holy days have to offer.
Through the liturgy, poetry, prompts and music, these services offer an opportunity to become present to your life, to take stock of the past year, to mourn, celebrate, question and imagine as we open to the possibility of healing, justice and transformation in the year to come.
Open to all, these services bring together an intergenerational, cross-denominational community seeking depth and connection during these sacred days. Whether you've joined us in years past, or this will be your first time - welcome! We are so looking forward to celebrating together.
In keeping these services accessible, we do not charge for tickets to join us through the High Holiday season. Please consider supporting our work by making a tax-deductible donation here: https://bit.ly/supportHH5783
SERVICES SCHEDULE:
Erev Rosh Hashanah: September 25th, 7:00 pm PT
Rosh Hashanah Day: September 26th, 10:00 am PT
Kol Nidre: October 4th, 6:30 pm PT
Yom Kippur Day: October 5th, 10:00 am PT
Ne'ilah: October 5th, 5:30 pm PT
ONSITE COVID POLICY AT THE JCC EAST BAY:
Are masks required to attend?
Well-fitting masks are required indoors and outdoors. This will be checked at the door, and we will have extra on-hand in case you have forgotten your mask. You will be required to wear your mask the entire time you are onsite at the JCC East Bay.
Is vaccination (and booster, if eligible) required?
Yes. We will be checking vaccination cards at the door.
How will seating work?
Please note that seating capacity at the JCC East Bay will be slighted limited this year due to Covid considerations and seating will be available on a first come first served basis. There will be some distance between seats and friends and family can sit closer together if they choose.
What if I'm disabled or immunocompromised?
Please reach out to Aliza directly at aliza@jewishstudioproject.org to talk about your specific access needs. We will have a small section of ADA-accessible seating in the Courtyard.
ADDITIONAL INFORMATION FOR ATTENDING IN-PERSON SERVICES:
Where is the Jewish Community Center of the East Bay located?
1414 Walnut Street, Berkeley, CA 94709
Where can we park for services?
The Berkeley Police Department has given our community parking passes that can be used for the duration of services in 2-hour residential parking. These will be emailed to you as an attachment in upcoming communications OR you can acquire a parking pass from the JCC East Bay during each of the services.