High Heels In High Places Women's HERstory Month Celebration 2014

Thursday, March 20, 2014 from 7:00 PM to 10:00 PM (PDT)
Event Details
Honoring Women of Power for 2014!
Hosted by Nurse Alice Benjamin
Our 2014 Honorees include:
Kristen De Leo (Neutrogena)

Eugenia Marshall (GSO Business Management)

Rashunda Rene (C.U.S.P.)

Marketa Ford (Ethno Cares)

Vanessa Prince (Untamed Ladies)

With the Katherine J. Barr Award being presented to
Rhonda Santifer (LAUL Entrepenuership Center)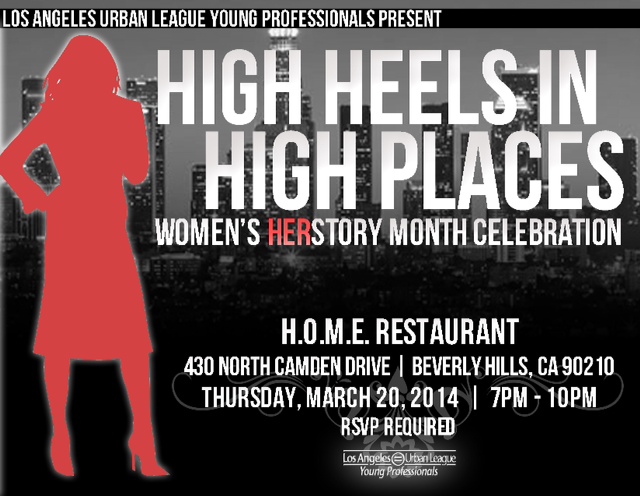 GET YOUR HEADSHOT TAKEN onsite for only $30. Courtesy of Brandan J. Zachery| LAULYP Marketing Co-Chair| www.brandanjzachery.net
Upscale Attire
MARY KAY Products on display and for sale by Ashley Reed & Monica Almore.
www.marykay.com/dynamicdynasty
JUST ADDED - The ladies of Triple H Experience will be in the house too!
Every Woman Deserves to feel FABULOUS!
Shop online! www.thetriplehexperience.com
Like us on Facebook! www.facebook.com/triplehexperience
When & Where

H.O.M.E. Restaurant
430 N Camden Drive
Beverly Hills, CA 90210


Thursday, March 20, 2014 from 7:00 PM to 10:00 PM (PDT)
Add to my calendar
Organizer
LAULYP | Los Angeles Urban League Young Professionals
What is the Los Angeles Urban League?
The Los Angeles Urban League is an affiliate of the nation's leading civil rights and economic empowerment organizations with offices in more than 100 cities. With a staff of over 300 and a budget in excess of $26 million, the 86 year old Los Angeles Urban League is one of America's largest organizations devoted to transforming neighborhoods, developing community leadership, and advocating for civil rights and social change.
What is the Los Angeles Urban League Young Professionals and what do you do?
The Los Angeles Urban League Young Professionals is an auxiliary of the Los Angeles Urban League. Our organization is comprised of professionals, ages 21 to 40, committed to corporate, social, and community activism as well as to improving L.A.'s African American business climate through networking and business development. The LAULYP is one of more than 50 chapters of the national ULYP that support the National Urban League's five-pronged agenda: Education and Youth, Economic Empowerment, Health and Quality of Life Empowerment, Civic Engagement and Leadership Empowerment, Civil Rights and Racial Justice Empowerment.
What does being a member involve? What will I be asked to do?
We ask that you serve 40 hours of comunity service as well as participate on one committee. You will always be kept informed on community issues, service opportunities and events and you can get involved where you choose.
Keep in touch with the LAULYP:
www.LAULYP.com
www.facebook.com/LAULYP
www.twitter.com/LAULYPS
www.youtube.com/LAULYPS1
www.vimeo.com/LAULYP
High Heels In High Places Women's HERstory Month Celebration 2014