Description
High Growth Happy Hour, presented by Southeast Michigan Startup and the New Economy Initiative, is a monthly series of intimate conversations with entrepreneurs who are scaling startups in the region. This month, we're talking mobility — the movement of goods and people — and will hear from two women founders: Tatiana Grant, co-founder of Flash Delivery, and Anya Babbitt, founder & CEO of SPLT. Join us for this special conversation on Tuesday, October 25, 6-8 p.m., at the Traffic Jam & Snug restaurant in Midtown Detroit.
About Tatiana Grant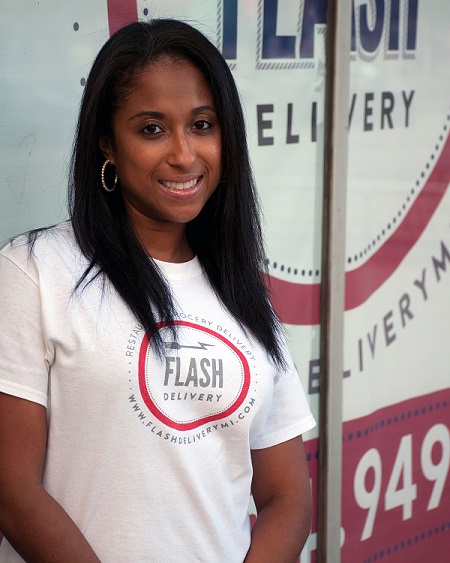 Tatiana Grant is a metro-Detroit native who has had the entrepreneurial spirit from a young age, starting with a Kool-Aid stand that expanded to a home business of doing hair and nails all before she was 10. After a stint in the corporate world, she launched her own public relations and event planning company, Infused PR & Events, which has clients including Duggan for Detroit and Crain's Detroit Business. In 2014, Tatiana co-founded Flash Delivery, a mobile technology food and grocery delivery service for Detroit residents, which is now expanding in metro Detroit. Tatiana is a recent Crain's 20 in the 20s recipient and was named the "Next Gen: Entrepreneur of the Year" by the Michigan Black Chamber of Commerce.
About Anya Babbitt
Anya Babbitt is Founder & CEO of SPLT, a ridesharing platform with the goal of bringing accessible and reliable mobility to everyone. Anya has started multiple businesses, successfully exiting one, and has experience in enterprise sales, strategic partnerships, corporate communications, sustainability, and product design. Since 2014, Anya has devoted her full attention to the emerging field of social and environmental sustainability. SPLT has been recognized in TechCrunch and Forbes and was selected as a Regional Finalist for Hult Prize (Clinton Global Iniative) and winner of the 100K Clean Energy Trust Prizker Prize. Anya was recently named one of Crain's Detroit Business's "40 under 40."
Anya is also co-developer of the Smart City Start­up Consortium, with SPLT being one of five startups working to connect public and private resources to help all American cities become smart cities.
10/25 Schedule
6:00-6:30 p.m. – Networking & Drinks
6:30-7:30 p.m. – Casual chat and Q&A with Tatiana and Anya
7:30-8:00 p.m. – Networking
—–> Please RSVP if you can join us: Eventbrite
. Space is very limited for this event. Drinks and light appetizers will be served. We hope to see you there!
The High Growth Happy Hour series is brought to you by Southeast Michigan Startup with support from the New Economy Initiative. The series brings together Metro Detroit's fastest-growing entrepreneurs to connect with those who have successfully scaled their companies.
Subscribe to Southeast Michigan Startup to stay informed about upcoming events and to follow our Startup/Scaleup series about scaling businesses in the region.