High-Frequency Healing - Remote Sessions

Thursday, October 13, 2016 from 11:00 AM to 7:00 PM (EDT)
Event Details
Long-Distance Healing
with
Rev. Ojela Frank
 AUMAKHUA-KI® GRAND MASTER 
Healing Energy without Physical Contact 
REMOTE HEALING SESSIONS by Appointment
Rev. Frank offers AUMAKHUA-KI® Healing Sessions for people EVERYWHERE. Ojela began doing Long-Distance Healing in 1981 for family and friends. She has helped many throughout the years with her gifts of intuitive counseling and spiritual healing.
Most people receive a Remote Healing Session from the comfort of their home. Many clients share they are more relaxed and at peace during and after the Remote Healing Sessions. Others mentioned that they were aware of their energy being at a higher frequency on the day of their session(s). Everyone is unique and has different needs to facilitate their healing process.   
AUMAKHUA-KI®
 HIGH-FREQUENCY
REMOTE HEALING SESSIONS
Daily Sessions Available by Appointment.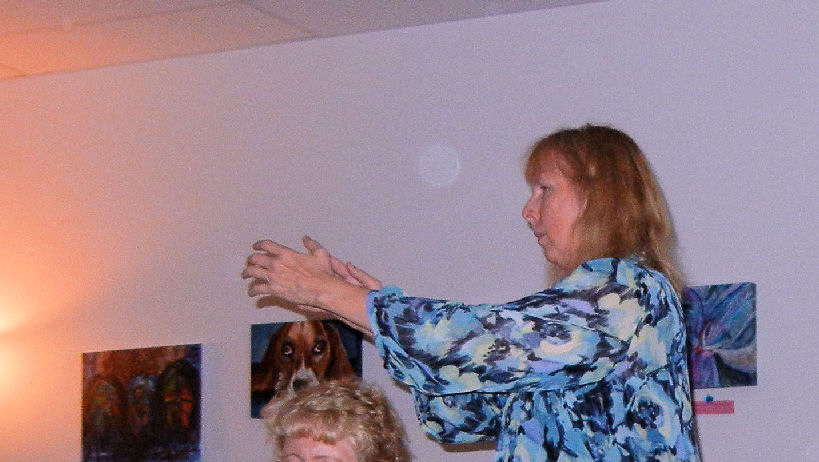 Orbs appeared when Ojela did advanced energy activations on each student.
SESSION  FEES:
AK High-Frequency (Remote)  30 Minutes:    $67.00
Experience a chakra balancing and realignment of your energy bodies with AUMAKHUA-KI®. You can receive the AK Energy Flow anytime on day of your session. 
AK 7-Day High-Frequency -- Daily Remote Sessions:    $333.00
Maximum realignment of Chakras & Energy Systems. A holistic approach to body, mind, heart & Soul. FEEL MORE BLISS. Includes Energy Assessments and AK LIGHT transmissions based on your unique resonance. (Choose a START DATE for your 7-Day Remote session. Your 7-Day session series will begin on that date.)
Sessions are done each morning. You can access the AK Remote Energy Flow at anytime to receive the high resonances. After your 7-Day AK Remote Session Series, you will be emailed a summary report about energy assessments & the energy work.
Reserve Your Appointment Today!
Order your session ticket  (at the top of the page).  
Sessions with Rev. Ojela Frank, MSC, MSTh, LMT (MA60322)  
GLOBAL: from ANYWHERE    (No web access or computer required.)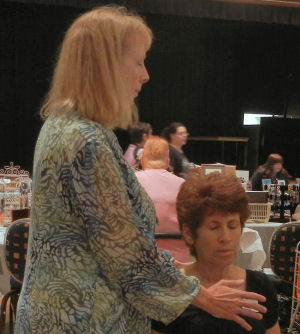 Ojela doing an Energy Activation at the Expo.
Sessions with Ojela are by appointment only. Once our office receives REGISTRATION confirmation, we will email you information on how to prepare for the remote session. (You will need to email or send a text message with your photo image before the energy session.)
What Others Share about Ojela's Sessions:   
"I feel completely different than when I walked in here."
L.D., FL
"Thank you for your gift of transformation. I am still shifting and healing through the powerful energy created in this session. You are a blessing! I am grateful for the honor of receiving your incredible gift."
Jean M., FL
"I just wanted to let you know how much better I feel, especially emotionally! I feel much more balanced and open. Before my session with you yesterday, I felt blocked like I couldn't receive even though I was open to it. Today, I feel like things are flowing better. I just feel much more open and calm. I am excited as to where my future will lead me and I look forward to the journey."
R.A., FL    
"I just enjoyed the energy work with Ojela. It was a one of a kind experience. Right in the beginning I had difficulty silencing my mind. Then like a switch was flipped, I completely cleared my thoughts with no effort at all. Throughout the session, there were definite layers being uncovered. Really, there's no other way to describe the feeling I had towards the end when Ojela was working near my head...a white light appeared in my face for a brief moment. I also felt warmth generate through my body. I walked out of there feeling renewed and stress-free. Since that day, I have had more clarity in my thinking and I only pay attention to the truly important things. In essence, letting go of what doesn't serve me. It has been a wonderful progression and I look forward to more energy work. Thank you, Ojela!"
Ola S., FL   
"I felt lots of energy. It usually takes me an hour of meditation practice to feel that much bliss. I could feel Kundalini energy rising again and again!"
W. J., Virginia   (Long-Distance Energy session via a Skype® Video Call)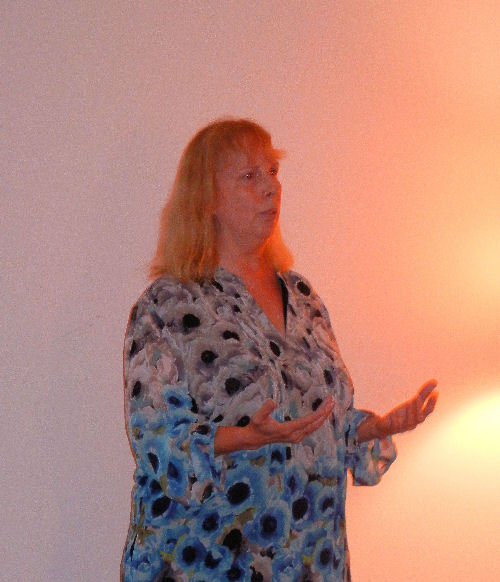 OJELA FRANK, MSC, LMT has been active in the healing arts for 47 years. She is an ordained Interfaith Minister and a 1987 graduate of The New Seminary (NY). Ojela has inspired thousands through her sessions, seminars and books on healing and personal growth. She began doing Remote Healing in 1981. Ojela is Creator of AUMAKHUA-KI® Energy Healing & Meditation. She is also a licensed Massage Therapist in Florida (MA60322).
P:     352.239.9272  
Purchase a Session Ticket at the top of this page.
Or, to Register by Phone using a Credit Card: 352.239.9272.
For PAYPAL Payments, call office for our PAYPAL email addresss:
352-239-9272

(International:  (001)  352.239.9272
OFFICE HOURS:   11 AM - 4 PM   Monday - Friday
(Timezone:  Eastern Time).
Our office is located in OCALA, FLORIDA, USA.
Please note: A minimum of 2 days in advance is required for all ONLINE session registrations. 
Click HERE to see what Others share about Ojela & her energy work.
About AUMAKHUA-KI® Healing Classes & Webinars:  
AUMAKHUA-KI® accelerates a heightened state of awareness and increases a person's capacity to channel more healing energy. All workshops and webinars include an AUMAKHUA-KI® Attunement, complete instruction in AK Symbol application(s), experiential, energetic exercises, a class workbook and a Workshop Certificate of Completion. There are 3 AUMAKHUA-KI® Practitioner levels plus an AUMAKHUA-KI® MASTER, AUMAKHUA-KI® TEACHER and AUMAKHUA-KI®  MASTER INSTRUCTOR levels.  
Please Note:  Credit Card billing will list our company,  ALL WELL MASSAGE, LLC d/b/a Initiation Healing® or Eventbrite for credit card payments. 
Click Here to get Ojela's free book download: Energy Healing Concepts.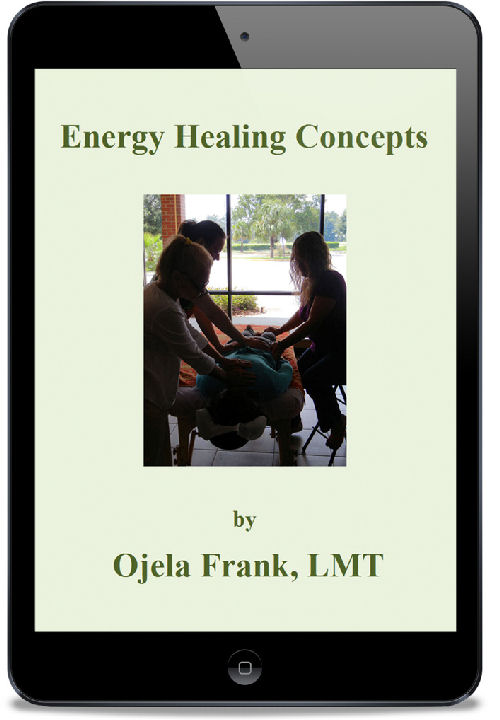 © 2013 by Ojela Frank      
When & Where

GLOBAL - Everywhere




Thursday, October 13, 2016 from 11:00 AM to 7:00 PM (EDT)
Add to my calendar
Organizer
AumaKhua-Ki ® International
AumaKhua-Ki ® Energy Balancing & Meditation. Discover how to elevate your vibration and experience heightened states of consciousness. AumaKhua-Ki® is a high-frequency energy experience. All can benefit from these relaxing and therapeutic sessions. AumaKhua-Ki® Energy balancing for family, friends, clients and pets.
We offer courses for quantum transformation. Some of our courses include: AK Energy Balancing 1, 2, 3, 4, AumaKhua-Ki® Energy Master and Instructor certifications. We also offer classes in Meditation & Breathwork, Qigong, Rebirthing and Usui REIKI (Levels I, II & Master certifications). Our headquarters is located in Ocala, FL. We also offer Online Distant-Learning and teleseminars. We are looking for people & organizations to host us for seminars. Some of our workshops are located in Florida, Illinois and North Carolina.
For more details, please visit our website and subscribe to our free eNews mailings. 
                   www.AumaKhua-Ki.org