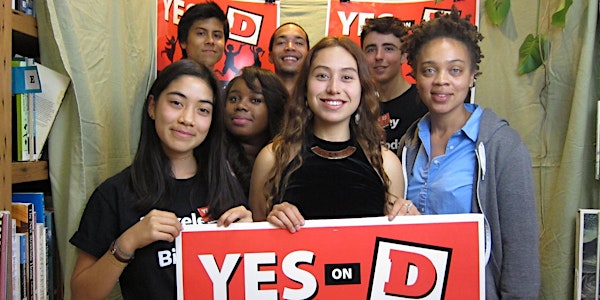 High Five for Soda Taxes! Celebrating the 5th Anniversary of Berkeley's Mea...
Location
YMCA-PG&E Teen Center
2111 Martin Luther King Jr. Way
Berkeley, CA 94704
Description
Come hear about how Berkeley's Soda Tax revenues are being spent after the passage of Measure D!
Berkeley's Soda Tax, enacted by Measure D, passed in 2014 and has raised millions of dollars in revenues. The City of Berkeley has been allocating these funds to a diverse array of local organizations working to reduce the consumption of sugar-sweetened beverages and raising awareness about the harmful health impacts of sugar-sweetened beverages in children, youth, and adults in Berkeley.
The Berkeley Food Policy Council invites everyone curious about the impacts of the Soda Tax to join us for a series of short presentations showcasing what local organizations are doing with the funds. We will hear from:
Joy Moore, founding member of the Berkeley Food Policy Council and member of the Sugar Sweetened Beverage Product Panel of Experts Commission
Dr. Vicki Alexander, President of Healthy Black Families and Co-Chair of the Yes on D Campaign
Jezra Thompson, Supervisor of BUSD Gardening and Cooking Program
Julie Sinai, Chief Strategy Officer of Lifelong Medical
Giuliana Blasi and Myisha Kemp, of the Ecology Center's Youth Environmental Academy
Ajura Smith of Healthy Black Families
Tracy Rogers of the YMCA's Diabetes Prevention Program
Kevin Williams, Development & Policy Director of Berkeley Youth Alternatives
Anna-Maria Violich-Olivier, Natalia Bernal, Juliana Lefko of the YMCA's Head Start Program
More speakers are being confirmed so check back here for a more complete list!
This event is FREE. Refreshments and light fare will be provided. Please register to ensure your spot.
Event brought to you by Berkeley Food Policy Council and City of Berkeley Healthy Berkeley