Description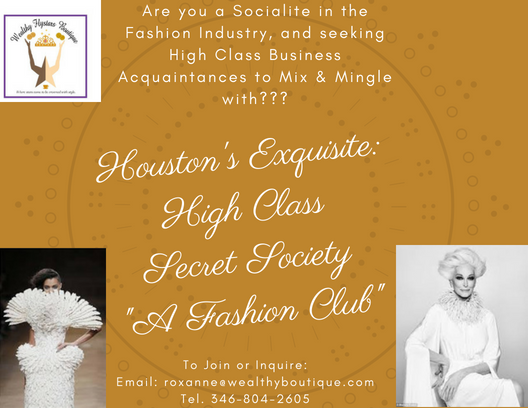 We are the Bourgeoisie, yet with a heart of gold. We are passionate about philanthropy. We plan Bi-monthly dinner parties, tea parties, silent auctions, charity events, community service projects, and fundraisers. We also plan a annual Gala or Fashion Show to raise funds for the community by partnering with non profit organizations.
This is a exclusive group for socialites, business owners, or career driven individuals with a passion in fashion, working in the fashion industry, or just simply want to be actively involved in a social club. ONLY open to those individuals that love donating their funds to society to make the earth a better place specifically in the area of college education or poverty stricken youth.
It is FREE for a guest to attend a Membership Screening meeting with the president one time to see if if you would like to join based off the New Memebership Powerponit Presentation at the office. However to attain access to the special events there are membership dues that one must pay on a quarterly, semiannually, or annually basics due on the 9th of the month of $195.00 total. In which; you will gain full access to all events with no need of ticket purchases because your membership dues covers you. Also a portion of these funds are put to good use by being donated to non profit organizations. There are many benefits and incentives offered by this association that will be discussed in the New Membership Orientation meeting upon meetomg with you.
Here is important information you need to know about joining this club. * The free ticket offer is not giving you access to the event. This offer is a free meet up to see if you are eligible to join, and see if you meet the strict criteria of the club regarding the association guidelines. This association consists of a small circle of individuals that meet the criteria, and that is why we are called a secret society because we are not anxious to let anyone join. We are seeking only likeminded individuals, but we are definitely looking forward to increasing & growing our membership, yet we are not in a rush. You have to attend the first free meeting to be considered to join, and it is not a actual event day for new potential members. The first meeting consist of a New Member Interview Screening Meeting & Power Point Presentation about club information and membership criteria. In which, you will view and sign Membership Package if you you decide to join. Membership dues will be due the following month.
We make sure you are a good fit for the Association, and if you feel like you personally fit into club vision & mission. We have strict criteria for individuals to meet because of our reputation to the community & non profit organizations. We are not your typical club. We are a group of business professionals, career driven, and fashion industry executives filled with passion to help out with the struggles in the community, and keep members involved in philanthropy work. Ultimately, we offer our funds & ourselves to charity, community service, and fundraising to give back to our community or society, but we have fun through social events.
Therefore, All events are bimonthly for active & participating members. That actually have joined as members, and pay their membership dues monthly.
We have a monthly meeting at a place of business to have a conference. To discuss ideas, upcoming Bi-Monthly event, and bi monthly event meet up location.
I look forward to getting aquainted with you, and changing the world one valuable life at at a time!