Description
WHAT: The Business of Fashion, Coffee + Dialogue
WHO: Fashion Professionals & Enthusiasts + Our International Guests
WHY: To connect, learn, and discuss what's happening in Hawaii Fashion, and in the larger world. We'll look at what's possible, and what it takes to build a profitable, thriving, local industry.
WHEN: Sunday, November 9, 2014 | 10:00AM-12:00PM
WHERE: Hawaii Convention Center Exhibition Hall during HONOLULU Fashion Week
HOW: Tickets are $25, FREE for HFX Members (Join at www.hawaiifashionexchange.com). Capacity is limited.
---
CONTENT
HFX Mentor Panel: World-renowned fashion professionals from across the industry share what goes on behind the scenes at New York Fashion Week and beyond.
RETAIL & BRANDING
Jacky Tang: Having fallen into the Retail industry while still a student at the University of Hawaii, Jacky Tang has since acquired over 14 years in Fashion, and now serves as the Vice President of Branding and Retail Development at the renowned fashion company Opening Ceremony.
PRODUCTION
Lynne O'Neill: A fashion show producer with more than 30 years' experience producing New York Fashion Week runway shows for clients including Vivienne Tam, Tommy Hilfiger, Hervé Leger, Elie Tahari, Catherine Malandrino, and Rebecca Minkoff.
TALENT
Roman Young: A graduate of Iolani School, Roman Young is the Director of Talent for Wilhelmina Models in New York and a Mentor for the Hawaii Fashion Exchange (HFX). He has appeared on MTV, MSNBC, E! Entertainment, Entertainment Tonight, Wall Street Journal, CNN, and as a judge on America's Next Top Model.
DESIGN & BRANDING
Bliss Lau: Designer of an eponymous accessories brand carried in boutiques across the world, Bliss will share her work and talk about developing strong brand vision. She's an Associate Professor at Parson's School of Design in New York, and will return to HNL in 2015 to lead an HFX workshop on Brand DNA.
ART & EDUCATION
Henry Navarro: An artist specializing in fashion as public art, Henry Navarro will introduce a new collaborative project, Aloha Na`au, for summer 2015 and will share his projects from around the globe. Henry serves on the faculty at the acclaimed fashion program at Ryerson University in Toronto, Canada.
HI Fashion Industry Panel: A diverse panel shares insights into the current local industry and explores the future of Hawaii fashion.
The morning wraps up with mixed networking and discussion until 12:00 when the space opens to the public for HONOLULU Fashion Week. Go shopping!
---
MORE ABOUT HIFI + ITS INITIATIVES
The Hawaii Fashion Incubator (HIFI)'s builds community and provides resources and platforms for Hawaii's growing fashion industry. Hawaii Fashion Month (HFM) is an annual opportunity for the industry to come together to connect, collaborate, show & sell. 2014 launches Hawaii Fashion Exchange (HFX), a digital directory of the "Faces of HI Fashion" that provides opportunities for members to showcase, find resources, and learn from internationally acclaimed HFX Mentors.
---
Organizer of HIFI Connects
November is Hawaii Fashion Month!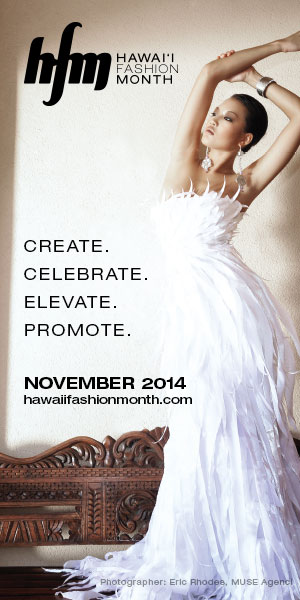 HFM is an initiative of the Hawaii Fashion Incubator (HIFI).