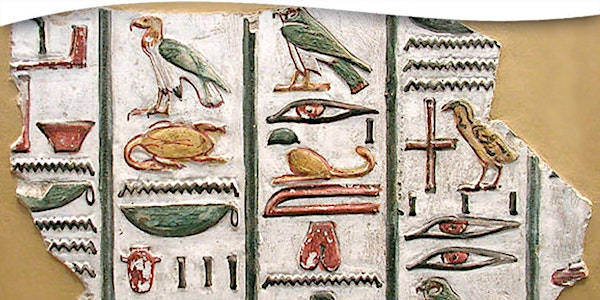 Hieroglyphic Thinking: Harness the Wisdom of Ancient Egyptians
Scribe your own hieroglyphic and oracular alphabet and learn to interpret them as the ancient Egyptian priest scribes did.
Refund Policy
Contact the organizer to request a refund.
Eventbrite's fee is nonrefundable.
About this event
Saturday, December 10, 1:00 – 3:30 p.m. CT
Hieroglyphic symbols were literally the Word of God; the Egyptians called them Medju neter. The goddess Seshet joined the god Thoth as the two divine scribes in heaven and on earth. When he stirred the cosmic soup in his cauldron at the beginning of time, Thoth conjured the oracular powers of symbol and name vibration. Seshet, the keeper of akashic records, recorded the myths of the gods and the meaning of our lives.
As we harken back to the alchemical wisdom of Egypt, we will explore the power of natural law, including the laws of correspondence, vibration, and more. Learn to think like an ancient Egyptian as you discover how the priests and priestesses used their words of power to create sacred texts, prayers, and oracles. We will scribe our own hieroglyphic and oracular alphabet and learn to interpret them as the ancient priest scribes did.
Registration includes on-demand access to a recording of the workshop, which can be viewed for two weeks following the date it was presented.
Rev. Dr. Normandi Ellis is an arch-priestess of the Temple of Isis and has led sacred trips to Egypt since 1992. Awakening Osiris, her original translations of the hieroglyphs found in the Egyptian Book of the Dead, is considered a spiritual classic. Her other books exploring ancient Egyptian metaphysics include Dreams of Isis, Feasts of Light, Imagining the World into Existence, Invoking the Scribes of Ancient Egypt and The Union of Isis and Thoth. Her essays have appeared in Watkins - Body Mind Spirit, Parabola, Gnosis, Magical Blend and The Rosicrucian Digest among other magazines. In 2020, Normandi completed her doctorate of divinity in comparative religions. She is a Spiritualist minister astrologer living in Chesterfield, Indiana.
Program Format
This is a live, interactive online program that will also be recorded for on-demand viewing. Our goal is to send recordings to you within two business days, often sooner. Recordings will be available for on-demand viewing for two weeks following the date of the last class.
Software Platform
Zoom for Windows, Mac, or mobile device; minimum recommended network bandwidth 1.5 Mbps. Please download Zoom for free at zoom.us/download, and test your connection at zoom.us/test. New to Zoom? Check out www.theosophical.org/FAQ. Please email webinars@theosophical.org for further information.