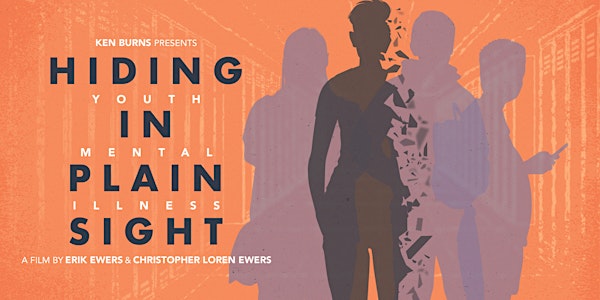 Hiding in Plain Sight Community Screening Event
Participate in this creative and empowering youth focused event that will help eliminate stigma and normalize discussing mental wellness.
When and where
Location
WNED PBS Studios 140 Lower Terrace Buffalo, NY 14202
About this event
Join us at our WNED PBS studios to view clips of the Hiding in Plain Sight: Youth Mental Illness, participate in discussions, interactive and creative breakout sessions, and informative activities. All are welcome to participate in this creative, mindful, and empowering youth focused event that will help eliminate stigma and normalize discussing mental health and wellness. For part of this event, the larger group will be broken into different interactive sessions - some aimed at adults and some aimed at young people.
Doors open at 5:30 pm so participants can visit with organizations and pick up resources.
Participants will be provided with free dinner from Beanie's Cafe. Some of the dinner items will be: corn soup, beans, fry bread, and Indian cookies!
Ken Burns Presents: Hiding in Plain Sight: Youth Mental Illness is a two-part film that follows the journeys of more than 20 young Americans who have struggled with mental illness. These first-person accounts share stories, obstacles, and triumphs of young people and their families and the conversations shown in this film confront stigma, discrimination and raise awareness. Issues around mental illness are complex, and the most important and difficult step individuals face is to start talking about it. Hiding in Plain Sight works as a conversation piece, to start dialogue for young people and their families at home, school, in the workplace, and community organizations.
The history of genocide, forced migration, and broken treaties since the 17th century continues to affect Indigenous communities in Western New York and across the nation. Consequently, Native Americans see the highest rate of suicide compared to any other racial or ethnic group in the U.S., and ages 15-24 have the highest rate within the community. This information inspired Buffalo Toronto Public Media to partner with Seneca Native Connections, Native American Community Services of Erie & Niagara Counties, and the Suicide Prevention Coalition of Erie County to host an event catered to Native American youth and their families.
BREAK OUT SESSIONS:
Adults 25+ will stay in the studio for a Talk Saves Lives presentation from Native American Community Services.
Youth/Young Adults 14 - 24 will have two mini-workshops learning about creative expression outlets:
ART - hosted by Carson Waterman, the participants will do a quick art activity and be able to bring their piece home!
STORYTELLING - hosted by Leeora White, participants will hear Leeora's personal story and learn about the power of positivity and creativity. Participants will leave with a writing/drawing journal!
This event is intended for ages 14 and above. It includes video and discussion of sensitive matters.
Health and Safety:
All attendees must be fully vaccinated against COVID-19. People are considered fully vaccinated two weeks after their second dose in a two-dose series (Pfizer, Moderna), or two weeks after a single-dose vaccine (Johnson & Johnson).
No exceptions will be made to the vaccine requirement, and a negative COVID test will no longer be accepted for entry.
Attendees will need to present photo ID and proof of vaccination in the form of your physical CDC Vaccination Record card or your digital vaccination record before entering the building. New York residents can easily register for your digital vaccination record for access on your mobile device. Photographs of vaccination cards will not be accepted.
We've installed an environmentally friendly clean air filtration system throughout our building to attack microbes both in the air and on surfaces. This system uses an innovative Dry Hydrogen Peroxide (DHP™) to fight viruses, bacteria, mold, odors, and insects.
There will be enhanced disinfecting of high-touch surfaces. Countertops, railings, restrooms, and seating areas will be cleaned and disinfected thoroughly.
We will continue to closely review public health guidelines and update our safety protocol as necessary. Staying informed is our best prospect for remaining safe as we move forward with navigating through the pandemic. Buffalo Toronto Public Media is dedicated to staying up to date with current guidelines to ensure a safe experience for all.
Production Credits: KEN BURNS PRESENTS HIDING IN PLAIN SIGHT: YOUTH MENTAL ILLNESS A FILM BY ERIK EWERS AND CHRISTOPHER LOREN EWERS is a production of Florentine Films, Ewers Brothers Productions, and WETA Washington, D.C. Directed by Erik Ewers and Christopher Loren Ewers. Written by David Blistein. Produced by Julie Coffman. Co-produced by Susan Shumaker, Erik Ewers, Christopher Loren Ewers, and David Blistein. Executive produced by Ken Burns. Executive producers for WETA are John F. Wilson and Tom Chiodo. WETA project management by Kate Kelly. WETA production management by Jim Corbley.
Funding Credits: The Well Beings Youth Mental Health Project, which includes HIDING IN PLAIN SIGHT: YOUTH MENTAL ILLNESS, is made possible by Otsuka, Kaiser Permanente, Bank of America, Liberty Mutual Insurance, American Psychiatric Association Foundation, One Mind, Movember, National Alliance on Mental Illness, Dana Foundation, Dauten Family Foundation, The Hersh Foundation, Mental Health Services Oversight & Accountability Commission, John & Frances Von Schlegell, Sutter Health, Robina Riccitiello, and Jackson Family Enterprises. Partners include CALL TO MIND at American Public Media, PBS NewsHour Student Reporting Labs, WE Organization, Forbes, PEOPLE, Mental Health America, National Council for Mental Wellbeing, The Steve Fund, The Jed Foundation, and Athletes for Hope.