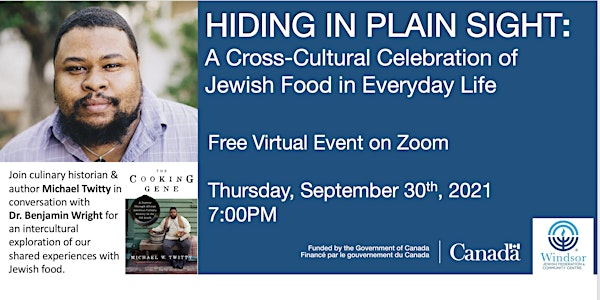 Hiding in Plain Sight: A Cross-Cultural Celebration of Jewish Food
A cross-cultural conversation about Jewish food in everyday life.
About this event
Join culinary historian and author Michael Twitty in conversation with Dr. Benjamin Wright for an intercultural exploration of our shared experiences with Jewish food.
This event supports the overall goal of spotlighting the intersections of African American and Jewish foodways in ways that support the larger story of multicultural engagement in contemporary popular cuisine.
Michael Twitty's forthcoming book, "KosherSoul," focuses on African American and Jewish food traditions through the experiences of Black Jews and Southerners who converted to Judaism, including his own.
An interactive Q&A will follow Michael Twitty's talk. Bring your questions about Jewish food and its rich history in North American cuisine.
Sponsored by Canadian Heritage through the Community Support, Multiculturalism, and Anti-Racism Initiative.