Hidden in Plain Sight: Hildreth Meière

Sunday, May 18, 2014 at 2:00 PM (EDT)
Event Details
Hidden in Plain Sight
The Art Deco Murals of Hildreth Meière
Self-guided tours: 2-5pm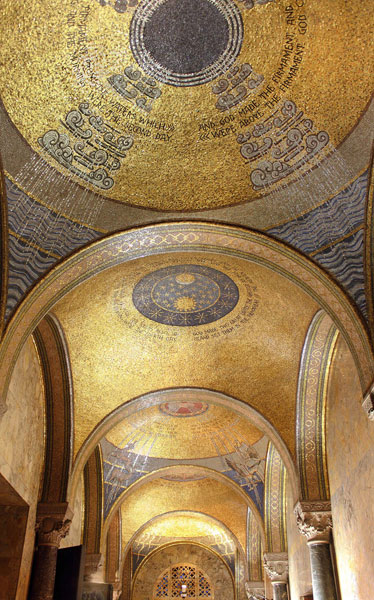 Image: Narthex, St. Bartholomew's Church / Hildreth Meière Dunn
Open House New York invites you to rediscover the work of Hildreth Meière (1892-1961), one of the most acclaimed American decorative artists of the 20th century, during a Sunday afternoon open house of the artist's most spectacular mosaic murals, wall sculptures, stained glass windows, and other unique works.
Often hidden in plain sight, Meière's monumental works - completed over the course of a forty-year career - can be found throughout the city and around the country. Largely forgotten today, Meière was once considered the most famous muralist of the Art Deco period, and the most prolific in the country at a time when few female artists achieved such renown.
This event is organized as a self-guided walking tour. Each ticket holder will be given a map of featured sites at the start of the event, which they may visit in any order. Guest speakers will be at select sites to discuss the artist's work and answer questions. Information about check-in location will be emailed to you one week before the event.
Organized by Open House New York and the International Hildreth Meière Association, this event coincides with the publication of The Art Deco Murals of Hildreth Meière (Andrea Monfried Editions).
Featured Sites
32 Avenue of the Americas*
Radio City Music Hall
St. Bartholomew's Church**
St. Patrick's Cathedral
St. Thomas Church Fifth Avenue*
Temple Emanu-El*
*Guest speakers onsite
**Authors of The Art Deco Murals of Hildreth Meière onsite
Tickets to this event are non-refundable. Should you be unable to attend, the full price of unused tickets may be treated as a donation to openhousenewyork and is tax deductible to the fullest extent allowed by law. 
Organizer
Open House New York
Open House New York (OHNY) is a non-profit 501(c)3 organization. The mission of OHNY is to promote a greater appreciation of the city's built environment; broaden public awareness by exposing diverse audiences to distinctive examples of architecture, engineering and design; educate and inspire discussion of issues of excellence in design, planning and preservation; and showcase outstanding new work as well as structures of historic merit.