Hidden Gem Paddle: Satilla River

Saturday, November 15, 2014 from 9:30 AM to 5:00 PM
Event Details
A GLIMPSE OF THE SATILLA RIVER'S UNIQUE PAST THROUGH ITS GIANT MAGNOLIAS AND BURNT FORTS
---
Spend a day paddling through a moss-draped river corridor and lounge on snow white sandbars on this intimate South Georgia beauty!
---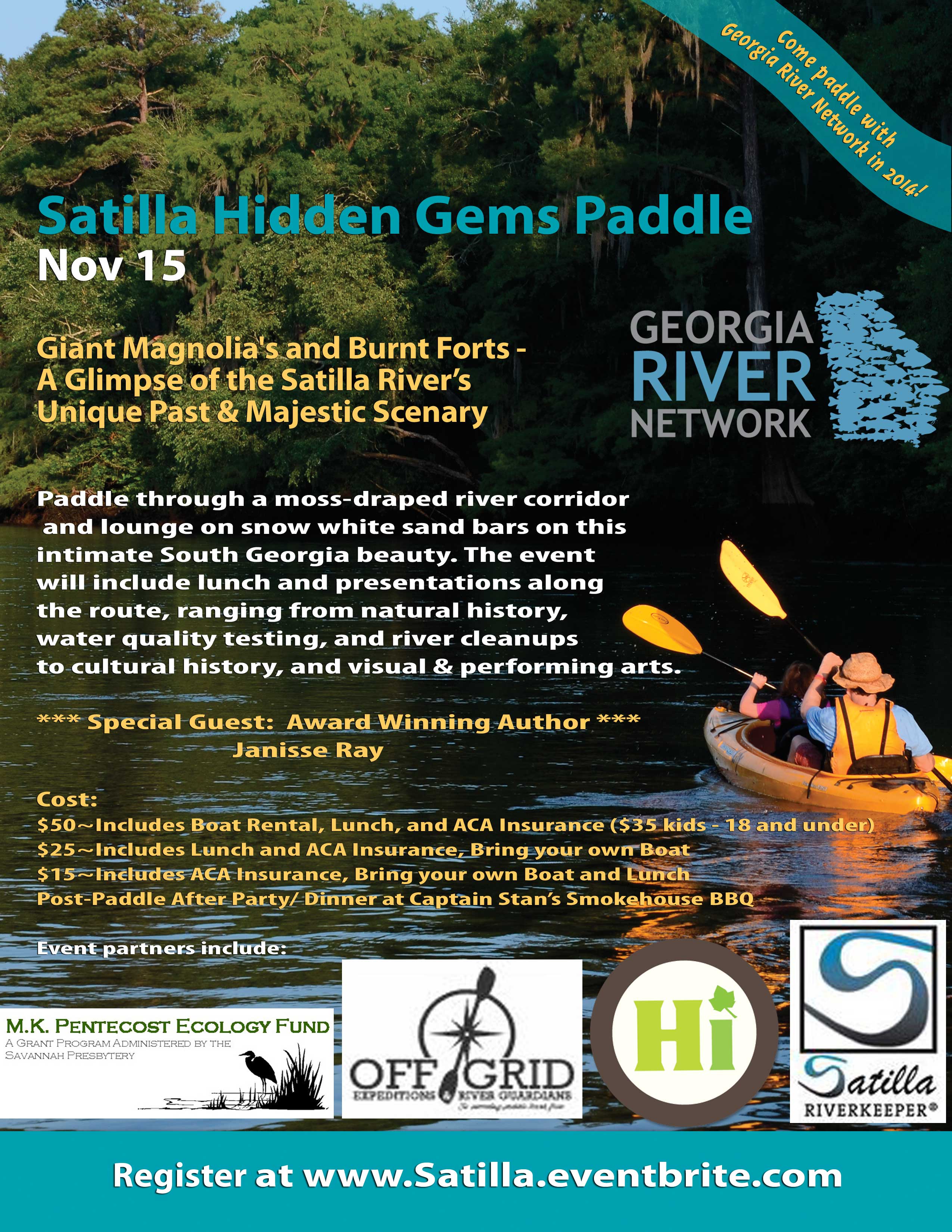 ---

Registration Options (per person)  
$50 - Includes Lunch, Boat Rental & ACA Insurance fee ($35 for Kids 18 & Under) 
$25 - Includes Lunch and ACA Insurance Only, Bring your own Boat 
$15 - Includes ACA Insurance fee, Bring your own Boat and Lunch
$15 - Post-Paddle Party Dinner at Captain Stan's Smokehouse BBQ ($8 for Kids 13 & Under) * Includes tax and tip.
NOTE: We will paddle rain or shine except in the event of a severe thunderstorm. Participants must cancel within 48 hours of the event to receive a refund. 
Presentations
Adopt-A-Stream - Beth Walker, Tidelands - Jekyll Island

Rivers Alive - Clay Kicklighter, Off Grid Expeditions

Flora/Fauna - Bert Deener, DNR Wildlife Resources Division - Fisheries AND Jacob, Thompson, DNR Wildlife Resources Division - Non-Game
Fishes - North American Native Fishes Association
Performing Arts - Janisse Ray, Award-Winning Author/Naturalist/Environmental Activist AND Kellie Parr, Musician
History - Shirley Thompson, Historian - Burnt For Historical Association

Partner Presentations- Georgia River Network, Satilla Riverkeeper, & Off Grid Expeditions


Outfitter - Altamaha Coastal Tours
Lunch - provided by Len Foote Hike INN

Important Details
#1. The paddle is flatwater and six miles long. Novice paddlers are welcome to join.

# 2. Put-In, Take-Out & Parking: 
PUT- IN:
3R Fish Camp Lane
White Oak, GA 31568
30.999934, -81.906191

TAKE- OUT:*
Burnt Fort Public Boat Launch
Burnt Fort Rd.
White Oak, GA 31568 
30.947253, -81.901997
*Use GPS coordinates in Google Map!
If you are bringing your own boat:
Please drop your boat off at the Put-In location, drive to the Take-Out location (arriving no later than 9:30AM - 15 min drive / 8.9 miles), park your vehicle and take the shuttle back to the Put-In.

If you are renting a boat:
Please arrive at the Take-Out to park your vehicle no later than 9:30AM and take the shuttle to the Put-In.

#3. Don't forget to fill out your ACA waivers online! Once you have have completed your online waiver(s), you will receive an email. Within the email, you will need to click on the included link to finalize submission of the form. 
                                   ·  Adult ACA liability Waiver 
                                   ·  Minor ACA liability Waiver


#4. Please bring water, hat, sunscreen, and anything else you may need to stay happy on the river. Do not wear anything you do not mind getting wet- no cotton (or jeans). If you are bringing your own boat- please take note that ACA requires that you wear your life jacket at all times while on the river. Thanks for your cooperation!
#5. In our efforts to make this an environmentally conscious/friendly event we ask that you bring your own water bottle (we will have igloo coolers with ice water for you to fill them with). Thanks for your understanding!
#6. We will eat lunch on a sandbar.  If you purchased a lunch it will be passed out then.
#7. If you would like to make a donation to or become a member of GRN, please make sure to check this option when registering.
To learn more about the partnering organizations of this event, visit the following links: Georgia River Network, Satilla Riverkeeper, Off Grid Expeditions and Len Foote Hike INN.

#8. We are going to have a post-paddle dinner!
WHEN - Saturday, Nov 15th, 6:00-9:00PM
WHERE - Captain Stan's Smokehouse BBQ
WHAT - Main dish items include: BBQ Ribs, Smoked Chicken, Grilled Shrimp, Oysters, Pulled Pork, Baked Potato with Boston Butt, Chili Burgers, Sandwiches, etc. Side Items Include: Lima Beans, Collards, Slaw, Baked Beans and Potato Salad.
COST - $15 per adult, $8 per child (13 & Under)
WHO - The Wharfratz band will be playing live! Check them out here. 
For more info about the restaurant: 
https://www.facebook.com/CaptainStansSmokehouse
NOTE: Post-paddle dinner tickets may only be purchased on-line via this website. 
#9. Overnight stay options:

City of Woodbine 
Primitive campground with restroom and shower facilities along Riverwalk
102 East Oak Street, Woodbine, GA 31569
Please contact Ashby Nix at riverkeeper@satillariverkeeper.org to reserve a spot.
Deep Bend Landing - Woodbine, GA 
Riverside camping
www.deepbendlanding.com
StarDust Motel - Woodbine, GA
210 Bedell Ave, Woodbine, GA 31569, 912-576-3207
Vacation Rentals By Owners - Woodbine, GA
http://www.vrbo.com/vacation-rentals/usa/georgia/coastal/woodbine
Hotels in Kingsland, GA
www.visitkingsland.com
Hotels in St. Marys, GA
www.visitstmarys.com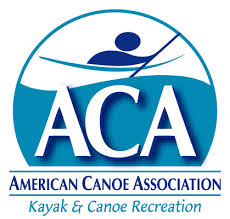 This is an ACA-sanctioned event. ACA memberships are available within registration of this event. Individual memberships: $30 each, Family memberships: $40 each

Thank you and we look forward to exploring this Hidden Gem with you!
If you have any additional questions please contact:  Gwyneth Moody
                                                                                     gwyneth@garivers.org
                                                                                     706.549.4508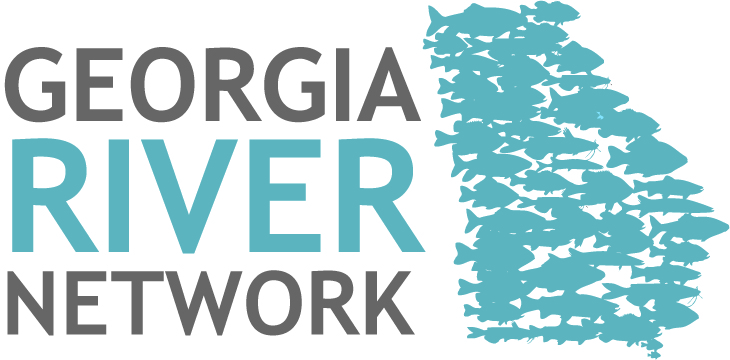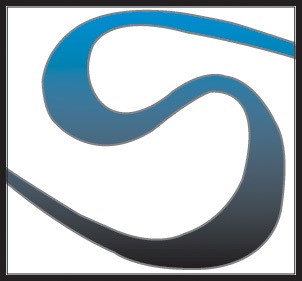 For information about our other Hidden Gem paddling trips, go here!   
Supported in part by: 

When & Where

Burnt Fort Public Boat Launch
Burnt Fort Rd.
30.947253, -81.901997
White Oak, GA 31568


Saturday, November 15, 2014 from 9:30 AM to 5:00 PM
Add to my calendar