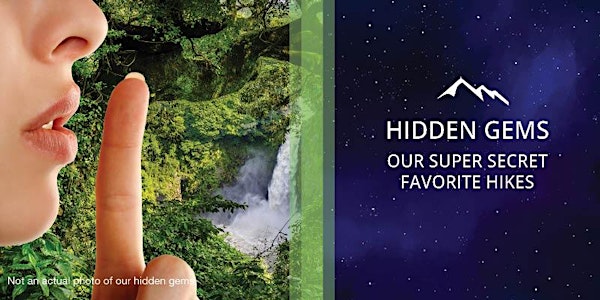 Hidden Gem #2 - August
There are a lot of beautiful places to hike... but these are our favorites!
About this event
Join Us for an Adventure to Kula's Hidden Gems
We're tempted to keep our favorite hikes a secret. But that feels a little selfish. So, we've created Kula's Hidden Gems exclusively for eight adventurers that are willing to take a blood oath to not tell a soul AND to leave them better than they found them.
Each month, we will take eight souls on a super-secret adventure to a place of great beauty. We won't disclose the location of the hike until a few days before we meet. And we won't share a photo of the location. You'll have to trust us. And we'll have to trust you.
If you have an adventurous spirit and want to see a few of our favorite places… register quickly these will fill fast.
Here are the Rules
These are our favorite places. We don't want to spoil them. To do that, we will require you to take a blood oath stating the following:
That you will not share the location
You will not post photos of these locations on Instagram or other social media platforms
That you are fit and healthy – these are difficult hikes that include very steep, rugged and difficult terrain.
You have to commit to the hike. If you cannot make the date, do NOT register for the hike.
These hikes will likely involve early mornings, late evenings, and depending on where you live… may involve driving long distances in the state of Washington.
Approximate location of Our Second Hidden Gem Hike
Located in the Alpine Lakes Wilderness - more information will be provided a few days before the hike to registered hikers.
Mileage: 6 miles round-trip
Elevation: Gain 2,100
A Little More Information: Please be prepared for this challenging day hike with trekking poles and your 10 essentials, and your lunch and snacks. Also be prepared for potentially lots of bugs.
What we can promise if Mother Nature Cooperates: A couple portions of very steep climbing, some route finding, and a short but moderate exposure scramble. Also you will see alpine lakes, tarns, and meadows as well as spectacular mountain views.
Although we are hiking together, this is a self guided hike - meaning that you are expected to be responsible for yourself. More information about the trip will be provided two-three days prior to the trip. Please be prepared for a very difficult, yet stunning hike.
What to bring:
Your Kula, trekking poles, warm clothing, lunch, water, lots of snacks, and your 10 essentials: Headlamp, Navigation, Sun Protection, First Aid, Knife, Fire, Shelter, Extra Food, Extra Water, Extra Clothes.
We will provide more information about the trip a 2-4 days before the adventure.