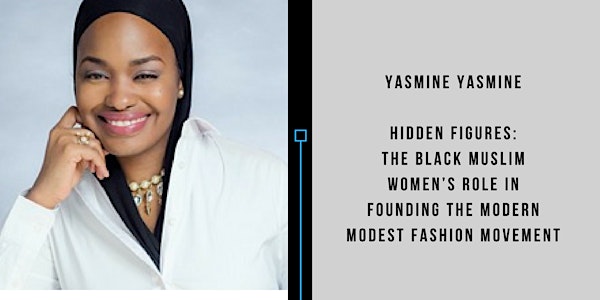 Hidden Figures: The Black Muslim Women's Role in Founding the Modern Modest...
Location
Arts Horizons LeRoy Neiman Art Center
2785 Frederick Douglass Boulevard
New York, NY 10039
Description
More than a CEO, Yasmine Yasmine is an Ivy League educated Creative Director, Writer & ​Scarf/Wardrobe Stylist. As the daughter of a model-stylist and granddaughter of an entrepreneur/bibliophile; marrying brains & beauty in business comes natural to this "Phi Beta Kappa Fashionista."

Yasmine Yasmine's degrees in Anthropology & Psychology, serve as the perfect tool for styling as they explore the beauty of creation via its many iterations & the thought processes of the people behind them.
​Paramount to Yasmine Yasmine's graduate & undergraduate studies are the lessons from her mother's lap.

​Yasmine Yasmine draws from a global palette to create breathtaking looks that combine unique cultural color-ways and modern silhouettes. Her work exhibits a rich verbal/visual patina developed from a youth spent in showrooms, fabric stores, studios, back-stages, libraries, classrooms & museums with her mother.

​Yasmine Yasmine has dedicated decades to advocating for educational equity & community development,
on local and international platforms for grassroots, governmental and fortune 500 organizations.