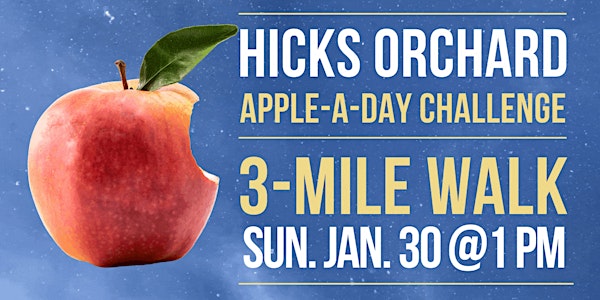 Hicks Orchard Apple-A-Day Challenge - 3 Mile Walk
Take the Hicks Orchard Apple-A-Day Challenge for the month of January. End with a 3-mile walk/snowshoe through the orchard. (Rain or shine!)
When and where
Location
HICKS ORCHARD 18 Hicks Road Granville, NY 12832
About this event
Kids welcome! Join us for a 3-mile walk or snowshoe in the orchard to celebrate our 31-day APPLE-A-DAY CHALLENGE. For the month of January, substitute and apple for that thing you are trying not to eat. Could be potato chips, beef jerky, ice cream. Instead eat and apple!
**APPLE SALE****APPLE SALE****APPLE SALE****APPLE SALE**
We have two ways to save you money on your apples:
1) Until January 31st, get a $20 coupon for apples when you complete your Fresh Cider Club Card (ask for one at checkout
2), Get 10% off your apples from December 17, 2021 to January 31, 2022 when you show Eventbrite registration for the walk on January 30th. This discount cannot be used with any other coupon or discount.