HIA-LI's 26th Annual Business Achievement Awards
Honoring Outstanding Long Island Businesses!
About this event
The HIA-LI's 26th Annual Business Achievement Awards, "the Oscar's of Long Island Business" recongizing extraordinary firms that distinguished themselves in areas of growth, leadership, and commitment to the Long Island Business community.
Join the HIA-LI on Tuesday, September 29th for a virtual awards ceremony to celebrate Long Island Business and the 20 Business Achievement Award Finalists.
Agenda:
Networking: 11 - 11:45 AM - Registration Required
Program: 12 PM - Registration Required
For more information and sponsorship opportunities, contact Anthony Forgione at aforgione@hia-li.org or call 631-543-5355.
We invite and encourage your participation in this exciting awards ceremony! During the program, type your congratulatory tweets with the hashtag #BAA2020 and your comments will livestream directly on the screen for virtual attendees, finalists, and recipients to see! #BAA2020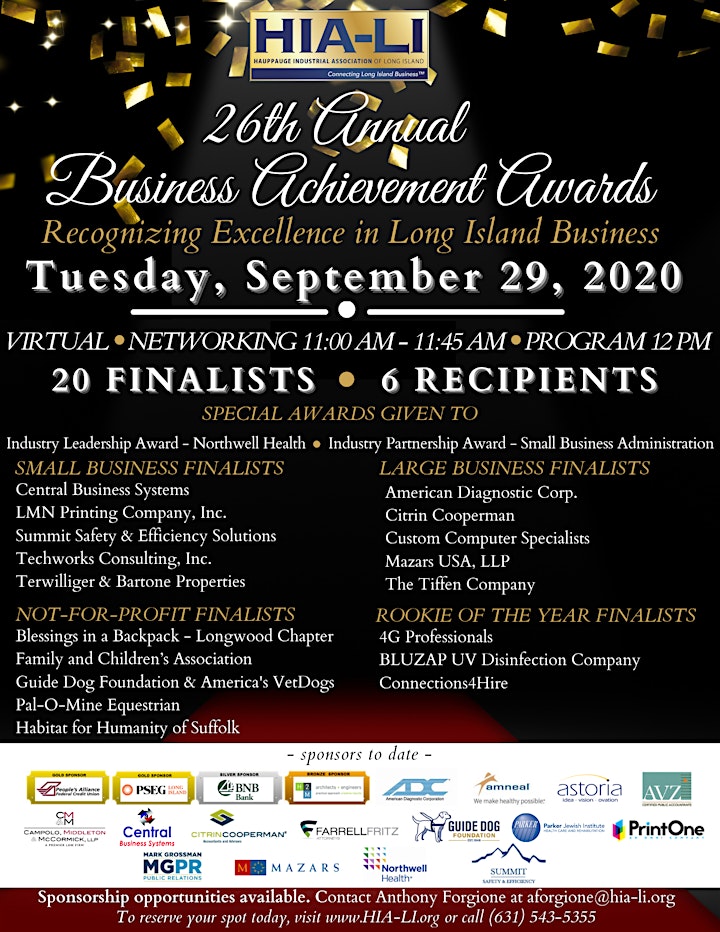 Organizer of HIA-LI's 26th Annual Business Achievement Awards
The HIA -LI has grown to represent tens of thousands of business professionals. We have been one of the recognized voices for business on Long Island and a powerful force as well as an economic engine for regional development for 40 years. Our community outreach has fed the hungry, supplied blood for emergencies, provided scholarships for Long Island college students and strengthened businesses throughout the region. Since our membership encompasses Long Island and beyond our overall objective is to enhance the economic climate and overall quality of life of the Long Island business region for the benefit of our members.