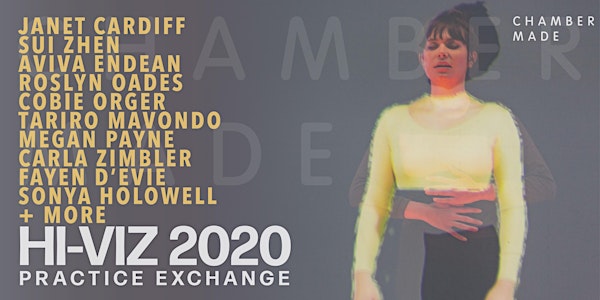 Hi-Viz Practice Exchange 2020
Hi-Viz is an initiative for deepening dialogue around cross-artform practice for women & non-binary artists in performance, sound and music.
About this event
Chamber Made's Hi-Viz Practice Exchange is back for 2020 and we're taking it online.
With artist talks, listening sessions, participatory workshops, provocations, break out sessions, and performance, Hi-Viz is a day dedicated to artistic practice designed to stimulate, connect, and recharge.
We are all sharing one of the most unusual years in our lifetimes where time has become slippery, bodies dangerous, and the real and virtual increasingly entangled. What happens to artistic practice at a time like this? How does collaboration and creating new work shift? What do you let go of and what are you determined to hold onto?
Our program for the day includes:
artist talk with renowned Canadian sound artist Janet Cardiff
participatory experiment with Aviva Endean and Cobie Orger
a listening experience by Roslyn Oades
artist provocateurs Fayen d'Evie, Sonya Holowell and Tariro Mavondo
breakout room discussions
Hi-Viz Short Work Commission by Sui Zhen, Carla Zimbler and Megan Payne
We will also have two sound artists-in-residence - Bec Fary and Nat Grant - and two writers-in-residence - Olivia Muscat and Sarah Walker - to capture and reflect on the day.
As with all Hi-Viz Practice Exchange events, this day is for cis and trans women, trans men and non-binary artists working at the intersections of performance, sound and music. The full day will be Auslan interpreted and Janet Cardiff's artist talk will be live captioned. As there will be break out sessions on the day, please indicate in your registration if you will require Auslan interpretation.
You will have the option to attend the full day or individual sessions.
If you have any questions please email the Hi-Viz producer Lana Nguyen: lana@chambermade.org
Hi-Viz is generously supported by the Helen Macpherson Smith Trust and The SUBSTATION. The project has also been assisted by the Australian Government through the Australia Council, its arts funding and advisory body.