Description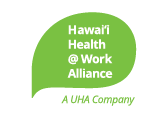 ---
To purchase your 2020 HH@WA Business Membership* at the early bird rate of only $149 (now through 12/31/19), click on "TICKETS".
---
TAKE ADVANTAGE OF OUR MEMBERSHIP BENEFITS TODAY:
Our staff of workplace wellness experts to help design a program tailored to your organization
Access to members-only online wellness resource library
Company promotion on hhawa.com
Two tickets** to our annual Hawaii Wellness @ Work Conference and Hawaii Wellness Leaders Forum
Priority access to private events
Exclusive member discounts to qualified wellness partners
Learn and build relationships with like-minded wellness leaders with 475+ participating organizations
*Valid from date of purchase through Dec. 31, 2020.
**Additional tickets at added cost available on a first-come, first-serve basis
If you have feedback or questions, contact us at 808.532.2156 or at workwell@hhawa.com.