Description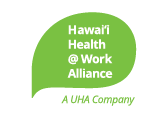 ---
To purchase your 2019 HH@WA Business Membership* click on "TICKETS".
---
TAKE ADVANTAGE OF OUR MEMBERSHIP BENEFITS TODAY:
Our staff of workplace wellness experts to help design a program tailored to your organization
Access to members-only online wellness resource library
Company promotion on hhawa.com
Two tickets** for our Hawaii Wellness Leaders Forum in November 2019 and all upcoming 2020 events
Priority access to private events
Exclusive member discounts to qualified wellness partners
Learn and build relationships with like-minded wellness leaders with 475+ participating organizations
*Valid from date of purchase through Dec. 31, 2020.
**Additional tickets at added cost available on a first-come, first-serve basis
If you have feedback or questions, contact us at 808.532.2156 or at workwell@hhawa.com.