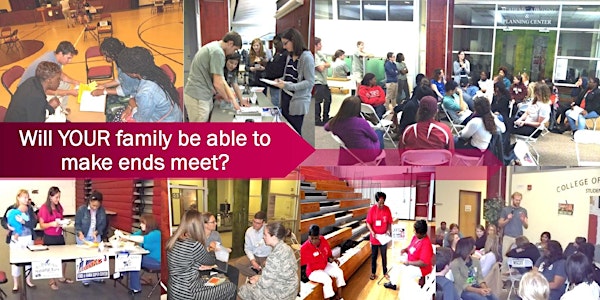 HHAW Poverty Simulation
When and where
Location
Lightsey Center 160 Calhoun Street 2nd Floor Charleston, SC 29401
Description
The College of Charleston's Center for Civic Engagement cordially invites you to attend a Community Action Poverty Simulation (CAPS) in honor of National Hunger and Homelessness Awareness Week. CAPS is an experiential exercise that provides participants with the opportunity to assume the role of a economically-insecure family member living on a limited budget. The experience is divided into four 15-minute sessions, each of which represents one 'week' over the course of a 'month' in which the participant must provide for their family and maintain their home. The purpose of the simulation is to help participants better understand the decisions that families who live right at the poverty line have to make every day and the fears and frustrations they feel. The simulation is not a game and the intent is not to put low-income individuals on display. It is an experiential exercise that uses role play and props to create deeper awareness for those who may interact with low-income families (which is everyone either knowingly or unknowingly).
This learning tool has been created as a way to help people understand the realities of poverty and is based on the real families human services agencies serve every day. During a simulation, participants role-play the lives of low-wage workers, retirees and their families. Some are TANF recipients, some are disabled, and some are senior citizens on Social Security. They have the stressful task of providing for basic necessities and shelter on a limited budget during the course of four 15-minute "weeks." They interact with human service agencies, grocers, pawnbrokers, bill collectors, job interviewers, police officers and others.

Although play money is used, CAPS is not a game. It is a simulation that enables participants to look at poverty from a variety of angles and then to recognize and discuss the potential for change within their local communities. The simulation was designed to sensitize those who frequently deal with economically-disadvantaged families, as well as to create a broader awareness of the realities of poverty among policymakers, community leaders and others.
**VOLUNTEERS NEEDED**
If interested, please come at 3pm for a quick & easy training!
Please register as either a volunteer or participant using the free EventBrite tickets.
Click the link below to learn more about the Poverty Simulation experience:
http://www.youtube.com/watch?v=BsKW2v7BllM&feature=related