Sales Have Ended
Registrations are closed
Thank you for registering for the HGPS One Day Conference!
Sales Have Ended
Registrations are closed
Thank you for registering for the HGPS One Day Conference!
Description
This year's theme: "Diversity within Diversity – The Intersection of Identities Within Groups" featuring Keynote Speaker Sandra López, LCSW, ACSW.

3 ethics CEUs and up to 7 total CEUs
Featured Topic: Culturally Competent Ethical Practice:
Practicing Cultural Humility and Embracing Cultural Opportunities presented by Sandra A. López, LCSW, ACSW, DCSW

Our professional code of ethics across disciplines sets ethical standards for promoting cultural competence in our clinical practice. Still, as clinical practitioners we may struggle in knowing how to effectively work with diverse cultures especially in our world today. Contemporary views of culture acknowledge that individuals may draw from various cultural affiliations in defining their identity or identities which may influence their perception of problems and ways of coping. The intersection of these distinct cultural identities can create complex encounters and even challenging ethical dilemmas for the clinical practitioner especially in group psychotherapy. This keynote will address how we can best navigate these complex challenges, adopt a practice of cultural humility, and seize the cultural opportunity.

By the end of the keynote presentations, participants will be able to:
1. Explore the ethical responsibilities related to cultural competence
2. Define a theoretical framework for cultural competent practice
3. Describe key cultural constructs including cultural humility, cultural opportunities, microaggressions, and other constructs to enhance cultural understanding
4. Identify clinical ethical dilemmas in the context of clinical practice; and
5. Explore practical application of an ethically culturally competent practice approach.

About Keynote Speaker Sandra A. López, LCSW, ACSW, DCSW
Sandra A. López is a Licensed Clinical Social Worker from Houston, Texas with over thirty-eight years of practice experience in academia and private practice. She holds NASW distinctions as an Academy Certified Social Worker and Diplomate in Clinical Social Work. She is a recently retired Clinical Professor from the University of Houston Graduate College of Social Work where she served as Director of the Social Work Trauma Education Program. Her teaching excellence was recognized in her selection as Outstanding Faculty by ten graduating classes. Because of her outstanding contributions to the College, a scholarship was established in 2014 called the Sandra A. López Scholarship Endowment for Excellence in Clinical Practice.

López is a longtime member of NASW and has held numerous leadership positions locally and nationally. Due to her contributions to NASW and the profession, the NASW Texas Chapter renamed their Leadership Institute in November, 2005, to what is now The Sandra A. López Leadership Institute. She has received numerous honors and awards including NASW Texas Social Worker of the Year, Lifetime Achievement Award, and most recently the 2016 Social Work Excellence Award from the University of Houston Graduate College of Social Work.
She is currently in clinical and consulting practice with established expertise in the arena of trauma and in particular traumatic grief. She is a widely recognized local, state, and national keynote presenter, trainer, and consultant on several major subject areas including trauma, trauma informed care, traumatic grief, clinical social work supervision, ethical practice, compassion fatigue, secondary trauma, vicarious trauma, and the practice of self-care. She is nationally recognized as a staunch advocate and passionate speaker on topics such as addressing vicarious trauma and promoting self-care and resiliency in social work and helping professions.
***Please read and make your top 3 choices during registration.
Note: As of 10/12/18 The Practice of Cultural Humility SIG is full and is no longer offered as a registration option. All others are still available.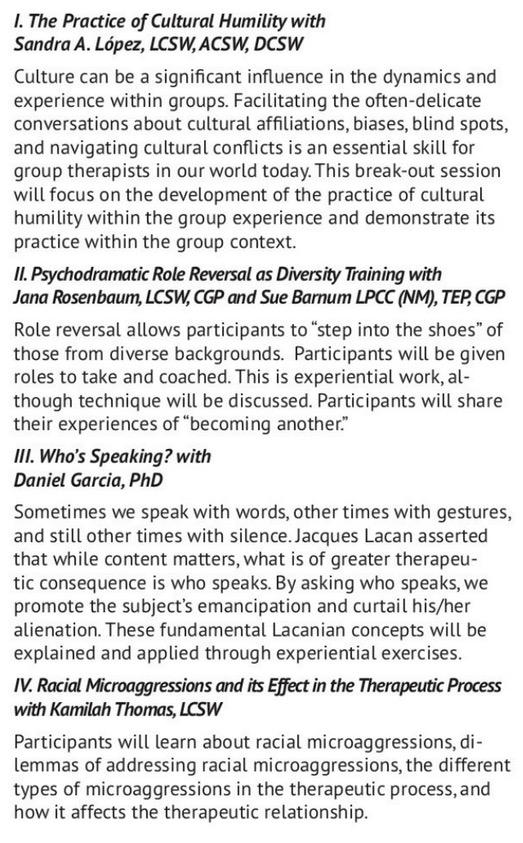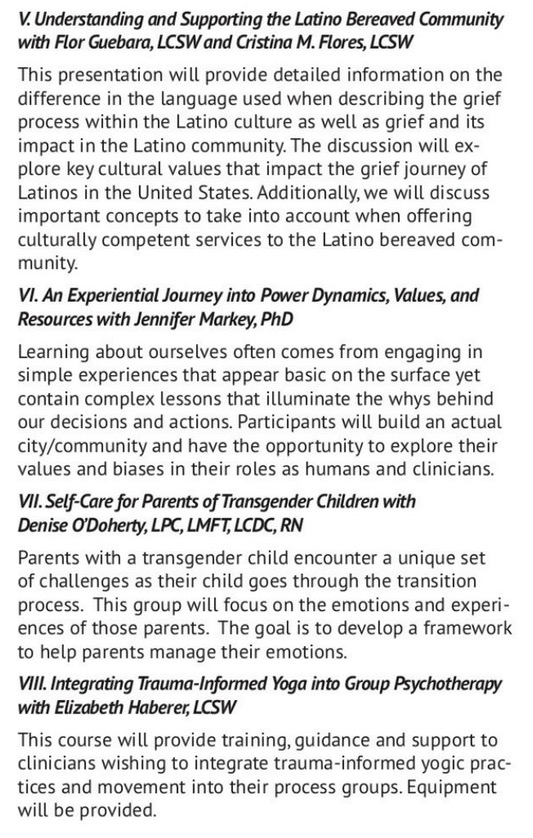 5:30 PM to 7:30 PM Please join us for collegial friendship and food at a Houston Group Psychotherapy Society Connection Dinner--hosted by the HGPS Training Committee in honor of Sandra Lopez and the hard-working HGPS Institute Committee. The location is across the street from The Council--320 Jackson Hill St. Community Room.