Description
Human Growth Foundation (HGF) invites you to join us on Wednesday, May 15, 2019, from 8 am to 10 am, for the HGF Education Day at Pond House Cafe, in West Hartford, Connecticut.
You must REGISTER to attend this meeting.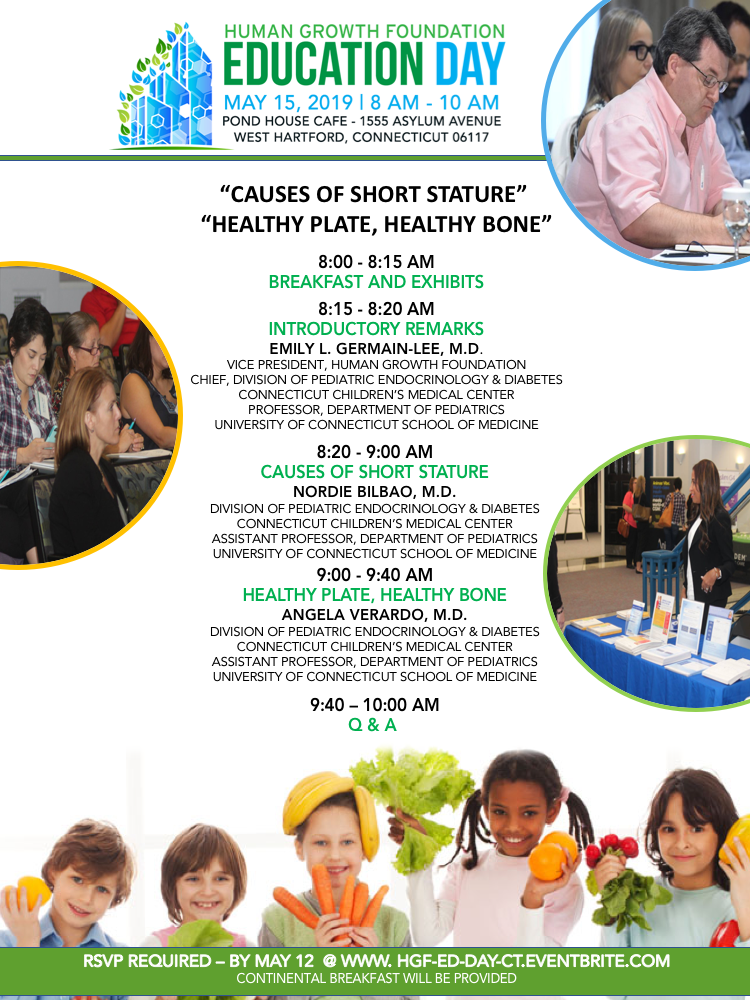 Join pediatric endocrinologists, nurses, and other healthcare providers. Continental breakfast will be provided. Limited seating.
RSVP is mandatory.

"CAUSES OF SHORT STATURE"
"HEALTHY PLATE, HEALTHY BONE"
8:00 - 8:15 AM
BREAKFAST AND EXHIBITS
8:15 - 8:20 AM
AM INTRODUCTORY REMARKS
EMILY L. GERMAIN-LEE, M.D.
VICE PRESIDENT, HUMAN GROWTH FOUNDATION
CHIEF, DIVISION OF PEDIATRIC ENDOCRINOLOGY & DIABETES
CONNECTICUT CHILDREN'S MEDICAL CENTER
PROFESSOR, DEPARTMENT OF PEDIATRICS
UNIVERSITY OF CONNECTICUT SCHOOL OF MEDICINE
8:20 - 9:00 AM
CAUSES OF SHORT STATURE
NORDIE BILBAO, M.D.
DIVISION OF PEDIATRIC ENDOCRINOLOGY & DIABETES
CONNECTICUT CHILDREN'S MEDICAL CENTER
ASSISTANT PROFESSOR, DEPARTMENT OF PEDIATRICS
UNIVERSITY OF CONNECTICUT SCHOOL OF MEDICINE
9:00 - 9:40 AM
HEALTHY PLATE, HEALTHY BONE
ANGELA VERARDO, M.D.
DIVISION OF PEDIATRIC ENDOCRINOLOGY & DIABETES
CONNECTICUT CHILDREN'S MEDICAL CENTER
ASSISTANT PROFESSOR, DEPARTMENT OF PEDIATRICS
UNIVERSITY OF CONNECTICUT SCHOOL OF MEDICINE
9:40 – 10:00 AM
Q & A