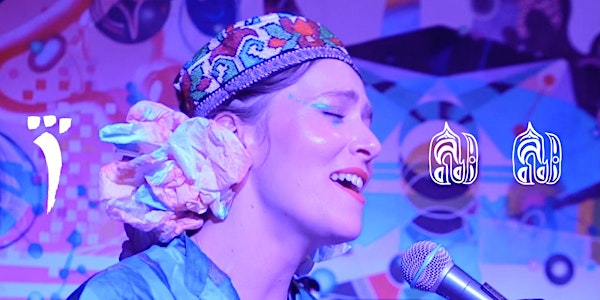 HeZza FeZza's "Nomadic Nebula" Winter Solstice Show
Come celebrate this expansive soul night with LIVE MUSIC, ART AND DANCE. The show is all ages, so bring all your loved ones to gather round.
When and where
Location
12th Avenue Arts 1620 12th Avenue Seattle, WA 98122
About this event
Come celebrate this expansive soul night of LIVE MUSIC, ART AND DANCING with HeZza FeZza, their band and special guests. HeZza FeZza will perform hits from their latest release "Nomadic Nebula" and showcase their hand-crafted designs. Limited edition album vinyls and merchandise will also be available at the show.
The show is all ages, so bring all your loved ones to gather round.
All ages. Doors at 7pm. Show at 7:30pm. Thursday, December 22nd, 2022. 12th Ave Arts. Masks required by venue. Live Stream available.
Flow of the evening:
7pm, doors: Come explore the creative world of Nomadic Nebula. Get up close to the set designed with hand-crafted adornments and an interactive LED wall.
7:30pm: The live show commences with Master of Ceremonies, MC MEESA
1st Act: BUNIBEE Let's lift up our youth and our emerging artists' voices! For over a year Nico, aka Bunibee was a singer and guitarist for the band In Color (fka Yellow Busses). He is now focused on making and releasing his own music.
2nd Act: HeZza FeZza's "Nomadic Nebula" live original musical set with full band, HeZza FeZza, Marina Christopher, Mary Riles and Thane Mitchell; and featuring Special Guests, Enah, Keoni and more!
"Nomadic Nebula is a startlingly original slate of avant-futurist soul, as we move farther into the future and our souls get even wearier." - Martin Douglas, KEXP
3rd Act: Celebrate and hit the dance floor together with the soulful solstice jams, curated by DJ Toya B.
What connections and magic are waiting to be unlocked for us on these longest nights of the year? This Winter Solstice show is a call to bring our energy to the expansive night and to advocate brightly for our existence.
This venue has a limited capacity. Get your tickets early, if possible.
$22 - $55 General Admission tickets are provided at a sliding scale between ($55 supports the admission of another person of low-income)
$111 ticket grants a reserved seat in the first two rows of chairs and limited edition print of the Nomadic Nebula cover art signed for you, + a thank you in shows credits , if purchased before 12pm PST on the 21st, access to dress rehearsal 12/21/22 at 12th Ave Arts.
$222 ticket grants a reserved seat, signed limited edition print of cover art (as above) and on the night of the show AND a photo with the artist, with you styled with a Nomadic Nebula adornment.
Please reach out to hezza @ hezzafezza.com if you would like to attend and need a sponsor for your ticket.
Hezza FeZza's music catalog and tickets to the live stream of the show can be found on https://hezzafezza.bandcamp.com/merch/hezza-fezzas-nomadic-nebula-winter-solstice-show
Let us co-create an evolving inclusive culture that celebrates universal and cosmic seasons.
Through coming together, rhythmically over time, we can expand our family, nurture connection and support our growth into elevated, unique, expression of ourselves.