Talk and case study about the Heuristic Evaluation's role within the UX product design framework at a large financial company and beyond
About this Event
You spoke, UXRS listened!
Based on attendees' votes and feedback left on our post-events surveys, we are bringing you a deep dive on one of the top requested topics: Heuristic Evaluation.
Spend an evening with UX research experts Cory Madaris and Ann Culp learning about how to conduct a Heuristic Evaluation. This tutorial and an overview explores the technique's role within the product design framework at a large financial institution.
Heuristic Evaluation is a quick and cost effective method that every UX Researcher should have in their toolkit. This talk will illustrate where and how Heuristic Evaluation fits into a design research framework, and provide a practical guide for conducting meaningful evaluations.
Overview of our Design Research Framework
Description of where and how Heuristic Evaluation is used in context of the Design Research Framework
Overview of Heuristic Evaluation Method (i.e., what is it, why use it, when to use it…)
Step by step walk through of our Heuristic Evaluation process
Agenda
5:00-5:10 p.m. (Central time, similar to Chicago and Dallas, USA) - Introduction and announcements for UX Research and Strategy
5:10-6:00 p.m. (Central time) - Presentation
6:00-6:15 p.m. (Central time) - Q&A
6:30-7:00 p.m. (Central time) - Break out rooms networking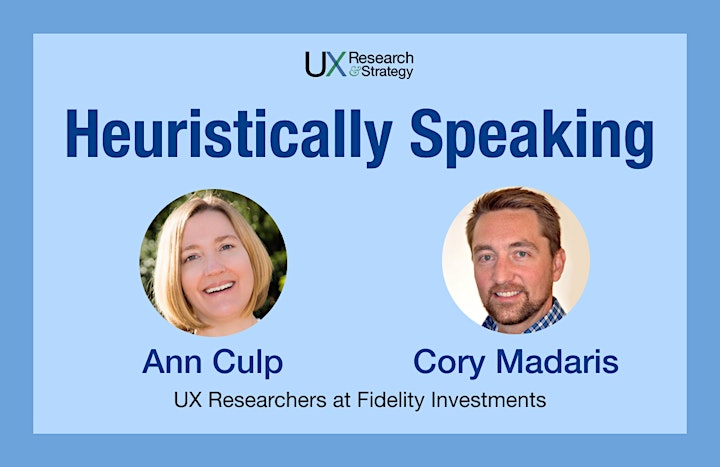 Speakers
Ann Culp is a principal UX researcher at Fidelity Investments, and she focuses her research on all phases of the product life cycle, but specializes in large-scale moderated studies, information architecture and heuristic evaluations. She has experience providing research insights for start-ups, software companies and a billion-dollar insurance company. In her spare time, Ann enjoys gardening, DIY house projects and sports.
Cory Madaris is a Director of User Experience Research at at Fidelity Investments. He and his team are focused on delivering insights that help the organization make good decisions at each stage of the product development lifecycle. Cory holds an MBA and MSHFID (Human Factors in Information design), from Bentley University.
** Please Consider Donating **
A Donation Ticket to this webinar is the same as a regular admission ticket to the event. Plus, you are helping keep this event FREE for attendees around the world. Please consider getting a donation ticket as your admission ticket to help UX Research and Strategy provide events like this to the UX community.
Host: UX Research and Strategy
UX Research and Strategy is a registered 501c3 group devoted to teaching and exploring topics related to User Experience Research and Strategy. Started by three very talented ladies, Jen Blatz, Lorie Whitaker and Lauren Singer, who saw the need to address the gap in these topics in the local UX community. The hope for this group is to enrich and complement the UX Design community through knowledge sharing and partnership.
Whether you are a researcher, designer, product owner, strategist, content creator, project manager, developer, technologist, marketer, customer experience pro or any other discipline, please join us.
For more information:
Please note that by attending our events, you are granting us permission to potentially use a photograph including you on our social media channels and website. Don't worry, we will try our best to make you look good.
For online events, and for your privacy, if you do not want your name or image potentially appearing on a Zoom screen, please anonymize your name in Zoom and hide your video.
Please note, we are unable to refund donations.
A Zoom link to the webinar will be provided in your confirmation ticket. Scroll down through the email and you will see the zoom link to join.
UXRS a code of conduct. But getting a free or donation ticket to our events, you agree to read and abide by the conditions of this code of conduct. Failing to do so will result in immediate removal from our events and any social media channels. We expect you to be respectful of everyone on our UXRS community.
Thank you for your support!