Description
Hester Street Fair is excited to bring Earth Day to the Lower East Side and Seward Park Community. On April 22nd we're dedicating the fair to our planet and those who love living on it. The Hester Street Fair is hosting 596 Acres and Sixth Street Community Center to speak about NYC specific issues in urban access, GMOs, CSAs and community gardens. Tula Plants & Design will host a Plant Revival and Care Workshop. Hester Street Fair is thrilled to use our space for radical community organizing that is fun, informative and inspiring.
We've also gathered progressive and environmentally conscious vendors. Come find a eco-friendly goods or find you new plant to bring home!
Music: HD (Doom Dab)

Special Guests:
596 Acres champions resident stewardship of land to build more just and equitable cities and talks about land access & community gardens
Sixth Street Community aims to expand accessibility and affordability of fresh, organic, local foods in the neighborhood; and to strengthen food safety laws through our campaign to promote wholesome, nutritious, and unadulterated food.
Leave No Footprint reduces your carbon footprint and cleans up your space by on recycling the "trash" that the NYC recycling facilities cannot. They will take your clothing, electronics, books, housewares etc for donations or to be recycled.
Vendor Highlights:
Smoothie Beauty is a skincare line that is made entirely out of fresh, organic food-based ingredients. They offer humble ingredients and an honest approach using the restorative power of pure and simple foods. Their masks you can reduce the absorption of at least 1,512 toxic chemicals per year!
Beafy Leaf is the maker of 100% organic and easy-to-use plant supplements for your office and household plants. Their products are made out of 100% recycled natural ingredients and dry-composted organic matter to minimize our human footprint.
Cashmere Cactus is a first time vendor creating beautiful 3D printed planters for all your plant addictions
Tula Plants & Design, a mix of modern horticulturists, designers, and plant enthusiasts, hosts Plant Revival and Care Workshops.
Vendor Lineup (complete list)
Bang Cookies, Beafy Leaf, C bao, Campfire Canoli. Cashmere Cactus Shoppe, Charrua, Uruguayan Bistro, Delicate Raymond, Diya's Closet, DON DON NY, Fresh Chocolate Mousse, Green Mountain Energy, Hester Street Cafe, Hometown Bake Shop, hudson kebab house, Juan M Vallet, Knot of this World Pretzels, Living Room Roots, Malai, Mama Lam's, NIC FIT, Phyla | Art, Nature, History, Science, Pilot Kombucha, Pyschic, ScalcoSweets, Smoothie Beauty, sonny + tees, Strike Gently Co, Tala Workshop, Thaibird, The Urban Larder, Tula, Plants & Design, Veggie Grub, Vibe, Wander Babe
Workshops:
TULA'S PLANT REVIVAL & CARE WORKSHOP - $15
12pm - 1pm & 3pm - 4pm
Join the experts at Tula for a Plant Revival and Care workshop. We'll demonstrate and discuss best plant care practices, as well as pruning and propagation tactics to keep your indoor oasis green and growing.
We're inviting each participant to bring a plant from home that may be suffering and we'll talk through the problem and how to revive your little guy. Alternatively you can bring photos of your sick plants or just join us for a hands-on discussion of plant care.
We'll take you through the best plant care tactics, from the roots to the tips, addressing soil composition, light and water needs, how and when to approach pruning and repotting, pest and disease identification and management, and how to propagate your plants. If you've brought a plant from home we'll then provide you with a diagnosis of your plant's health and a tailored solution to avoid future issues.
You'll leave with a whole new breadth of plant care knowledge, a take-home care guide, somenew plant cuttings to grow your indoor jungle, plus a few extra gifts from the Tula team.
Reserve your spot by purchasing a ticket.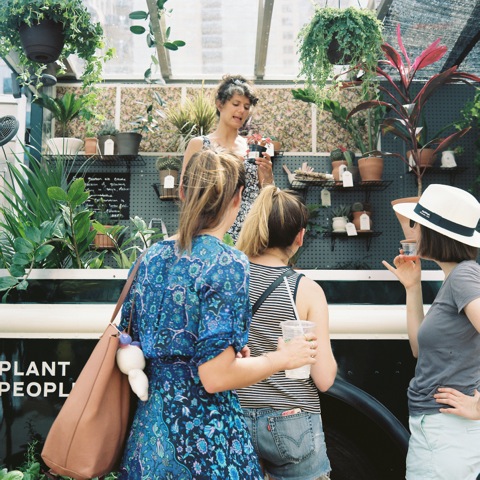 Sixth Street Community Center Workshops:
12:00PM - Composting - Free
(with Sixth Street staff and environmentalist Laura Langner)
Why compost is important to our local ecology and what to compost? The benefits of composting in community gardens. Organics recycling with NYC Dept. of Sanitation.
2:00PM - CSAs and Local Beekeeping - Free
(with Sixth Street CSA Coordinator Michael Kowalski and Beekeeper Ray Sage)
Introduction to community supported agriculture and beekeeping in NYC. Working with CSA members and farmers and how to incorporate beekeeping into your program. Learn how to start a CSA or find one near you.
4:00PM - GMOs and Food Security - Free with Sixth Street Exec. Dir. Howard Brandstein and No Spray Coalition Coordinator Mitchel Cohen
Introduction to genetically engineered foods and crops, biotechnology and industrial agriculture. Insect resistant GMOs and herbicide resistant GMOs, find out where and how are they used. Learn the risks and dangers of GMOs and how to avoid them.
596

Acres Workshops:
11AM - 6PM - STORIES FROM THE ACRES - Free
Listen to short audio documentaries about Lower East Side community land history at our table from 11am to 6pm -- and on the hour, every hour, at Hester Street Fair central's speakers! The Lower East Side has a rich history of residents organizing for access to our land (listen here)!
11AM - 6PM - OPPORTUNITIES TO TRANSFORM VACANT PUBLIC BUILDINGS - Free
Find out about opportunities to transform the Lower East Side's vacant Parks Department buildings into vibrant community spaces! We'll have a big map of closed buildings that need advocacy in Manhattan Community District 3 (see it here).
OPPORTUNITIES TO TRANSFORM VACANT LOTS - Free
Connect to opportunities to transform vacant lots in your neighborhood into community spaces! Get one-on-one consulting about the vacant lots in your life and how to organize for access to transform them with your neighbors. More at livinglotsnyc.org.
11:30AM, 4:30PM, & 5:30PM - COMMUNITY GOVERNANCE WORKSHOPS - Free
Learn strategies for sharing the work of running community spaces together with free half-hour community governance workshops. We will use 596 Acres' Community Governance Cards (pdf here: http://596acres.org/wp-content/uploads/2016/08/596acres_communitygovernancecards.pdf)