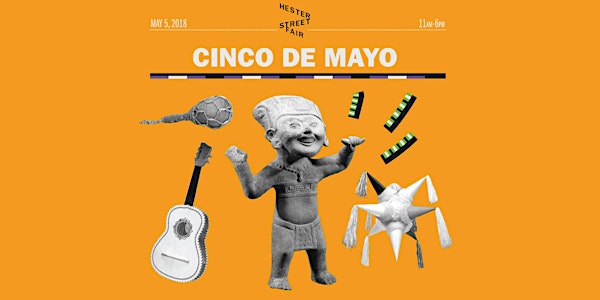 Hester Street Fair's Cinco De Mayo
When and where
Location
Hester Street Fair Hester Street & Essex Street New York, NY 10002
Refund Policy
Contact the organizer to request a refund.
Description
Cinco De Mayo, a celebration of Mexico's unlikely win over the French army in 1861, has become a wildly popular day in America to embrace Mexican and Mexican American culture and this year Hester Street Fair has gathered friends, food, pinatas, Old BLue Last beer, and good vybz to pay homage and celebrate.
SPECIAL FOOD MENU

We have a treat for you, L'estudio will be grilling all day long with this Cinco De Mayo mix-and-match plate. Offerring up leg of lamb, cornish hens, duck sausage, homemade lamb chorizo, 5 chile rub flank steak, hanger steak adobado, pork shoulder al pastor, grilled and roasted vegetable selections from the grill, you can top it all off with quinoa or potato salad, cilantro and sweet onion al escabeche, green pepper, wild mushroom and tomatillo fricasse, pico de gallo and l'estudio fiery salsa... stop drooling and pre-buy your plate before we sell out!
VENDOR HIGHLIGHTS
Punto Verde Ceramics: Tijuana native Fernanda Uribe's art and practice stretches across many mediums, but her Greenpoint based project Punto Verde delivers hand sculpted and painted works that are wholly unique. Hand formed and painted by Fernanda Uribe, each piece embraces the liveliness of clay and develops into a unique, organic form.

Hatzumomo: Hatzumomo founder Paulo Manaid is bringing his Filipino heritage to the contemporary design world through the textiles and styles of Hatzumomo. Each piece is made from hand loomed fabrics created by collectives of indigenous Filipino tribes.

Xaman Vintage: Ginger Dominguez' collection of vintage and handmade clothing, Xaman, was born out of a need to share the rich weaving and artisan traditions of the Mayans. After spending a year in Mexico, this season's collection features objects and fabrics from her time in Oaxaca, Guatemala, and Arizona, often bought directly from the artisan, hand stitched and perfect for summer.