Heschel-King Festival

Friday, January 4, 2013 at 7:00 PM

-

Saturday, January 5, 2013 at 9:30 PM (EST)
Event Details
PRE-REGISTRATION AND PRE-ORDERING OF MEALS ENDED ON DECEMBER 31, 2012 AT 11 PM. 
If you have not pre-registered, we can not assure you of entrance to the festival.

There are some limited day of event registrations and we will do our best to accomodate as many walk-ins as possible.

If you have not pre-ordered meals for Saturday, there will not be other meals available at the Festival.

The Heschel-King Festival is a 2-day series of programs to celebrate and learn from the lives, work, and vision of Dr. Martin Luther King, Jr and Rabbi Abraham Joshua Heschel and to inspire and mobilize the Philadelphia community in addressing the issues of today. On January 4-5, 2013, civic leaders and area artists will present workshops,  public forums, and interfaith services—along with music, conversation, and performances.  The Festival will feature two close colleagues of Dr King - Dr. Vincent Harding, civil rights historian and scholar and Ms. Dorothy Cotton, education director of the Southern Christian Leadership Conference during the '60s- as well as Rabbi Michael Lerner, editor of Tikkun magazine, who studied with Rabbi Heschel. They will join with other contemporary activists in exploring the meaning of the Heschel-King partnership for this generation and how we can work together to create an inclusive, just, peaceful society.
For more information on the Festival and Program Schedule, click here
We have chosen to not charge registration for this event, so that we are able to welcome as broad a community as possible without any financial obstacles. The costs of organizing the event are considerable, however. We invite you to join us in an economic expression of "The Beloved Community", a phrase frequently used by Dr. KIng:  SHARE WHAT YOU CAN TO MAKE THIS FESTIVAL POSSIBLE.  If you are able, share a bit extra to support those who are not able to contribute much.  No one will be turned away.

Buy a Raffle Ticket to Win a King/Heschel Photo OR Children's Book. The iconic photograph of KIng walking arm in arm with Heschel in the front row of marchers at Selma will be beautifully framed and signed by the keynote speakers at the Festival. "As Good as Anybody: Martin Luther King Jr and Abraham Joshua Heschel's Amazing March Toward Freedom" is a must read for children on the civil rights movement. Purchase one or more raffle tickets ($20 each) at the Festival.  Help Fund the Festival!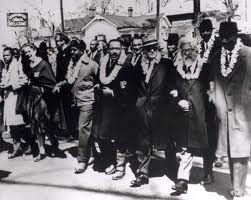 Raffle Prize: KIng (4th from right) & Heschel (2nd from right) in Selma March.
When & Where

Mishkan Shalom Synagogue
4101 Freeland Ave
Philadelphia, PA 19128


Friday, January 4, 2013 at 7:00 PM

-

Saturday, January 5, 2013 at 9:30 PM (EST)
Add to my calendar
Organizer
Heschel-King Festival
Mishkan Shalom (Sanctuary of Peace) synagogue, along with many other faith and community groups, have joined together to co-sponsor the Heschel-King Festival and to bring it to the greater Phialdelphia community.