Join Beauty for Freedom for "Herstory LIVE Fireside Chat" featuring Monica Watkins, Scarlett de la Torre and Anna Ptak.
About this event
October 24th 7-9pm CST, Beauty for Freedom will host the "Herstory LIVE Fireside Chat" featuring Beauty for Freedom Founder and Executive Director - Monica Watkins, International musician, artist, BFF Ambassador & Activist - Scarlett de la Torre, and Advocate, Human Trafficking Overcomer and Policy Consultant Anna Ptak.
Topics covered will include:
• The true definition of Human Trafficking
• Current statistics and figures of human trafficking in the United States and Mexico
• Art and Music as healing modalities for survivors of trauma and human trafficking
• The intersectionality of Human Trafficking and Pornography
• Male learned sex buying behaviors and female marginalization are identified as key drivers for men buying sex and women providing it. How do we that address these issues in conjunction, within society, to bring about a social change rather than relying solely on legislation, together with societal, policy makers, police, and other relevant stakeholders' contributions to this?
• Sound Healing and the transformation that can come from this spiritual movement.
• Due to their inability to verbally express their traumatic memories, expressive arts interventions allowed both children and adults to externalize their stories and process their experiences through sensory means. How this concept in practice has benefitted the survivors of human trafficking and at-risk youth served by Beauty for Freedom missions globally.
Additionally, special musical guests and sound healers will gift a musical offering for the occasion.
Donations are requested and will help to fund our next mission in Mexico working with young survivors of sex trafficking. We humbly thank you in advance for your support!
Donate here: https://beautyforfreedom.org/donate/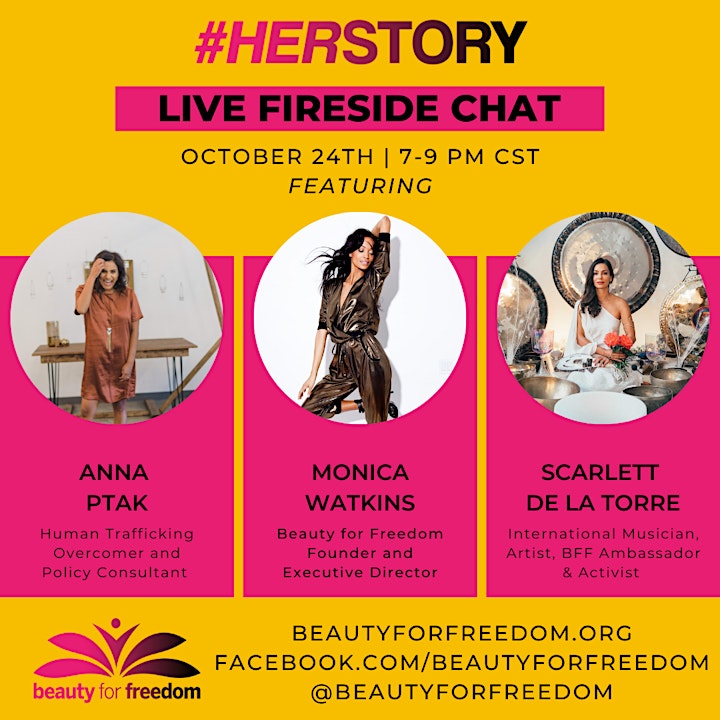 Organizer of Herstory Fireside Chat hosted by Beauty for Freedom