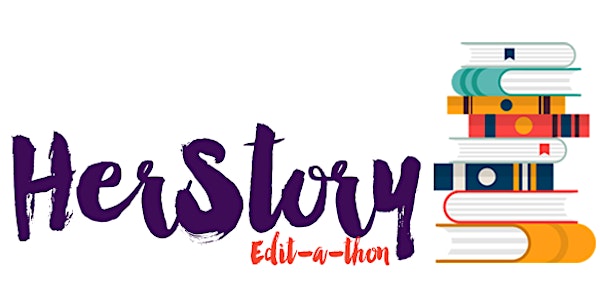 HerStory Edit-a-thons - Global
When and where
Location
NYC, Cairo, London, Delhi, Chennai, Hyderabad, Online.
Description
*PLEASE ONLY REGISTER HERE IF YOU WILL ATTEND THE EVENT IN CAIRO, LONDON, CHENNAI, HYDERABAD. FOR NEW YORK, REGISTER HERE.
Introduction
Knowledge is both a resource and an investment, and like all other forms of wealth, it is often differentially distributed throughout a social system. In many areas, information simply does not exist, and where it does exist, it is often sexist. Gender knowledge gaps and biases reinforce the harmful stereotypes and practices, and often misrepresent women and girls, and undercut or undervalue their contributions locally and globally. It is 2016, and we cannot tolerate leaving women and girls behind anymore.
As Wikipedia compiles what represents close to the sum of all human knowledge, women should be recognized as part of that sum. Empower Women by UN Women, Wikimedia Foundation, the UN Secretary-General's Envoy on Youth, the UN Inter-agency Network on Youth Development's Working Group on Youth and Gender Equality, and a group of volunteer champions are working on enhancing and increasing the content on Wikipedia related to women and gender equality to raise awareness, close the gender knowledge gap, and start changing and editing the future. The knowledge produced will be focusing on recognizing the contribution of female leaders and especially young women, produce articles about the concepts of gender equality and its champions, and offer a youth friendly content about the Sustainable Development Goals (SDGs).
If you believe in the notion of online collaboration for the greater good and gender equality and have been impacted by an inspiring woman in your lifetime, join our campaign and make them more visible to inspire millions. Help us celebrate HerStory edit-a-thons to close the gender knowledge gap on International Youth Day on August 12th.
Join HerStory edit-a-thons to contribute, promote, and celebrate women of the world. Make sure you're going to be an agent of this herstorical change.
For more information, check the initiative website.
* For Registring to NYC HerStory Editation: www.herstoryeditathon.eventbrite.com
Contributions
You can contribute to closing the gender gap on Wikipedia by:
Writing new articles about accomplished women who deserve a Wikipedia page and fall under Wikipedia's notability guidelines
Editing existing articles about women to add information and make them more gender sensitive
Translate existing articles into other languages to increase each page's visibility and usability
The Event
A series of HerStory edit-a-thons will be held on August 12th, which is International Youth Day in many cities around the globe and online. At the UN Headquarters in New York, the HerStory edit-a-thon will be convening 600 participants to edit and write for Wikipedia. The day-long event will include an opening, a Wikipedia 101 brief tutorial, a full day of writing and editing, featured speakers from our partners, breaks for coffee and networking, and a closing speech.
Please sign up for a Wikipedia account before you come to the event
What to bring
Your laptop (we cannot provide computers for participants; tablets will be difficult to work on for this event)

a valid photo ID

a printout of event registration.
For media coverage and information about hosting your own edit-a-thon, please contact Emad Karim at emad.karim@unwomen.org with "HerStory Edit-a-thon" in the subject line.
Locations:
NY Edit-a-thon
Date: 12 August 2016
Time: 9:30 am - 5 pm NYC Time
Address: 46th Street and 1st Avenue, New York, NY 10017. Trusteeship Council Conference Room
Registration: www.herstoryeditathon.eventbrite.com
Contact: Emad Karim
Cairo Edit-a-thon
Date: 12 August 2016
Time: 9:30 am - 5 pm Cairo Time
Address: Gallery Room, the Greek Campus. 28 Falaki St., Bab El Louk, Downtown. Cairo. Egypt.
Contact: May Hashem
London Edit-a-thon
Date: 11 August 2016
Time: 12:00 pm - 2:00 pm London Time
Address: 4189 Shaftsbury Avenue, London. United Kingdom.
Organizer: ONE
Contact: Billy Hill
Chennai, India Edit-a-thon
Date: 12 August 2016
Time: 02:00 pm - 5:00 pm Chennai Time
Address: The Red Elephant Foundation, Chennai, Chennail. India
Organizer: The Red Elephant Foundation
Contact: Kirthi Jayakumar
Hyderabad, India Edit-a-thon
Date: 12 August 2016
Time: 10:00 am - 12:00 pm Hyderabad Time
Address: 6-3-249/3a, Saaz Apartments, 2nd floor, Road No.1, Banjara Hills, Hyderabad - 500034
Organizer: Sayfty
Contact: Sammy Sahni
Delhi, India Edit-a-thon
Date: 12 August 2016
Time: 11:00 am - 02:00 pm Hyderabad Time
Address: Ahlcon International School, Mayur Vihar Phase 1, Delhi 110091
Organizer: Sayfty
Contact: Chetna Sabharwal
México City, Mexico Edit-a-thon
Date: 12 August 2016
Time: 03:00 pm - 07:30 pm Mexico City Time
Address: HomeWork Coworking Space. Plaza de la República #9, Piso 1 Col. Tabacalera Del. Cuahutémoc. C.P. 06030 Ciudad de México
Organizer: HomeWork Coworking Space
Contact: Nelly Andrade
Monterrey, Mexico Edit-a-thon
Date: 12 August 2016
Time: 11:00 am - 3:00 pm Monterrey Time
Address: Tecnológico de Monterrey, Campus Monterrey
Contact: Monica Lerith Melendez
For more information: www.empowerwomen.org/HerStory
PLEASE NOTE THE FOLLOWING:
Online registration for the event does not guarantee entry.
Hard copies of tickets are allocated on a first come, first serve basis at the door (only to people who previously registered online).
The United Nations cannot provide assistance with travel, visa or invitation letters for this event. Emails or correspondence requesting assistance in this regard will not be responded to.
FAQs
I need assistance in obtaining a visa, invitation letter, or verification that I am attending the event - can you help?
No. The United Nations cannot respond to requests for invite letters or visa letters. An email receipt of your registration will be automatically sent to your email account. This does not constitute an invitation letter.
Are there ID requirements or an age limit to enter the event?
All visitors to the United Nations 18 years and older require government-issued photo identification issued by a Member State or an Observer State of the United Nations to enter UN Headquarters. Photo Identification can include a passport, drivers licence or national identify card.
Participants must be over age 18 years. Those under age 18 must be accompanied by an adult, who must also register for the event, indicating the name of the minor they are accompanying.
Do I have to bring my printed registration/ticket to the event?
Please bring a printed copy of your registration and/or a mobile image of the email registration to the event.
The name on the registration/ticket doesn't match the attendee. Is that okay?
No. Your name must match that which has been registered.