Herstories from the Desert 2021 Summit: The Magick & Science of the Goddess
The Women's Heritage Project presents an online Zoom event: "The Magick & Science of the Goddess" Book Release & Summit!
About this event
EVENT - Herstories From the Desert 2021 Mentorship Summit: The Magick & Science of the Goddess
All-day summit of Panels and Breakout Rooms (Classes/Workshops/Lectures)
The Mentor/Contributors invite you to experience Volume 2, "The Magick & Science of the Goddess"
Part of the Feminine Reformation Anthology Textbook Series
HOSTS: Women's Heritage Project & Author/Mentor Jayne DeMente:
MA, Women's Spiritual Education, Founder/Director of Women's Heritage Project, FOI Priestess
jaynemariepeace@gmail.com
WHEN: Saturday, November 6th, 2021 8:30am-4:30pm PST
LOCALE: Online via Zoom
ADMISSION: $20
Includes advance copy of book (PDF format) -- to be emailed within one day of receipt of paid admission.
Includes admittance to all sessions of all-day Summit
Includes link to recording of Summit available for one month after the Summit date
Event proceeds go to grant(s) for student(s) in Women's Studies or Spirituality Programs
SPECIAL SUMMIT EVENT: A trilogy of award-winning DocuFilms about women AND an interview with the filmmaker, Roberta Cantow!
Summit Structure
The All-Day Summit will be structured around sections and chapters of the book. Each hourly session will start with 15 minutes of discussion by featured authors, followed by 45 minutes of break-out sessions covering various chapters, led by the chapter authors themselves. In addition, there will be a special film feature during the lunch break, and a Q&A session will conclude the summit.
SUMMIT ORDER OF EVENTS
NOTE: Our apologies -- the Summit Order of Events has been slightly updated. Please email jaynemariepeace@gmail.com with "Program" in subject line, and you will be emailed the updated Summit Order of Events.
HOST & MODERATOR: Jayne Marie DeMente, M.A. Women's Spiritual Education, Founder/Director Women's Heritage Project, radio co-host of Creatix Media Live
8:30am MAIN ROOM - Music: Call in the Directions
8:45am MAIN ROOM - Welcome & Introduction with host Jayne Marie DeMente
9:00-10:00am: ZOOM SESSION #1
9:00-9:15: MAIN ROOM - Panel Discussion – 5 minutes each speaker.
9:15-10:00: BREAKOUT ROOMS - Workshops ...
ROOM 1: "Bringing the Feminine Wisdom of the Moon into Modern Life." Led by Claudia Thompson. Claudia is an Emmy Award Winner and internationally known Lunar Astrologer with 35 years of experience. She explains the true calendar and a practical Moon-Powered Living System that enables one to live with the natural rhythms and timing of the force that supports all life on Earth.
ROOM 2: "Regeneration. Blood. From Cycles to Stem Cells." Led by Diane Horton, Priestess and Oracle of the Goddess, Inter Faith/Pagan Ritualist, and Minister, writer regarding Goddess Traditions, and Tarot Interpreter.
ROOM 3: "Calling Dr. Isis -- Engaging with the Mistress of Medicine and Science." Led by De Tracy Rugula, Arch Priestess, Temple of Isis, writer, educator.
10:00-11:00am: ZOOM SESSION #2
10:00-10:15: MAIN ROOM - Panel Discussion - 5 minutes each speaker
10:15-11:00: BREAKOUT ROOMS - Workshops ...
ROOM 1: "Mudang. The Temple in Her Body -- The Shamanic Tradition/Lineage of South Korea." Led by In Hui Lee, Scholar, Lecturer and Community Activist. Lee completed her doctoral study on a Korean Shamanic Ritual for helping the victims and survivors of Japan's military sex slavery during WWII. Presently, grandmothering is her most sacred work.
ROOM 2: "Wiccan Rituals & Lunar Spells from the Book of Spells." Led by Jamie Della, Priestess, Author, Teacher. Jamie is a Chicana author who has written eight books on the topic of Magick and the Divine Feminine. Her latest book, "The Book of Spells," has sold some 30,000 copies. She also has an active Wiccan Practice and Video Talks archived on Facebook.
ROOM 3: "Myriam of Magdala, Wisdom Anointing/Magdalene, The Last Queen of Heaven." Led by Catherine Wright, Spiritualist. A registered nurse, she is also a Fellowship of Isis Practitioner and has positions in the Holy Order of Myriam of Magdala in Palo Alto. Additionally, she holds Los Angeles workshops on the "Rite of the Bridal Chamber."
11:00am-12noon: ZOOM SESSION #3
11:00-11:15: MAIN ROOM - Panel Discussion - 5 minutes each speaker
11:15-12:00: BREAKOUT ROOMS - Workshops ...
ROOM 1: "Honey, Blood, Aprons, and Coffee Cup Readings." Led by Danica Anderson, Ph.D., Psychology. Danica studied psychology at prestigious institutes, works at The Kolo -- Women's Cross-Cultural Collaboration, and is a scholar of Women's Spirituality and Herstories.
ROOM 2: "Dance Into Life. The Magick of Body Movement." Led by Kahena Dorothea Viale, Ph.D., Women's Study and Religion, from Claremont Graduate University. Created the annual Conference on Current Pagan Studies; instructor at Cal Poly Pomona; currently teaching the Creative Process; waiting for approval for teaching a Magic Theory class.
ROOM 3: "Yoni Magick; A Glimpse of Goddess Love & Sexuality." Led by Meloney Hudson, documentary filmmaker. Film producer of Docufilm's "Signs Out of Time" and the "Venus Rising" YouTube series. She is also an Ipsula Tantric Coach and Positive Energy Woman Life Coach.
12:15-1:00pm: MAIN ROOM - LUNCH PRESENTATION
Enjoy lunch while viewing trilogy of award-winning DocuFilms about women AND an interview with filmmaker Roberta Cantow! Docu-Filmmaker Meloney Hudson will host a 45-minute interview and short film viewing with Roberta.
Roberta began her filmmaking career as a graduate student in film at NYU. Prior to that, she had been a student of theater at the University of Michigan and of mime in Paris. Her first film out of film school, "Clotheslines," was awarded an Emmy in 1982 and is currently streaming on the Criterion Channel. Her body of work includes four 16mm films and numerous videos on a variety of subjects. The 2008 "Bloodtime Moontime Dreamtime Trilogy" was inspired by her introduction to "the blood mysteries" when she came to California in the early 1990's.
1:00-2:00pm: ZOOM SESSION #4
1:00-1:15: MAIN ROOM - Panel Discussion - 5 minutes each speaker
1:15-2:00: BREAKOUT ROOMS - Workshops ...
ROOM 1: "The Transcendental Art of Feminine Sexual Energy." Led by Francesca Gentille, Certified Clinical Sexologist & Relationship Specialist; "Kink Conscious Education Certification" for clinicians; "The Inner Aspect Method of Counseling to Bridge Sexual Differences, Reclaim the Spark, Heal Trauma"; Co-founder, radio & TV show.
ROOM 2: "Feminine Alchemy & Practice " Led by Rev. XIA Tatum, Founder/Priestess, Temple of the Goddess. Xia is a writer, producer, mythologist and ritual artist. Xia wrote, produced and facilitated "Rites of Passage: A Goddess Ritual for Women," which aired on The Learning Channel, showing Pagan rites for Maiden, Mother and Crone.
ROOM 3: "Grandmother Moon & Women's Moontimes: A Time Together, a Celebration of Monthly Moon and Water Energies." Led by Wind Walker, Tribe Elder, Lecturer, Protector of Waters.
2:00-3:00pm: ZOOM SESSION #5
2:00-3:15: MAIN ROOM - Panel Discussion - 5 minutes each speaker.
3:15-4:00: BREAKOUT ROOMS - Workshops ...
ROOM 1: "The Sacred Power of Sheela Na Gig." Led by Starr Goode, M.A., English; writer, educator. Starr teaches literature at Santa Monica College. She is also producer and moderator for the cable TV series, "The Goddess in Art," which is now available on YouTube. Her latest book is "Sheela Na Gig: The Dark Goddess of Sacred Power."
ROOM 2: "The Soul of the Divine Feminine." Led by Susan Hawthorne, poet. Susan writes poetry on the Feminine Divine, lives in Australia, and can be found on Facebook.
ROOM 3: "The Council of 12 Grandmothers." Led by Stephanie Kern, spiritualist. Stephanie is a third-generation San Franciscan and spent most of her life in the Bay Area. She ended up in the Mojave Desert following Spirit's prompts to help open a retreat center. Now retired, she enjoys song writing, writing poetry and educating about the Net of Light.
3:00-4:00pm: MAIN ROOM - ZOOM SESSION #6 - Q&A SESSION
Q&A Host Moderator - Jayne Marie DeMente
Q & A Panel of Summit Contributors with attendee participation
4:00-4:30pm: MAIN ROOM - SUMMIT CLOSING
Call for Papers / Award Scholarship
Appreciations / Release of the Directions
4:15pm: Musical Interlude
4:30pm: Summit Ends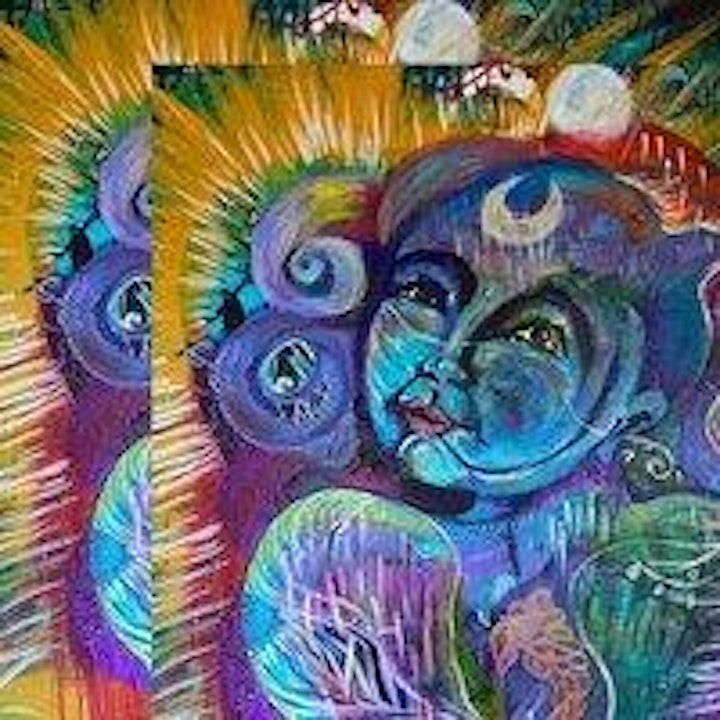 Book Cover Art by Anne Jewett
Our thanks to Summit technicians:
Steven Shultz, steveshultz@hotmail.com
Sugy Yi, sugyyi@gmail.com
Date and time
Location
Refund policy
Organizer of Herstories from the Desert 2021 Summit: The Magick & Science of the Goddess