Description
Name: Heron Trot 5K
Location: Amphitheater, Big Lagoon State Park
Date:
November 18, 2017
Time: Registration:
6:30 AM

Race: 7 AM
Regular Ticket: $20 Day of Race: $25
Includes: Water, Light Snack, and T-shirt, Offering Yoga and Nature Trails with ticket


**We SOLD OUT of tshirts**
If you would like to attend Saturday, November 18th you must pay a $10 min at Registration (Amphitheater in Big Lagoon State Park) no later than 6:40 AM. Race starts at 7AM. Day-of-Ticket includes all the above except a tshirt.
Thank you all for your support. - Kara Cederquist - Volunteer Membership / Event Coordinator for FOPSP 8507769747
**We SOLD OUT of tshirts**
Let your passion for running make a difference! Join us for our nature inspired 5K, to support your local state parks!!
Proceeds go to Friends of Pensacola State Parks to continue and create in-park projects. Walkers and Runners of all ages welcomed.
Yoga provided by Beyond Barre Pensacola free for attendees after the race, bring your mat! Nature trails open for exploring. If you dont pay for a ticket and come after the race for free yoga past 8 AM you will need to pay the normal entry fee at the Big Lagoon gate. Kayaks avaliable to rent after the race.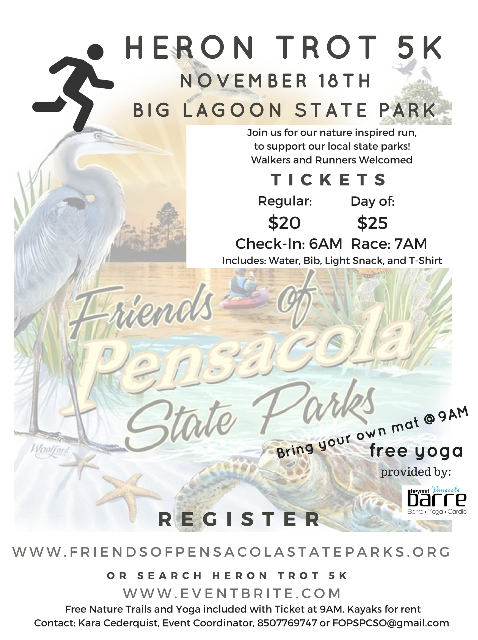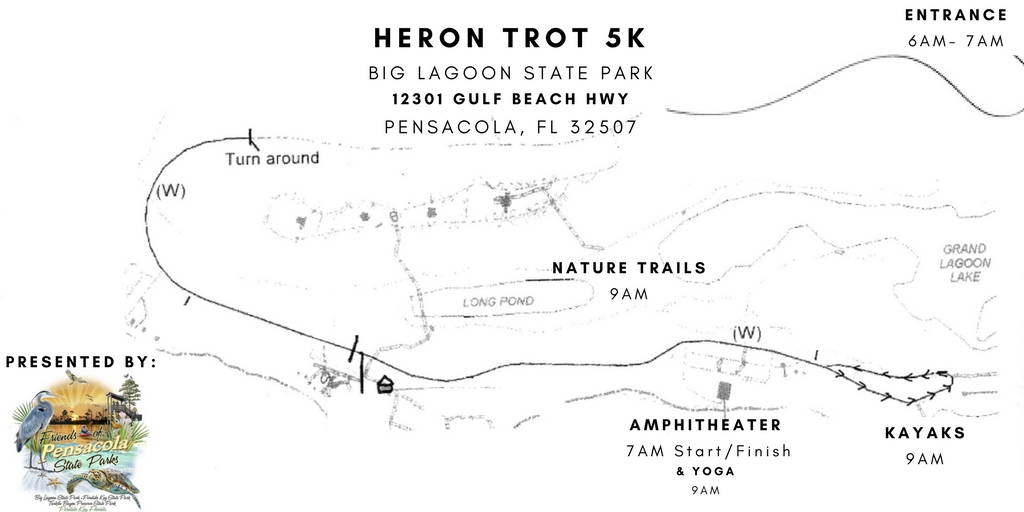 Were seeking funds by putting on a FUN race, for walkers and runners, your support will go torwards new projects that stay in the park, we're also bringing awareness to locals about Friends of PSP (Increase
Membership
); all the while cultivating an active group of individuals who support our efforts.
Contact: Kara Cederquist at: Fopspcso@gmail.com or 8507769747