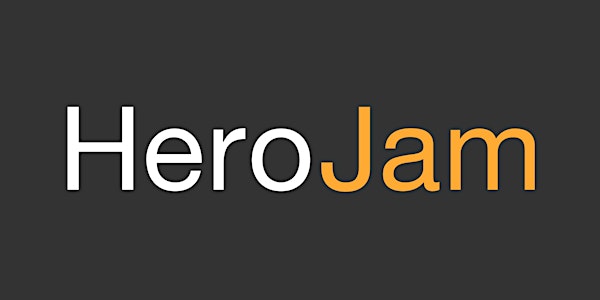 When and where
Location
Rochester Institute of Technology: Computer Science 102 Lomb Memorial Dr GOL-1400, GOL-2435, GOL-2570 Rochester, NY 14623
Description
What is HeroJam?

HeroJam hosts charity game jams committed to helping kids in hospitals around the world. We support Child's Play Charity, providing kids in hospitals with toys, books, and games. 100% of all donations go to Child's Play to help kids in need.
HeroJam was founded by Luke Miller in late 2016. The goal of HeroJam was to bring Child's Play Charity to an event for Rochester Institute of Technology students to participate in. After nearly a year of ideas, the idea of a charity game jam was chosen and has since proven hugely successful. The first event in Spring of 2017 was filled in less than four days.
Find out more at www.herojam.io.
---
About this event:
The fall HeroJam will be from October 27th to the 29th. We will be starting at 6:30PM in GOL-1400 with a kickoff, explaining what HeroJam is, the prizes participants can expect and how to get them. At 7:00PM, the event will formally start and move into GOL-2435 and GOL-2570, and the timer on the game jam will start counting down. Participants are welcome to work from other labs or home if needed or desired. The game jam will conclude at 1:00PM, after which we will judge the games created in GOL-2570. After judging, prizes will be given out. We are expecting the event to conclude by 3:00PM.
During the event, participants will create a game based around a single theme, given out during the start of the event. Participants will only have 42 hours to create the game, working in teams or by themselves.
---
Important information:
Participants will be able to work in teams of up to five(5) members. If a team would like to earn prizes, they must donate a combined minimum of $10 per member. This is a total. If a team member cannot donate, the other members can cover their donation. Donations can be done here: donate now.

Donating is NOT required. Participants can still join for free. Donations are only required to be entered for prizes. If you donate, please include your name in the comments of the donation. This way I know where they came from. Donations can be done here: donate now.

Meals will be provided free of charge. The meals will be first come, first serve however.
We are space limited. We only have space for around 70 participants in our labs and for the meals and this space is first come, first serve. However, you may work from home or other labs. Judging will be held in GOL-2570.