Are you looking for a Vacation Bible School alternative this summer? Join us for our our LIVE VBS experience!
About this Event
Families from all over the Florida Conference will be joining us as we do activities together, hear from special guest speakers, and share crafts, stories, and online games!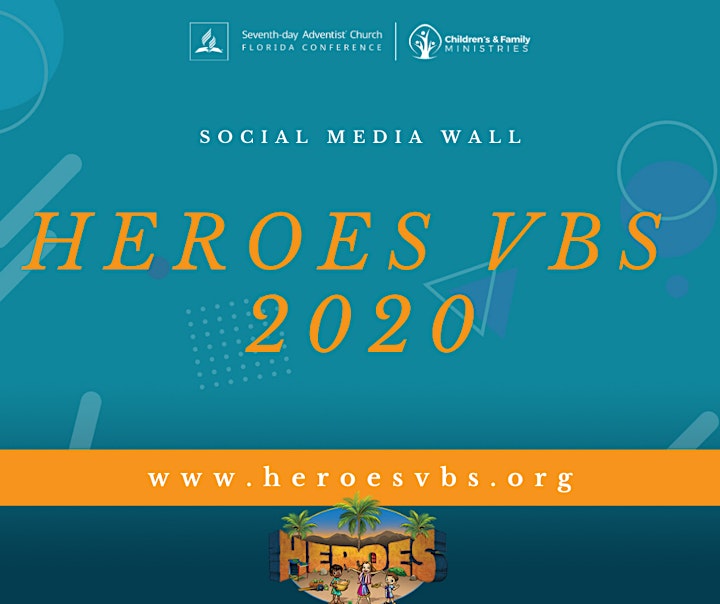 Attention! Please Read!
Today is the day!
VBS Live Online Event
We hope this email finds you and your church well and in good health!
As announced, the first live stream VBS Live Online Heroes 2020 will commence today. The dates announced for this event start today from July 12 to 16, 2020, from 6:30 to 8:30 pm through the platforms of the ministries: Facebook and YouTube Live for children and families of the Florida Conference.
Today, be prepared to access the indicated platforms, have your cameras ready, and be ready to listen in detail to the instructions that will be provided. Make sure you know the technical journey on how to access this epic broadcast.
Attached, you will find instructions on how to publish your photos on our VBS 2020 Social Wall. For this, we ask you to please read the instructions provided on how to post to our Social Wall, and record and have handy the hashtag #flcvbs2020 to facilitate posting on our 2020 VBS Social Wall.
During the week, please visit our Social Wall as well, and enjoy our 2020 VBS Social Wall collection of photos and posts by following the link www.heroesvbs.org.
Do not forget that there will be gifts when participants post about this experience on social networks and when they participate in our VBS Live Virtual Heroes and Heroines 2020.
So today, we will be eagerly awaiting for you! Participants will begin their journey through Bethany, where boys, girls, heroes, and heroines, in the Bible, will learn how to impact their community by starting small.
Please continue to pray for God's blessing upon this event.
Best regards,
Judy Smith, Director,
Dr. Efrain Duany Jr., Assoc. Dir
& Promo Group VBS Heroes
2020 Live Online
More resources below
Links to Heroes VBS Online Streaming
Link #1 Children and Family Ministry Facebook Page
Link #2 Children and Family YouTube Channel