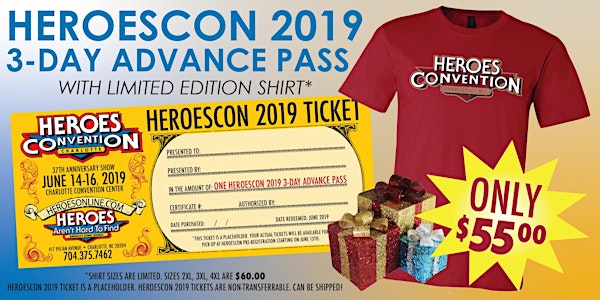 HEROES CONVENTION 2019 :: 3 DAY REGISTRATION w/LIMITED EDITION SHIRT
When and where
Location
Charlotte Convention Center 501 S College St Charlotte, NC 28202
Description
HEROESCON 2019 3-DAY ADVANCE PASS with LIMITED EDITION T-SHIRT!!
JUST IN TIME FOR THE HOLIDAYS, AND ONLY WHILE SUPPLIES LAST! GET A 3-DAY ADVANCE TICKET to HEROESCON 2019 AND A LIMITED EDITION HEROESCON T-SHIRT for just $55.00!!

2XL, 3XL, 4XL Sizes are extremely limited and are priced at $60.00. If you need one of these sizes please order quickly, as this is a limited run shirt offer, and will not be duplicated!



Each shirt comes with a HeroesCon 2019 Ticket Certificate!
The HEROES CONVENTION was founded in 1982 by Shelton Drum, owner of Charlotte's Heroes Aren't Hard To Find comics shop. Since then the convention has become famous for its comics-first and family-friendly atmosphere, where fans can mingle directly with professionals and exhibitors. Boasting an incredible guest list built mainly on reputation and goodwill, HeroesCon is known nationwide as a "must" on the summer schedule, drawing fans, exhibitors, and creators from every region of the country to the Charlotte Convention Center.
HeroesCon 2019 will be held on June 14-16, 2019 at the Charlotte Convention Center!
THIS YEAR, we are shaking up our admission policy by doing something that NO OTHER 3-Day Comic Convention has done before...
HEROESCON 2019 will allow anyone 18 years of age and Under IN FOR FREE!
We will be confirming some of the greatest names in comics everyday up until the day of the show! New guests are added to the guest list semi-weekly! Get your tickets for the America's Favorite COMIC Convention today!
For the most up-to-date information, check our blog, or sign up for the weekly Heroes Hotline newsletter. You can also follow us on Twitter and Facebook!