Herodotus: Reading Odyssey 2012
Description
In 2012, we'll be reading Herodotus beginning in September 2012 and running through March 2013.
Schedule - all montly discussion calls at 8pm New York time:
- Monday, September 10, 2012
- Monday, October 15, 2012
- Monday, November 12, 2012
- Monday, December 10, 2012
- Monday, January 7, 2013
- Monday, February 4, 2013
- Monday, March 4, 2013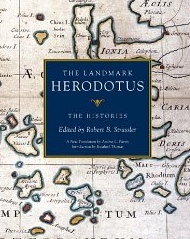 Fees (free for first-time readers). We ask veteran members to make a contribution to help cover basic costs.
Toll-free phone numbers will be made available free of charge to all participants thanks to our sponsors Citrix Online and their HiDefConferencing division.
Moderator: Veteran member Andre Stipanovic will run this section of Herodotus.
*****************************************************
The Reading Odyssey method: blow your mind
*****************************************************
We have a method that makes the mind-blowing experience of reading great books possible for most adults.
You don't need to be a scholar. You don't need a master's degree of PhD.
What do you need?
To be curious. To know how to read. To skip stuff you don't understand. And to ask questions.
And you need to be willing to try reading a book - like Herdotus, Darwin, Plato.
So, how does it work?
* Community of adult readers
* Led by a moderator
* In partnership with leading scholars
* 1 chapter a month
* Phone-based monthly meetings (with toll-free phone number)
* Free (veterans may donate)
It's simple and we've done it a lot since we began in 2005.
Our guarantee
If you join us and do the monthly reading, skip the passages that confuse you, ask your moderator and our partner scholars for help, then you will finish a great book and be exhilirated and inspired by the experience. Or your money back.
We take no responsibility for blowing your mind
We take no responsibility for what cool thoughts and ideas you will have nor for the new ways you'll think, see and lead after reading a really good book with us.
Come discover humanity's best-kept secret
These books are one of humanity's best kept secrets - these wonderful, centuries-tested mind-blowing books have been masquerarding as boring, dusty, irrelavant old tracts. Come discover otherwise.
Bottomline: put down that remote and pick up a book and join us on this reading odyssey.
**************************
Frequently asked questions
**************************
1. Who usually reads with you?
Artists, waiters, writers, business people, teachers, librarians, musicians, inventors, unemployed actors, clerks, and others.
2. Do you really suggest skipping confusing parts?
Yes! The first time you read a challenging classic it's important to keep reading even if you get confused. Don't stop to try to figure it out. Many first-time readers never recover from stopping. Just keep reading. The big picture will emerge and you can ask your fellow readers for help.
3. Why is community important?
Reading these books is much easier - and more enjoyable - when reading them with other adults, who like you, have had some life experiences to bring meaning and insight to the texts. The community - and trust - that gets built from the montly discussions is the highlight of the experience for many readers. The texts are great. The friends you make by reading these texts with others is priceless.
4. Do scholars really participate?
Yes - see our board. They and other scholars freely give of their time to help adults like you tackle these great books. The Reading Odyssey is a partnership between scholars and readers like you (and us). This partnership is what makes it work.
5. Is it really free?
Yes! It's *free* - and we make the Reading Odyssey *free* for first-time readers with us - because we know that it's hard enough for you to make the decision to read what sounds like a dull and boring book. And we know that if you do it once, you'll come back for more.
6. So you have an addiction model?
Yes. We want to get adults addicted to curiosity and lifelong learning - and can think of no better way of doing that then having them experience reading Homer, Herodotus, Shakespeare or Darwin.
7. This is just a nefarious scheme?
Yes - we have a scheme to help people exercise their learning muscles. We think thinking, creativity and curiosity are linked and that good things will happen if more adults practice the art of thinking and learning.
8. So, you have a master plan?
Yes. Our master plan to is to get as many adults reading in small groups and then kick back and watch what happens. It should be good.
- Phil
Phil Terry
Founder, Reading Odyssey, Inc.