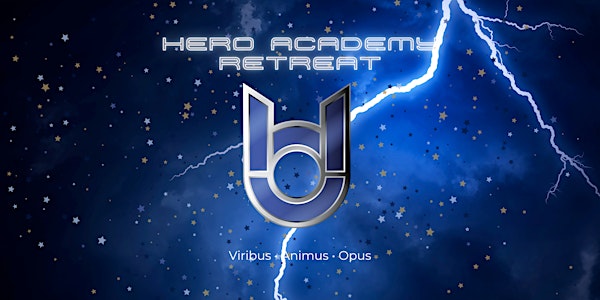 Hero Academy Retreat: Unleash Your Bravery
For writers unsure of how to turn a mild-mannered misfit life into the butt-kicking, demon-slaying life of your dreams. Unmask your truth.
When and where
Location
Scarritt-Bennett Center 1027 18th Avenue South Nashville, TN 37212
Refund Policy
Contact the organizer to request a refund.
About this event
You're a writer who knows how to plot out a character arc and deliver the goods time and time again. You live a thousand lives made up of epic love and adventure through the heroes of the stories you create and consume.
But when it comes to your own life, goals, and dreams, you can't seem to "get to" the future you see in your head and feel in your heart. That date in the future where you rise up and realize your dreams seems to become more elusive each year.
And you certainly aren't bullet proof: drama, imposter syndrome, toxic relationships, bullies, money woes, unexpected health issues, family struggles, pandemics(!), and countless other crap can leave you feeling defeated before you even get out of bed. You're doing the work, cruising along, and just when you think you have it figured out—BAM!—something comes out of left field and knocks your world off its axis.
Things out of your control, heck, things within your control, all of it suddenly seems like it's just too much. These catalysts set you waaaay back, causing you to compare your pace of success to others, causing you to second guess your entire direction, causing you to lose faith in yourself. 
You're stuck going through the motions just trying to keep your head above water. Every once in awhile you make headway, only to get dragged back under. Before you know it, survival mode becomes your new normal— showing the world one face online, and wishing things could be different and better offline.
At this retreat, the hero of the story is you. You'll learn how to overcome the feelings of powerlessness, how to defeat internal and external villains, kick excuses to the curb, and discover what you'll need to lead you to victory.
In addition to the intimate intensive sessions, there will be special guests, including CMT and red carpet host, Katie Cook, and NY Times bestselling author of the Ravenspire series, CJ Redwine (see website for full list and bios) who will share their own battles and triumphs with you, as well as how they unleashed their power, and labyrinth walking to help you focus on answering burning questions within you.
This retreat is not for the faint of heart. At times you may feel raw and exposed emotionally. It is designed to confront your resistance and to help you unleash the caped crusader within you. However, this isn't a retreat where you're left to figure it out on your own after you leave. Included is one private call post-retreat with Janet Hudson Hagan for continued mentorship.
It's time to discover your superpowers and use them for good.
Viribus. Animus. Opus. 
With, strength, heart, and action, you will soar.
INCLUDED IN RETREAT:
Admission to the UTOPiA 2022 Signing and the Awards are included with registration.
Breakfast, lunch, dinner on Thursday
Post-retreat call with Janet for continued mentorship
**Accommodations are included IF you pick that ticket option. Lodging is Dorm-style 2-BR, with adjoining bathroom. You will share the bathroom with neighbor, so feel free to let me know if you have a friend also attending and want to be suite mates.
Only 1 space left. Register now.
visit website: www.utopiacon.com/heroacademy