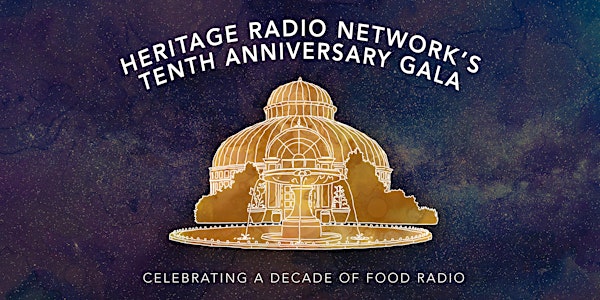 Heritage Radio Network's Tenth Anniversary Gala
By Heritage Radio Network
Date and time
Monday, November 11, 2019 · 6 - 10pm EST
Location
The Palm House and Yellow Magnolia Café at Brooklyn Botanic Garden 1000 Washington Avenue Brooklyn, NY 11225
Description
Celebrating 10 Years of Food Radio

6pm VIP Reception
7pm General Admission Entrance
Festive Attire
Join Heritage Radio Network for a raucous feast to toast a decade of food radio. Our tenth anniversary bacchanal is a rare gathering of your favorite chefs, mixologists, storytellers, thought leaders, and culinary masterminds. We'll salute the inductees of the newly minted HRN Hall of Fame, who embody our mission to further equity, sustainability, and deliciousness. Explore the beautiful Palm House and Yellow Magnolia Café, taste and imbibe to your heart's content, and bid on once-in-a-lifetime experiences and tasty gifts for any budget at our silent auction.
Celebrate HRN's biggest milestone yet at an unforgettable fête, and do your part to ensure free food radio for all remains alive and well for another decade to come.
Presenting Partner:
Patina Restaurant Group
Silver Partner:
TD Bank
Gala Host Committee:
Patrick Martins, HRN Founder, Heritage Foods, The Main Course O.G.
Julie Shaffer, HRN Board Member
Todd Schulkin, The Julia Child Foundation for Gastronomy and the Culinary Arts
Dana Cowin, Speaking Broadly
Alison Cayne, Haven's Kitchen, In The Sauce
Steve Palmer, The Indigo Road, Ben's Friends
Featured Chefs:
Natalie Abrams, Colson Patisserie
Amanda Wilson, Daily Provisions
Yoko Koide, Marlow & Daughters
Lena Ciardullo, Marta
Daniel Sharp, The Meatball Shop
Nick Tamburo, Momofuku Nishi
Todd Richards and Cedric McCroery, One Flew South
Guy Arnone, OTTO Enoteca e Pizzeria
Zene Flinn, Park Avenue Autumn
Katie Backlund, Patina Events
Amelia Hall, Roberta's
Eli Sussman, Samesa
Marjorie Meek Bradley, St. Anselm
Shuichi Kotani, Worldwide Soba
Trigg Brown, Win Son Bakery
Sarah Flynn, Yellow Magnolia Café
Cheese and Charcuterie by:
Cesare Casella, Casella's Salumi
Anne Saxelby, Saxelby Cheesemongers

Cocktails by:
Dave Arnold, Cooking Issues, Existing Conditions
Damon Boelte, The Speakeasy, Grand Army
Sother Teague, The Speakeasy, Amor Y Amargo
Gregg Benson
Beverage Partners:
Henry's Wine & Spirit
Fifth Hammer Brewing
Kent Falls Brewing Co.
Shacksbury
The Sakemen
The Sexton
Scottish Kings Gin
Sombra Mezcal
Astral Tequila
Empathy Wines
Wölffer Estate Vineyard
Zardetto Prosecco Brut
Ponga Sauvignon Blanc
Ace Coffee Co.
Oatly
San Benedetto

Food Partners:
Wisconsin Cheese
Heritage Foods
Paris Gourmet
Dream Greens by AeroFarms
Emmi Roth
Farm to People
Lady Edison
Roberta's
Gala Supporters:
Bake From Scratch Magazine
Ritter Sport
Party Rentals LTD.
North East Linen Supply
Fernet-Branca
Jacobsen Salt Co.
Lighting & Sound Consultants
VerTerra
The Brooklyn Kitchen
Music by:
DJ CherishTheLuv
VIP Hour:
Meet and mingle with HRN Hall of Fame inductees, chefs, and celebrity VIP Hour Hosts:

Nell Newman, The Nell Newman Foundation
Todd Richards, Chef and Author, SOUL: A Chef's Culinary Evolution in 150 Recipes

Sara Moulton, Chef, Author, and TV Host, Sara's Weeknight Meals
Erin Fairbanks, HRN Executive Director Emeritus
Jack Inslee, HRN Executive Producer Emeritus
plus many, many more!
Passed bites by:

Morgan Jarrett, STATE Grill and Bar

Harry Rosenblum,

Vinegar Revival and Feast Yr Ears
Daniel Sharp, The Meatball Shop

The Fat Radish
*More additions coming soon! Lineup subject to change.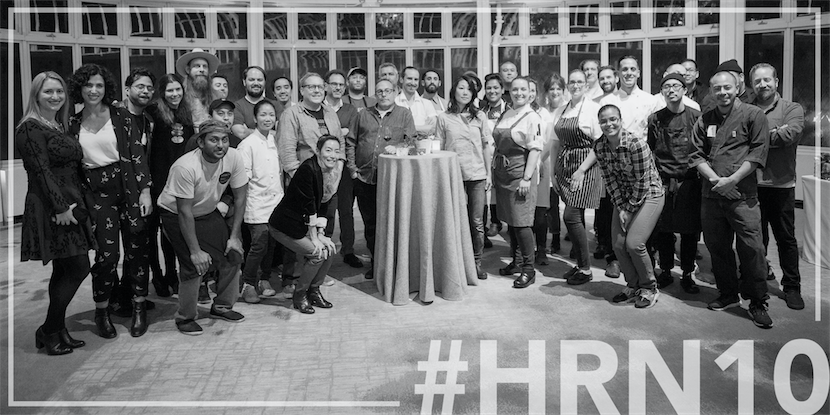 About the organizer
HRN (Heritage Radio Network) is a nonprofit media outlet that empowers eaters to cultivate a radically better world through transformative exchanges about food. Since its inception in 2009, HRN has been a platform to discuss the real issues affecting the global food supply. We believe food is the most critical issue of our time– it brings people together in celebration of diverse cultures, but it also highlights our planet's greatest challenges. That's why HRN is committed to using the power of educational storytelling about food to build a more equitable, resilient food system.
We've been serving up thought-provoking conversations ever since Heritage Foods founder Patrick Martins and an intrepid group of visionary thinkers banded together to build a recording studio out of two recycled shipping containers in the backyard of Roberta's Pizza, a restaurant at the forefront of Brooklyn's culinary renaissance. We still operate from that same studio today, and also broadcast from live events across the country, and virtually from around the world. We pass the mic and give the farmers, chefs, servers, activists, and entrepreneurs working to improve the food system a megaphone. HRN's mission is inspired by the Slow Food Movement, their vision of "good, clean, and fair food for all," and their work to preserve heirloom foods. The word 'Heritage' refers to rare-breed animals and edible plants; HRN also uses it to represent our commitment to preserving both biodiversity and diversity of perspective in the food world. By telling inspiring stories via podcasts, workshops, and culinary experiences, HRN is educating generations of food activists and growing a community of changemakers.
WHAT WE DO
PODCASTS: HRN airs dozens of weekly podcasts about food, beverages, and agriculture. Since our very first show aired in 2009, HRN has produced 84 podcast series with more in development. We bring listeners dynamic stories from across the food chain, including ones on food policy, cocktail culture, history, technology, and so much more. You can listen on demand here on our website, or find all of our programming for free on your favorite podcast app. Browse HRN's archive of 16,000+ episodes for a treasure trove of culinary history.
INTERNSHIPS: HRN's 6-month internship program gives college students and young professionals invaluable podcast production experience. We teach crucial audio journalism skills—including writing, interviewing, reporting, audio editing and design—during a 15-20 hour work week. At the end of the program, every intern has a strong portfolio, including many audio segments for Meat + Three, HRN's flagship show. They also enjoy participating in professional networking events and mastering social media, marketing, and strategic planning skills.
EVENTS: Podcasts are just one way we raise awareness about the food on everyone's plate. We also produce meaningful events, including culinary salons, food and drink tastings, festival programming, cooking demos and media training workshops. These events both entertain and educate guests about the culinary world. Attendees can count on delicious bites and sips but also the opportunity to meet extraordinary people and learn something new.
HOW TO GET INVOLVED
Nonprofit communities like HRN depend on all kinds of support to thrive. Our podcast hosts generously contribute their time and wide-ranging expertise. Our success is also rooted in the diverse community of restaurateurs, farmers, policy experts, and thoughtful eaters who share their dollars and ideas in support of HRN's programming both on and off the air. We believe that one person can help change the world one bite (or sound bite) at a time. And we rely on listener support to help us continue the good fight– and keep our content free. Donate today and become a member of HRN's food revolution!