Description
Education is not preparation for life;
Education is life itself.
At Heriot-Watt University Malaysia, we believe that ensuring quality higher education is one of the most important things we can do for future generations.
Come to our Open Day on 20th and 21st May 2017, from 10 am to 5 pm to discuss your future educational goals and discover our programmes, scholarships and special waivers. This is also your chance to tour the facilities and speak to current students and staff about the University and the programmes we offer. Academic and admissions staff will advise, educate and inspire you about your future studies. There will also be an opportunity for you to tour our accommodation units.
Here are the career talks that will take place during our Open Day: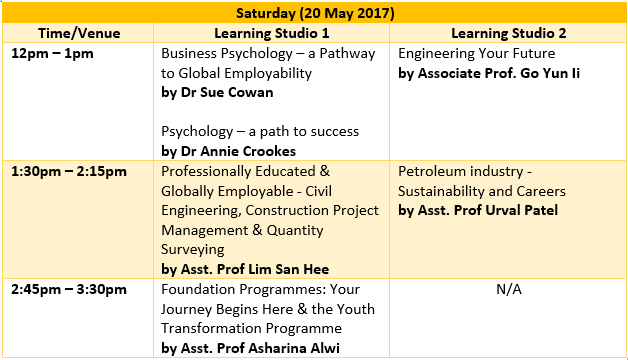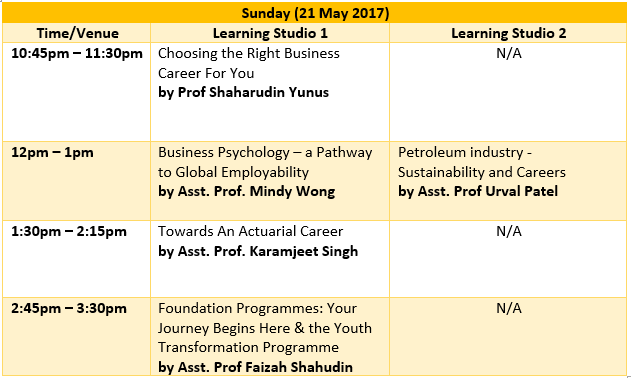 For SPM and O-Level students, this is your opportunity to find out more about our Foundation programmes that will commence in July 2017.
Students who apply for our July 2017 Foundation intake are automatically eligible to attend our Youth Transformation Programme, a two-week event specially designed to inculcate Positive Psychology into our students, enabling them to identify their strengths, passion and potential. Details of the programme can be found here: http://bit.ly/hwumyouth
Want to hear personally from our students regarding our courses? Read their testimonials here: http://bit.ly/HWUMStudents
Download our full prospectus in PDF here: http://bit.ly/2017prospectus
Information regarding our scholarships here: http://bit.ly/hwumscholar
Curious on how our campus looks like? Here's a 360 view: http://bit.ly/HWUM360
Register now!
Meet or contact us at:
Heriot-Watt University Malaysia
No 1, Jalan Venna P5/2, Precint 5
Putrajaya, Wilayah Persekutuan, Malaysia
03-8894 3888 | www.hw.edu.my


Date and Time
Location
Heriot-Watt University Malaysia
Heriot-Watt University Malaysia No. 1, Jalan Venna P5/2 Precinct 5 Putrajaya, Wilayah Persekutuan Putrajaya 62200
Malaysia